Arts
'Tigers Be Still' Balances
Darkness and Light
New production at City Lights Theater Company tackles
depression and stagnation with humor.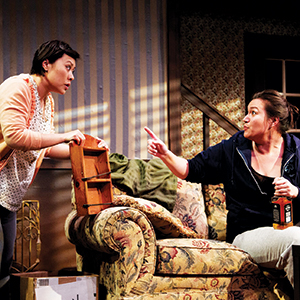 "Comedy" and "depression" may not always go hand in hand, but in the case of Tigers Be Still, the new production by City Lights Theater Company, the two blend together in humorous, touching ways.
Anyone who's graduated from college only to struggle with grown-up life can identify with protagonist Sherry (Melissa Weinstein), who earned her master's degree in art therapy but fell into a funk after failing to find a job. The other women in her family aren't doing any better.
Her elder sister, Grace (Akemi Okamura), caught her fiancé cheating, suffered a breakdown and moved back home. She spends her days commiserating with Sherry and their mother, watching Top Gun while crying into a bottle of whiskey, and stealing things from her ex's condo in an attempt to force him to confront her. Their mother has been a bedridden recluse since medication caused her to gain weight and hide from the world—even from her devoted daughters.
Sherry's life gets an energy boost after she's hired by her mother's high school sweetheart, Joseph (Keith Marshall), the principal at a local elementary school. He wants her to provide therapy to his teenage son, Zack (Sean Okuniewicz), who's traumatized by a family tragedy and suffering from anger issues. Also, a tiger has escaped from a local zoo and may be lurking nearby.
It may sound bleak, but Kim Rosenstock's script, the actors' performances and Virginia Drake's direction make for a winning combination. Weinstein is adorably awkward as the earnest perfectionist Sherry. Something in her chirpy manner and well-enunciated delivery reminds me of Grover from Sesame Street (and I mean that as a compliment). Okuniewicz is great as her foil and friend. As Zack, he convincingly flares with rage, while simultaneously revealing a soft side and big heart underneath. And Okamura is hilarious playing the part of a woman scorned—delivering lines like, "There's a fine line between the stupidest thing you can do and the sexiest thing you can do." All the characters are damaged and flawed, but the audience truly roots for them to break through the depression, anger and anxiety to become their better selves.
One of the many admirable qualities of City Lights is that each production has a nonprofit partner. In this case, it's the Silicon Valley Pet Project, inspired by two (sadly offstage) Chihuahua characters. It's yet another touch of sweetness in a charmingly offbeat show.
Tigers Be Still
Thru Feb 21, 8pm, $15-$30
City Lights Theater Company, San Jose