Arts
The Pear Theatre Opens its New Season with 'The Walls of Jericho'
A world-premiere adaptation of a classic romantic comedy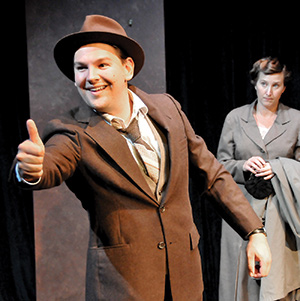 Mountain View's The Pear Theatre (formerly the Pear Avenue Theatre), which recently moved to a brand-new performance space, kicks off its first season in its new home with The Walls of Jericho, a world-premiere adaptation of a classic romantic comedy.
The Pear's artistic director, Diane Tasca, adapted the 1933 short story Night Bus (by Samuel Hopkins Adams, also the basis for the Oscar-winning film It Happened One Night) into a sweet and charming production for the stage.
The Walls of Jericho, directed by Pear veteran Caroline Clark, stars Sarah Cook as Elspeth Andrews, a spoiled and stuck-up heiress—on the run from her controlling family in Florida and hoping to meet up with her hotshot aviator paramour in New York City. Though she's wealthy, she attempts to go incognito by opting to travel by bus. She soon meets happy-go-lucky, street-smart Peter Warne (Drew Reitz), headed to the Big Apple for a business opportunity. He takes a fancy to her, despite her snobby demeanor and complete cluelessness.
When her suitcase (along with most of her cash) is stolen and her desire for a fancy bath at a hotel leads to a missed bus connection, he takes her under his wing. Thus the two begrudgingly strike out on a long adventure, involving cheap tourist cabins, hitchhiking, car thieves, potatoes, pecans, telegrams and other hijinks. If you've seen any rom-com—ever—you know what comes next. Through a series of misunderstandings and increasingly flirtatious banter, Elspeth comes to see Peter, whom she initially could not stand, in a new light. Sparks fly and soon enough: a happy ending.
Set during the peak of the Great Depression, the upper-crust Elspeth also gets a bit of a lesson in keeping it real, as she sees how hard most of the country is struggling just to get by during hard times. For the most part, however, the story is fun and frivolous.
It's difficult for a while to see what knight-in-shining armor Peter sees in bratty, out-of-touch Elspeth. Still, the two have enough chemistry to be convincing, and Elspeth reveals a bit more heart as time goes on. Cook and Reitz, both funny and appealing, have the most stage time and lines, but a small group of supporting cast members (Keith Larson, Stephanie Whigham, Leslie Newport and the always-great Todd Wright) play a multitude of colorful characters Peter and Elspeth meet along the way. Dave Sikula has a brief but memorable turn as Elspeth's shrewd Scottish father.
The Walls of Jericho is an old story, but Tasca's new adaptation is very well done. I enjoyed the way she took many of Adams' descriptions directly from his story, and placed them into the mouths of her characters. It sounds as if it might come off as artificial and stiff, but Adams' humorous lines and the characters' delivery make it work. I also liked how the show was full of period-appropriate jazz and pop music. There are no backdrops and set design is minimal, just a few key props. It's a testament to the whole Pear crew that the audience can successfully fill in the blanks using their imaginations.
Just like their previous location, the new theater is tucked away behind the Computer History Museum—hidden amongst the many nondescript buildings near the Googleplex and Shoreline Ampitheatre. Only a small folding sign gave a clue to the theater's whereabouts; you'd never find it if you didn't already have directions. Such a high-quality theater could do with a big marquee or something to improve visibility.
The new space, at 1110 La Avenida St., has twice the seating of the old one and allows for greater flexibility in staging, although it's still intimate, with a 75- to 99-person capacity. It's nice to see the Pear expand, but the presence of only two single-occupancy restrooms is puzzling—and led to long lines of patrons waiting to use the facilities. One more small complaint: the configuration of the seating for this production includes only one aisle, so getting to and from seats in all but the front row and along the aisle proves a bit of an inconvenience.
Kinks in the physical setup will no doubt be worked out in future productions, as the company settles into its new residence. Judging by the seemingly full opening-night house, the new Pear is off to a promising start.
Walls of Jericho
Thru Oct 4, $10-$35