Arts
'Voice of the Fields'
Artist Warren Chang combines real life scenes with models
in his farm worker portraits at NUMU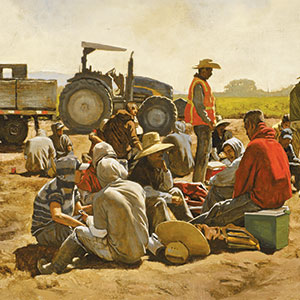 Warren Chang's paintings of Salinas Valley fieldworkers are at odds with Robert Frost's line of poetry, "Nothing gold can stay." California sunshine warms every one of the canvases in his exhibit "Voice of the Fields" (at NUMU through June 16).
That gold, even when it's mixed with cloud cover, suffuses the skyline. The beatific color suspends the workers outside of time and also fixes them in a specific place as they dig in the soil or harvest crops. Part of the effect comes from the artist's use of raw umber. Discussing his process, Chang explains, "I paint in what's described as chiaroscuro, which is extreme light and dark." His use of shadowing is painted with that raw umber, he says, "to help unify the entire picture, especially when you're painting large groupings of figures like I do."
When you look at several of these paintings together, the proliferation of dull, vivid or muddied gold implies if not something saintly about the fieldworkers, then the extent of their spiritual toil. No one wears a halo exactly, but even from a careful distance Chang repeats the luminousness behind them in every frame. In Flower Girl, he paints a young woman, not much more than a child, holding bouquets of flowers on the side of the road. Her eyes are half-closed from fatigue or from squinting into the sun. Her mouth is stuck halfway between a smile and a frown. What moves the scene away from photojournalism is her white hoodie. It alters her appearance. She looks like a modern girl in it and yet, at the same time, like a novitiate who's handing out flowers to passersby, pilgrims on their way to a religious offering.
In terms of the subject matter, the curators of "Voice of the Fields" compare this body of work to paintings like Jean francois Millet's The Gleaners. Chang, a Monterey native, says he started to think about painting field workers when he was working as a freelance illustrator in New York. His biggest problem back then was not how to paint but what to paint. At the time, everything he painted was based on live models and not photographs. But when he thought about approaching the subject, before he returned to California, he found historical precedents in and took inspiration from Pieter Bruegel's 16th-century peasants, the 19th-century naturalist movement in France and American painters like Winslow Homer and Thomas Hart Benton. Chang says that these influences, along with John Steinbeck's stories and Chang's familiarity with the area, all combined to make a perfect subject for him.
Chang's process now does include photography, but his paintings aren't reproductions of digital imagery. When he finds a subject that is pictorial—for example, people picking onions on the ground—the photograph he'll have taken may not contain the right amount of information. In that case, he'll hire a model, dress them up as a fieldworker and pose them. "I'm able to create the picture entirely from scratch," he says. Another painting in the exhibit, Harvesters Resting, features student-models posing in his classroom that he arranged. "The fieldworkers in the background are actual, real fieldworkers, but not the ones in the foreground. I manufactured that."
Sometimes, he says, the men and women in the fields don't want to be photographed. And it's likely that most of them will never see his paintings. But back in 2015 when he had an exhibit at the Monterey Museum of Art, a teacher brought her classroom of 10-year-olds to see it. Their parents were all field laborers, and they joined the children on this field trip.
"I was a little nervous because I was wondering how they'd react to it," he says. "But they just loved the paintings. Their feeling was that my paintings represented exactly what it feels like to be out there."
They started to tell him stories of their experiences and the hardships they endured. "It was just surprising that they confided in me, as if I was somebody worth inviting in."
Chang hopes that "people will understand and relate to what my paintings are about in regard to emotions and feelings." The fieldworkers, for him, represent "a more universal human experience. They are experiencing life on all sides, struggling to take care of their families." He didn't start painting fieldworkers as a political statement or provocation, but in the process of doing so he's become more informed. "I understand a lot more than I did when I initially started," he says.
Chang will lead a discussion and a tour of his work at NUMU on April 7, 2-3pm.
Warren Chang: Voice of the Fields
Thru Jun 16
NUMU, Los Gatos
numulosgatos.org