Arts
Don't Blink
Stanford's Cantor Arts Center opens for a quick exhibition and a hybrid future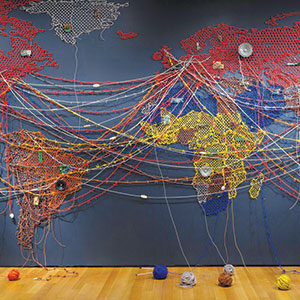 Like many traveling exhibits, the Cantor Arts Center's When Home Won't Let You Stay: Migration through Contemporary Art spent months in the planning. Starting as a mockup in 3-D software, it morphed continuously over the bumpy ride of re-thinkings and adaptations driven by Covid-19.
"It seems like every couple of months we had to rework some aspect of it," says Maggie Dethloff, the exhibit's in-house coordinator and the Cantor's recently appointed assistant curator of photography and new media.
When Home Won't Let You Stay examines stories from the American immigrant experience, as embodied in the work The American Library by artist Yinka Shonibare, a display of over 6,000 colorful volumes, bound in Dutch wax-print fabric, representing influential Americans with immigration legacies. Pandemic health concerns meant that artwork experiences involving contact with shared surfaces, such as American Library's accompanying iPads, were that much more complicated, requiring artists' permission for modifications.
"One of our challenges with this show was adapting it to a Neo-classical style building," Dethloff said.
When Home Won't Let You Stay spreads throughout the Cantor's many galleries, so staff painstakingly built a yellow "way-finding" trail on the floor. Meanwhile, the pandemic raged on. Another of the Cantor's scheduled exhibits, Paper Chase, was pushed out of the current academic year altogether. "Our original date for When Home Won't Let You Stay was October 2020," Dethloff says. "We pushed it [to February 2021], and even after we pushed it, we weren't sure anyone was going to see it in person."
On the plus side, these vicissitudes, according to Dethloff, drove the creation of "a really robust web presence." That's new territory for content often relegated to marketing in-person events.
"For a long time I think the fear was, well if we put them online, people won't want to come see them in person," Dethloff said.
Similar fears have historically kept dance companies from sharing dance videos, but pandemic-era restrictions forced everyone to test that theory. Using Matterport software (which offers a virtual reality mode), the Cantor put together 3D art tours through the resplendent Cantor spaces, adding multimedia annotation and interactive Zoom programming with artists, docents and curators.
"We were no longer restricted to including only works currently on display," says Sarah Noll, a Stanford student and museum tour guide who created one of the virtual tours. "We could … gently incorporate some additional information, such as a map to locate a place or contextualizing photographs." Noll tapped Stanford-held collections for added context.
That media-rich annotation and democratized accessibility adds something to the experience. But not seeing works in person is still a loss. Practically, the online When Home Won't Let You Stay loses a good deal.
Strict copyright laws, particularly around time-based media like video and sound, eviscerate any online version of Isaac Julien's filmic, three-screen, surround-sound presentation, "Western Union: small boats, 2007." Online presentations also lose a sense of scale, as in Reena Saini Kallat's world-map vision, "Woven Chronicle, 2011–19."
"It takes up an entire wall," Dethloff said. "You have to imagine standing in front of it and you're only about as tall as South America." This is all good news for museums hesitant to put too much online.
"What we're finding is [the online version] doesn't diminish people's desire to come and see things in person," Dethloff says. "If anything, they're just as excited, if not more."
As the Cantor welcomes people again, the long-postponed Paper Chase will finally have its opening, now scheduled to open late September. As a bonus, the pandemic has added momentum to a new direction for Stanford's museums: richer web content, fewer traveling exhibits, and more exhibits leveraging Stanford's own art collections and curatorial expertise, Dethloff says.
Cantor Arts Center hosts the in-person When Home Won't Let You Stay through May 30. It's the blink of an eye compared to the show's intended four-month run. And yet, the new, accessible online twin of this hybrid exhibition will remain.
"I think this kind of hybrid way forward … just means we get to share art with more people," Dethloff says, "and it makes it richer when [people] come see [the works] in person."