Arts
Cultural Visions
Two artists approach their themes from allegorical and abstract perspectives in new MACLA show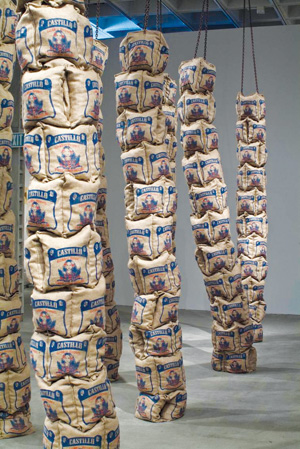 VISITING LARGE MUSEUMS and galleries can sometimes be daunting. There's so much ground to cover, wandering around in rooms filled with paintings and artifacts, floors of sculptures and statues. I sometimes feel rushed, anxious, unsatisfied, having convinced myself that if I don't move quickly enough I might not get to see it all. My mind didn't run that gauntlet while I was at MACLA viewing a small two-person exhibit titled "Conceptual Landscapes: Recent Work by Castillo and Mariana Garibay." Located at the edge of downtown San Jose, MACLA has its roots in the Latino community but also fosters cultural interdependence embracing the diversity of the city to which it belongs.
Castillo has focused her installation on symbolism as it relates to history and culture. In her interpretation on the common theme of suffrage, Castillo has created Brown Sugar, a series of the logoed burlap sacks stretched ceiling to floor supported by chain links to represent "a sugar cane field suspended by chains yet anchored by its own weight." She has screen-printed the sacks with a fictitious sugar-cane company logo. Her piece targets capitalism and its relationship to the exploitation of individuals who worked the fields during the sugar trade. Paired with this sculpture is a photo component in which Castillo models various poses to establish the depiction of a sugar-cane field while honoring the silent role women played during this part of history. What parts are meant to embody the spirit of the farmworkers, the essence of their struggle or the effects of the sugar trade is not easily discerned. The human element never gels, making it difficult to complete the personal connection between the art and the viewer.
The second half of the exhibit is dedicated to Mariana Garibay, a Bay Area artist. Sprouting from the seeds of abstraction, Garibay separates from the realism of her counterpart by playfully manipulating the imagination with vibrant colors and a multitude of mediums. Strolling among titles like Mr. Long Arms and Fabulous Pink, Lingering Murmur and Another Place, I truly felt as if I was in another place. From the traditional basics of wood, watercolor and paint to the not-so-common rudiments of yarn, string and bobby pins, Garibay changes the space around her to fit the world and how she sees it.
CONCEPTUAL LANDSCAPES runs through March 13 at MACLA, 510 S. First St., San Jose. There will be an Artists' Talk on Friday (March 5) at 7:30pm. (408.998.ARTE)