Arts
Eric Victorino: Sunshine For Shadows
Campbell writer and musician Eric Victorino tells the whole story
in rerelease of his second book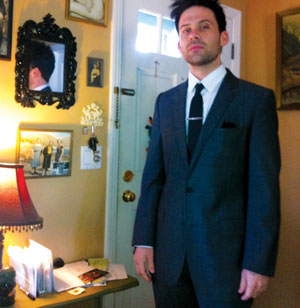 Last year, things seemed to be going well for Eric Victorino. His group the Limousines, already a Bay Area favorite and a breakout alt-radio success, was invited to tour the United States and then Europe with the Sounds. He had two acclaimed books of poetry under his belt, and yet another outlet as an artist whose gritty, punk-rock-style drawings were in demand.
He also had a secret. He'd driven to the Golden Gate Bridge and planned his own death. "I've gone to the bridge,' says the Campbell writer and musician. "I've stood exactly where I'm going to jump.'
Few people knew how often Victorino has battled depression in his life, but he even didn't know how bad it would get shortly before Christmas.
"There were a couple of nights when I was super, super-reckless, and I put myself in a lot of danger,' he admits now. "I'm still being told things I did during this two-week period where I guess I had kind of a break.'
That included one night where he went to a show in San Francisco after taking a handful of Xanax, plus Klonopin and Valium. After binge drinking and taking whatever anyone would hand him, he went into a vomiting fit—one that doctors later told him saved his life.
The next night, he locked himself in the bathroom, and then heard his wife sobbing outside. She was terrified. "The worst thing was that my first reaction to that wasn't 'How silly of you to think I was killing myself,'' he says. "It was 'How silly of you to think I would do it that way, in the house.''
His wife convinced him to go to the Adult Psychiatry Department at Kaiser, where a doctor asked him if he was planning to kill himself, and if it was safe to release him.
"Right then, I knew I could lie and keep it going and get my way, but what I said was nothing. I couldn't say anything. I just started crying. I know that meant I was going to be put away,' he says.
The San Francisco incident was judged a suicide attempt, and Victorino was 5150'd—held at the Crisis Stabilization Center for almost three days under the Baker Act. He was also diagnosed as bipolar. Later, the experience made him look closely at his previous attempts to hide his struggles—even in his work. Especially in his second volume of poetry, 2009's Trading Shadows for Sunshine.
"I wasn't really proud of it. I felt like it was dodging a lot, not being truthful,' he says. "I would use lots of 'theys' and 'wes' and 'yous' instead of 'me,' when I was really trying to talk about how I felt.'
He began to realize the irony of his situation. "I can stand up in front of thousands of people with a microphone, but I don't have the balls to say face to face with someone, 'I'm not doing all right,'' he tells me. "I feel like if it wasn't so much of a stigma, if people weren't so afraid of mental illness, I never would have gotten to that point. It would have been OK to talk about it. If someone said, 'How are you doing,' instead of bullshitting them, I would have said, 'I'm having a rough time, and this is why.''
That got him thinking about how many other people, including many who have read his books or heard his music over the years, are in the same situation, and what he could do to bring more awareness to the issue. It started with one post on Facebook.
"I basically 'came out of the closet' on Facebook. I didn't go into detail, I kept it short, saying 'National Mental Health Awareness week just passed, but I'm going to take this opportunity to let you guys all know that I found out I'm bipolar after a 5150 adventure.' I got 300 likes on it, and all these people were talking about they have this, or that, and they're going to talk to their friends about it. That one little post might have helped somebody,' he says.
Taking it one step further, he began rewriting Trading Shadows for Sunshine, retyping it all the way through.
"I'm keeping some of the stuff, and I'm changing some of the perspective from third person to first, like it should have been. I'm being a lot more honest, letting it be as dark as it has to be,' Victorino says. "A lot of the way I wrote it before was I'd feel myself writing kind of dark stuff and I'd think: you know what, I'm going to cheer it up, find a way to give it a happy ending or make it seem silly or funny, use humor to kind of back away from the truth.'
As the Limousines did with their recent rerelease of the Scrapbook EP, anyone who preorders the book will have their name or anyone's name they choose printed in the Thank You section of the book.
Victorino says there have been ups and downs since December, and he doesn't know if and when he'll be okay. But he has kept one important memento from the Golden Gate Bridge.
"I have a picture that I took looking down, just to remind myself that 'you've been there before. Don't go there again.''
Trading Shadows for Sunshine
Preorder through April 30