Arts
Page Makers
Saturday's Free Comic Book Day is a reminder
of the year-round impact of graphic storytelling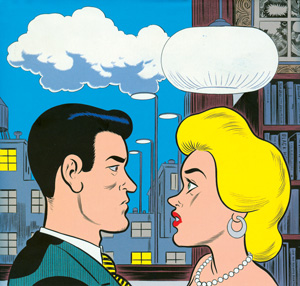 AS THE OLD drug peddler said, "First one's free." Free Comic Book Day is back this May 7, and comic stores across the country and throughout Silicon Alley will be offering samples from various publishers. The annual custom started nine years ago at Concord's Flying Colors Comics and has since spread worldwide.
Come the solstice, after the release of Thor (May 6), the caped assets of the Big Two comic companies will be crowding the theaters: Marvel's Captain America: The First Avenger (July 22) and X-Men: First Class (June 3), as well as DC's Green Lantern (June 17).
Now might be a good time to consider how comics communicate in a way nothing else does. As cartoonist Dan Clowes noted, there's something intrinsic in comics that makes them survive—even though, either as a business model or as a popular art, they've been outpaced by other pastimes. Roy Edroso's recent article in the Village Voice talked about the starvation wages paid to seemingly popular cartoonists, who have summed up in ink so much of the mania of the modern world.
One rallying point for these artists: the Big Wow! ComicFest. The renamed Super-Con comic convention is back, May 2122. This year, it expands to a 55,000-square-foot space in the San Jose Convention Center (which is adequately air conditioned), unlike a certain vinyloid uber-tent I could mention.
Many big talents (including Talent Caldwell) are heading to the South Bay for the convention. Beloved master of the tiny cartoon Sergio Aragones will be greeted by the usual line of fans. Also scheduled are Terry Moore; archivist and cartoonist Scott Shaw!; and cheesecakologist Dean Yeagle, who has been taking up the tradition of scantily clad babe art at Playboy.
Noted undergrounders Mario Hernandez, Spain Rodriguez and S. Clay Wilson are also going to be attending. Former local resident and writer Dan Vogel will show up with the history-making Air Pirates: Los Gatos' Ted Richards and Dan O'Neill. Along with Shary Flenniken, Gary Hallgren and Bobby London, O'Neill and Richards created a hippie-era XXX satire of vintage Disney cartoons and were sued within an inch of their lives.
Comics conventions can get openly lowbrow, yet the potential of comics is being mulled over at the college level. Ivan Brunetti, who started out as a viscera-exposing autobiographical cartoonist, has gone on to edit An Anthology of Graphic Fiction, Cartoons and True Stories (Yale University Press). Brunetti changed his artistic style and followed Chris Ware's lead in boiling everything down to a few elegant geometrical shapes.
Brunetti has just written a beautifully designed and easily portable textbook on cartooning. It's as useful as such predecessors as What It Is by Lynda Barry or Dan O'Neill's Big Yellow Drawing Book.
Cartooning: Philosophy and Practice (Yale) is a 14-week course that's thorough and playful. Brunetti investigates the simply iconic: a bare tree equals winter, a dotted circle indicates a face. He suggests speed-timed exercises, while giving tips on panel sizes, word balloons and the all-important use of negative space.
Meanwhile, at Stanford, journalist Tom Kealey and novelist Adam Johnson (Parasites Like Us) have been conducting an annual graphic-novel project. There, groups of students work collectively to research and write a book-size project. The 2008 Shake Girl concerned a 15-1/2-year old Cambodian's encounter with a married man and the thugs that man's wife hired. The tragic true story of Tat Marina is the foreground; in the background is the recent history of Cambodia, overshadowed by the satanic Khmer Rouge.
The 2009 project, Virunga, tells of forest rangers at that African national park trying to protect the last gorillas during insurrections in the Democratic Republic of the Congo. Last year's work was Pika-Don, the true story of Tsutomu Yamaguchi, who had the misfortune of being a victim of the bombings of both Hiroshima and Nagasaki.
The project's method is as instructive as the stories. Apparently, an intrepid teacher can harmonize a classroom's worth of drawing styles to fashion a book that look like the work of one intelligent artist. There's a mysterious something in comics that makes even such painful personal histories universal. These drawings penetrate the calluses we build up, just so we can survive an evening absorbing the world news.
It may be the simplicity of the images that's the key, that and their range: from Aragones' thumbtack-size human embodiments of the Seven Deadly Sins to Brunetti's seemingly placid circles and squares and finally to the Stanford Project's sketches of people on the far side of the world. The angle of an eyebrow or the electric shock of a splash page bring us back to our earliest encounters with these powerful symbols representing people.
Free Comic Book Day, May 7
Slave Labor Graphics, Hijinx Comics, Space Cat Comics, Alan/Heroes, Illusive Comics and Games, Legends of Comics and Games, Lee's Comics, Comics Conspiracy, Comic Collector Show, Illusive Comics, C&J Collectibles and Treasure Island