Arts
Free From Pain
The Free From Pain benefit concert DVD helps Tiffany Travalent, Bill Graham Presents artists' liaison pay for her lingering medical problems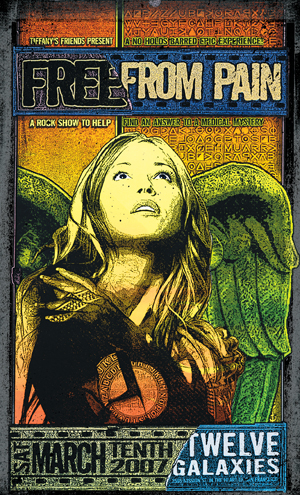 IN 2003, Tiffany Travalent had to be rushed to the hospital for emergency surgery. She came out with chronic pain and medical bills that she is still paying for. Travalent spent nine years working with Bill Graham Presents as an artists' liaison, and as the backstage manager at the Warfield and the Fillmore in San Francisco, where she came into contact with a wide cross-section of rock elite. She has worked with doctors all over the world looking for a permanent fix for what she calls "severe chronic pain." While she looked for a cure, the bills began piling up. She has not been able to work since the surgery.
In April 2007, Bay Area guitarist Eric McFadden took it upon himself to organize a benefit concert to help with Travalent's mounting medical bills. "I had met her before at the Warfield and the Fillmore and befriended her. Everyone knew her as a really kind, loving person." McFadden ended up exercising his connections in the Bay Area music scene and beyond to compose an impressive roster of artists for a show at San Francisco's now-defunct 12 Galaxies, ranging from members of P-Funk and Talking Heads to celebrated local acts like Teenage Harlets and Loop!Station. Although the final lineup was extensive and varied, McFadden says, "A lot more people would have participated had they not been touring at the time."
Creative Armada has put together a DVD of the concert, called Free From Pain. It is available for purchase, for $20 through www.filmbaby.com/films/4535 and www.freefrompaindvd.com. "The great thing about the night was that every musician that performed was a friend of Tiffany's," says McFadden, who did his best to tailor the event to Travalent's tastes. "We have pretty similar tastes in music—very eclectic." The night ended up netting $15,000 through ticket sales, auctions and donations. Travalent's bills are still coming in, and proceeds from the sale of the DVD will go to Travalent's medical fund.