Arts
Haas and Rioux: Redwood Bluegrass Association performance
Brittany Haas and Lauren Rioux return to the duo format for their Mountain View show.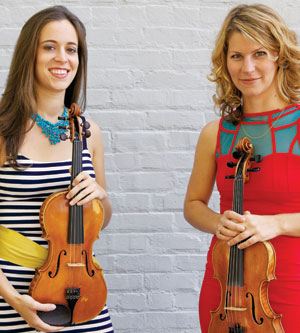 After four years touring with the celebrated alt-bluegrass band Crooked Still, fiddler Brittany Haas is cutting back to essentials in order to discover her own musical identity. The Menlo Park native set down deep roots in Boston's burgeoning acoustic music scene, working with a wide array of innovative string players since graduating from Princeton in 2009. But last year, she relocated to Nashville, determined to focus on writing and performing her own music.
"Crooked Still was such a huge part of my life, I miss it a lot," says Haas, who returns to the Bay Area Saturday for a Redwood Bluegrass Association performance at the First Presbyterian Church of Mountain View with fellow five-string fiddler and vocalist Lauren Rioux. "Now I'm not sure what to say when people ask me what I do musically," Haas continues. "But I feel like I'm developing as a person, just being in a new city and having more freedom. When you're in a band you do what's best for the band. There's less decision-making on a day-to-day basis. Nashville has so many amazing musicians, it's really exciting."
Haas and Rioux bonded further while attending Alasdair Fraser's Valley of the Moon Scottish Fiddle School in the Santa Cruz Mountains. When Rioux decided it was time to record her first album, she asked Haas to produce it. Recorded at Rioux's home and released last September, All the Brighter is a gorgeous session exploring American songbook standards, reels, lyrically charged originals and vintage pop, with a cast of luminaries including fiddle renegade Darol Anger, cellist Mike Block and Crow Molly mandolinist Joe Walsh. "That sparked our idea to do this project as a duo," Haas says. "We decided, we're best friends, we may as well go out on the road."
Like Haas, Rioux has imbibed traditional Celtic styles and old-time Appalachian music, jazz and bluegrass. A dedicated educator, she spends a good deal of her time teaching. For the duo tour, the women are focusing on material from All the Brighter while adding some new songs to the set. Still in the repertoire-gathering stage, the project allows them to fully spread their wings, with harmony vocals and even a little banjo by Haas.
"A duo is such a small group," Haas says. "You're way more exposed than any musical situation I've been in before, strangely much more so than in a trio. ... The thing about a duo is that you have so much freedom rhythmically and harmonically."
Haas and Rioux
Saturday; 8pm; $18/$20