Arts
Aware But Oblivious
With multiple artistic identities, Cheyanne Payne, a.k.a. Miss Oblivious, finds beautiful things in dark places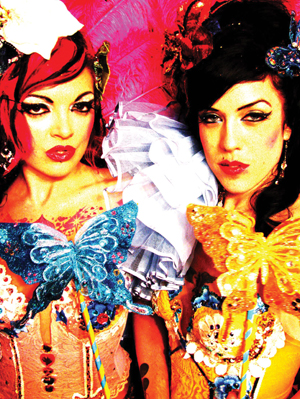 IN A TIME when artists are encouraged to brand themselves—to find a marketing niche and stick with it—Cheyanne Payne's approach to creating comes as a bit of a revelation. An artist whose work is constantly evolving and whose personal style and art are seamlessly connected, the eccentric and exuberant Payne embraces artistic multidimensionality and allows her self-expression to move as it pleases.
Payne, who is also known as Miss Oblivious and now goes by the name Kook Teflon, is an underground hero in the Bay Area and beyond. Creator of the long-running, now-retired Oblivious Nation zine and founding contributor to the Teflon Sisters zine, Payne is an artist extraordinaire: a photographer, doll maker, clothing designer, writer and more. She refers to herself as a documentarian of her life and the people in it.
The thread of connectedness that runs through Payne's various creations is that they all offer a glimpse into the shadow side of life and the often-overlooked characters therein: castaways, punks, underdogs, wanderers, sideshow characters, vaudevillian performers, historical misfits, lost causes and the like.
"I get inspired by dark history," Payne says from Seattle, where she and her family—she is married and has two children—now live. "I like to find beautiful things in dark places."
Born in Morgan Hill, Payne got an early start on creative self-expression. "As a kid, I was always making things and dressing up, doing my makeup all crazy," she says. "I had a really open-minded, free-thinking mom who taught me to embrace the things that I love."
By fifth grade, Payne was telling everyone, "I'm punk now," and by the sixth grade, she had her first Mohawk. At 17, Payne left Morgan Hill—"You were just too much for this town," her mom told her—and moved to downtown San Jose, where she spent the next 13 years. It was here that she began documenting the vibrant punk and art scene that was thriving in the area.
"I started documenting my friends and everything around me; like bands that are legendary now, playing at the Cactus Club," Payne says. "My key thing is to make sure that everyone is being documented the right way. It's important to document everybody, not give the impression that one of us is more important than another."
Payne's focus on documenting real life is apparent in all of her creations, including her dolls, which are all based on real people and are as detail-accurate as possible, down to their era-appropriate construction materials.
"I insist on doing research and being authentic," she says, explaining that, for example, if she's making a Civil War-era doll, she finds material from that period. "I study the person and learn so much," she says. "My dolls have taught me so much."
Along with her zine- and doll-making, Payne's photography reflects her appreciation of the underside of life. She explores hidden, sometimes contradictory aspects of her subjects and finds ways to draw out those things that lie beneath the surface. She shares a story of asking burlesque dancers to come to a photo shoot without any makeup or fancy dress on, telling them, "There are a lot of great photographers that do the pinup stuff, but nobody ever gets to see the more personal and intimate side of you."
In her upcoming photography exhibit in the Metro lobby, titled "This Is Me: Dolls 'n' Drag," Payne—showing as Miss Oblivious—will present images of her dolls and some of her more flamboyant human subjects, though in her world, the term "drag" doesn't refer solely to drag queens.
"Drag doesn't just have to mean guys in drag," she explains. "The people I've photographed for this show are very self-confident, free-thinkers who don't feel like they need to be like everyone else.
"What I'm surrounded by, everyone is in drag in a glamorous, dark sort of way," she continues. "But the glamour is easy. I want to capture what's inside."
This Is Me: Dolls 'n' Drag
July 1-31
Metro Lobby, San Jose