Arts
Hot-Hand Luke
In his solo show at SJ Rep, Charles Ross will condense Star Wars
into a bite-size treat for film fans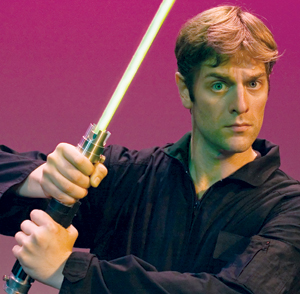 LUKE, you are my fodder: Charlie Ross could say this if he ever met a certain intergalactic hero. During 2,000 shows on four continents, Ross has condensed the entire shuddering mass of the first three Star Wars films into his One-Man Star Wars Trilogy.
(Convinced they are, appeal Ross will: For his local appearance starting July 14, San Jose Repertory Theatre is offering discount tickets for those who arrive bearing lightsabers. Please turn off lightsabers before the show begins.)
Naturally, the road Ross has covered amazes him. "I'll be onstage thinking, 'The chaos has taken root. I guess I really am in Asia.'"
In interviews, Ross has spoken of slightly adjusting his piece depending on where he's performing. I asked via telephone what it was like to perform One-Man Star Wars in the United Arab Emirates. "There were people out of Lawrence of Arabia there in the audience, but there were also a lot of Russians on holiday. It was New Year's, and the Russians stretch their holiday out for a week or so. I had to slow some things down and speed some things up. I didn't know if they'd get the jokes, but they did."
Ross has performed at gatherings of Star Wars fans, including 2005's Celebration III in Indianapolis. He has been in the same room as George Lucas at an Orlando convention. He knows Lucas has seen the show on DVD, but they've still never met.
The theater in Ross' small hometown in Canada ran the first Star Wars for a year, selling out for months, but Star Wars mania came slowly for him. "The first thing I heard about it was a toy commercial. I was just young enough not to know what it was all about: here were these spacey-looking things I wanted to have. Such is the power of marketing. Of course when I saw the films, I thought about how much I wanted to be in space and have a lightsaber."
After having soaked so thoroughly in Star Wars, does Ross ever speculate how he would have directed it?
"I would never touch it. It's like your mom or your dad's idiosyncrasies that you wouldn't change even if they piss you off a little."
Ross began interpreting Star Wars as an acting exercise; he was trying to reduce the entire 6.5 hours running time into one minute. "I didn't know where to begin or end: with one minute of Yoda's speech? I started a script beginning with bits I remembered from the film. When you cut out all the fat, and all the bits that don't make the film go forward, it's amazing how simple the story is. You even have blanks to fill in."
Even more surprising is Ross' condensation of 11 hours of The Lord of the Rings films. Would the next step be a condensation of the second three Star Wars films?
"Doing something on the prequels would be more like manufactured love," he says. "A real geek who genuinely loved the new films would see that I was bullshitting. I don't want to pretend to love something; I wouldn't be on that fine line between loving something and poking fun. I'm still looking for another trilogy as good as Star Wars or Lord of the Rings. Maybe when the Nolan Batman films are done."
Reviewers describe the physicality of Ross' performance—the kneepads he wears aren't there so he can genuflect to the material. It sounds a lot like Hamlet, as Kenneth Branagh described it: "Five acts of dialogue and then, when you're exhausted, a swordfight."
"It's not like that," Ross demurred. "I'm just parroting, I don't compare myself to actors who have performed Hamlet. In one-person shows, you take the audience by the hand, but they also take you by the hand. If you mess up, you make it part of the show. It's a great rare thing for an actor to carry an audience all the way through something like this. It's hard to imagine going back to a little role."
One-Man Star Wars
July 14-17; $35-$69