Arts
Iranian Beat
Spurned at home, Kayhan Kalhor and Pezhham Akhavass keep Persian music tradition alive and well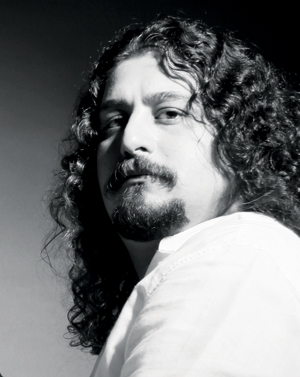 CONSIDER the odd predicament of Iranian classical musicians. Heirs to a glorious and supremely sophisticated tradition with roots stretching back to Persia's pre-Islamic Sassanian Dynasty, they are barely tolerated at home, where the clerical government looks upon any nonsectarian expression with grave suspicion.
Which is why Kayhan Kalhor, the unsurpassed master of the four-string spiked Persian violin, or kamancheh, and Pezhham Akhavass, a rising star on the tombak goblet drum, no longer live in Iran.
A San Francisco resident, Akhavass performs with Kalhor at Palo Alto's Cubberley Auditorium on Saturday, a rare Bay Area recital by two artists determined to raise the profile of Iranian music in the West, where Iranian music is slowly putting down roots.
Fed up with the restrictions placed on musicians in Iran, Akhavass left the country three years ago and has set about reinventing himself in the United States. Rather than moving to Los Angeles, where the largest Persian community outside of Iran has led some to dub the city Tehrangeles, he settled in the Bay Area.
"I have a lot of goals in front of me that I cannot find in Iran," says Akhavass, 31. "There are lots of opportunities here. It's very difficult to grow up as a musician in Iran. When I was young, I saw a lot of musicians who the government doesn't allow to perform. Sometimes I think I wasted my 28 years there. I had a lot of respect, and I'm starting my life again. I couldn't speak English well when I first came here, and I try to make it better every day."
He may not have been able to speak the language when he arrived, but Akhavass fully understood that the Bay Area allowed him unfettered creative freedom. He quickly set about staging concerts around the region, including several with women from a troupe specializing in traditional Persian dance, an art form that has disappeared in Iran due to restrictions on female performers.
For Saturday's concert, he and Kalhor are taking different liberties by stretching out on a series of instrumental duo improvisations, an unusual format as Persian classical music is indelibly bound to luxuriant Farsi poetry.
"We know each other, and we know our techniques, but we're not going to rehearse," Akhavass says. "We're creating something new. We don't have a singer here, and that's central to Persian music. For this event, we'll have a melodic and rhythmic instrument, but we can't follow the exact traditional forms. We'll play an introduction, and then improvise."
Akhavass' ultimate ambition is to help lift Persian classical music's profile to the same stature that India's Hindustani and Carnatic traditions have attained in the West since the mid-1960s.
He's certainly picked the right collaborator, as no artist has done more to raise the international profile of Persian music than Kalhor. A founding member of Yo-Yo Ma's Silk Road Ensemble, Kalhor lived in Europe and the United States for about two decades and has forged deep ties with an array of Western artists, while maintaining close connections with the scene in Iran. He moved back to Tehran in 2003 looking to heal a scene wrenched apart by the Islamic revolution's upheaval.
"All of the old masters left Iran around the revolution in search of better situations and more concerts," says Kalhor, 48, who now lives in the Washington, D.C., area. "There are thousands of brilliant young technicians in Iran now, but there's this gap between two generations, and there's a lot that's missing in the music. This happened in every art form. There was this brilliant film generation before the revolution, but after nothing happened until a few years ago."
Born into a Kurdish family in Tehran, Kalhor was still a child when he started attracting attention with his preternatural talent on the kamancheh. He spent his teenage years as a featured soloist with the National Orchestra of Radio and Television of Iran.
While immersing himself in the Persian classical repertoire, a body of music stretching back thousands of years known as the Radif, he also studied Kurdish folkloric music, which became a launching pad for his cross-cultural collaborations with musicians from India, Turkey and beyond.
"I believe the Radif is the bricks to build the building with, not the building itself," Kalhor says. "I think the Radif is a pure form to learn music, a musical alphabet. When you learn that, you're just in the beginning of the journey."
In addition to the Silk Road Project, Kalhor has performed widely in the United States with the Masters of Persian Music, an ensemble he co-founded with vocal legend Mohammad Reza Shajarian and Hossein Alizadeh, a virtuoso of the Persian plucked lute, or tar.
His most striking recent project was Silent City, his 2008 collaboration with the innovative string quartet Brooklyn Rider. The title track is an almost half-hour piece he created in response to Saddam Hussein's destruction of the Kurdish Iraqi city of Halabja at the end of the Iran-Iraq War.
"There are very few pieces in life that affect you like this when you first hear them, maybe Mahler or Miles Davis or 'Rites of Spring'—it's that kind of revelation," says composer Osvaldo Golijov, who first got to know Kalhor in 2000 when they both contributed to Kronos Quartet's Nonesuch album Caravan.
It was Golijov who brought Kalhor to the attention of Francis Ford Coppola, who featured his haunting kamancheh throughout the score to his 2007 film Youth Without Youth. When Golijov first tried to describe Kalhor's sound to the director, Coppola was unimpressed.
"But when he heard it he wanted to use it all over the place," Golijov says. "It has a tenderness that's not personal, it's anthropological. Kayhan is the master of that instrument. He's taken the kamancheh to places it has never traveled before, musically, emotionally and culturally. The civilization that he represents is very powerful and he's at the top."
Kayhan Kalhor and Pezhham Akhavass
Saturday, 8pm; $40/$45
Cubberley Auditorium, Palo Alto