Arts
Norman Conquest
David Thomson's new book explains how 'Psycho' changed the movies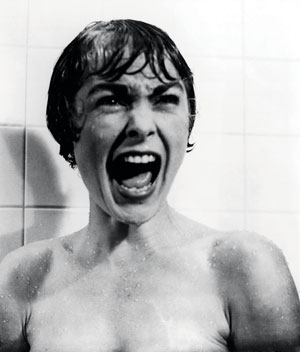 THE GAME-CHANGING thriller Psycho celebrates its golden anniversary this year. Made under relatively modest circumstances with a television-trained crew and with music from a string quartet, Psycho was the work of a sedentary, sixtyish director. The subject matter was not entirely novel, if you took the word of this director, Alfred Hitchcock: "Men kill naked women every day." The film's rise to epic popularity even left Hitchcock surprised: in Stephen Rebello's excellent Alfred Hitchcock and the Making of Psycho, screenwriter Joseph Stefano recalled catching sight of Hitchcock after the film's epic success. The director shrugged his shoulders as if to ask, "How the hell should I know why it's such a hit?"
Psycho changed both the way movies were seen and the way they were made. Considered a sick, minor picture by many critics at the time of its release, Psycho has enjoyed a rise in status over the decades as the film has been reinterpreted. When I was lecturing college students at UC-Berkeley, for instance, I met some who felt guilty that they hadn't seen Psycho. This film—at least at one level an entertainment about a knife-wielding monster and a nude lady—might have been as forbidding as an Antonioni movie as far as they were concerned.
Large as the opinion sphere is, there are few opinions around as valuable as those of David Thomson, the polymath whose A Biographical Dictionary of Film is as essential to the serious movie watcher as a remote control. Thomson's new book is The Moment of Psycho: How Alfred Hitchcock Taught America to Love Murder (Basic Books, $22.95). In interviews, Thomson—not a wide-eyed fan of the film in question—has been trying to explain why the film was a hit. Thompson believes that Psycho is "half a masterpiece," not a complete artistic success, in that it fails to answer why a killer becomes a killer.
I don't agree, but I am haunted by this passage in F. Scott Fitzgerald's notebooks: "Fifty years ago, we Americans substituted melodrama for tragedy, violence for dignity under suffering. That became a quality that only women were supposed to exhibit in life or fiction—so much so that there are few novels or biographies in which the American male, tangled in an irreconcilable series of contradictions, is considered as anything but an unresourceful and cowardly weakwad." Fitzgerald's time line dated back to the beginnings of cinema, but the matter stands. In the American cinema, a weakwad becomes a man by striking out, and it doesn't matter to the audience who he strikes.
Thomson has also linked the way Psycho opened up the parameters of shock to the cinematic aftereffects of the trauma of Germany through Nazism and war. Don't know if I agree with that either: essential to the legend of Norman Bates are the "old, weird America" capers of Wisconsin's own Ed Gein, the small-town murderer, cannibal and necrophile who inspired Robert Bloch's novel Psycho. In essence, Psycho is a frontier story acted out in a bypassed motel, featuring the soulful acting of Anthony Perkins (a bad boy trying so hard to be a good boy)—a story told by an urbane British expatriate who must have been, at least in part, an ogre.
THE MOMENT OF PSYCHO: HOW ALFRED HITCHCOCK TAUGHT AMERICA TO LOVE MURDER, by David Thomson; Basic Books; 192 pages; $22.95 hardback. Thomson will make an author appearance on Thursday, Jan. 7, at 7:30pm at Kepler's Books, 1010 El Camino Real, Menlo Park. The event is free. (650.324.4321)
Other Readings
Garlicky Group of Poets
Open poetry reading. Second Sat of every month, 3:30pm. Free. Gilroy Public Library, 7387 Rosanna St, Gilroy, 408.842.0926.
Judith London
The doctor/author signs copies of "Connecting the Dots: Breakthroughs in Communication as Alzheimer's Advances." Sat, Jan 9, 2pm. Free. Kepler's Books, 1010 El Camino Real, Menlo Park, 650.324.4321.
Math Talk Bay Area Mathematical Adventures hosts a general-interest talk by professor Bruce Reznick of the University of Illinois on "What Does '>' Really Mean?" Wed, Jan 6, 7:30pm. Free. SJSU Engineering Auditorium, 1 Washington Square, San Jose, 408.554.4544.
Raj Patel
Author of "Stuffed and Starved and the Value of Nothing: How to Reshape Market Society and Redefine Democracy" will discuss why prices often mislead us. Thu, Jan 7, 6:30pm. $8/$15. Le Petit Trianon, 72 N. Fifth St, San Jose, 408.995.5400.
Nigel Savage
Nigel Savage, founder of Hazon, speaks about "Keeping Kosher in the 21st Century: The New Jewish Food Movement." Hazon is an organization dedicated to a healthier and more sustainable living, emphasizing outdoor physical activity. Thu, Jan 7. Free. Addison-Penzak Jewish Community Center, 14855 Oka Rd, Los Gatos, 408.357.7413.
South Bay California Writers' Club
A reading of published or in-progress pieces by members and friends of the group. Second Fri of every month, 7:30pm. Free. Borders Books, 356 Santana Row #1030, San Jose, 408.241.9100.
Charles Todd
An appearance by the man behind "The Red Door," the news Inspector Ian Rutledge mystery. Tue, Jan 12, 7:30pm. free. Kepler's Books, 1010 El Camino Real, Menlo Park, 650.324.4321.