Arts
Ron E. Beck
San Jose drummer and Tower of Power percussionist Ron E. Beck talks about teaching a new generation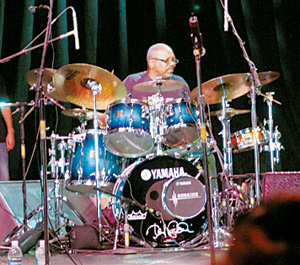 SAN JOSE resident and former member of Tower of Power Ron E. Beck is in the studio for a recording session. He is working with a student on a track using what he describes as an unconventional process: lying on the floor on the verge of deep slumber, doing nothing more than listening.
Beck appreciates what he is hearing so far. The music is balanced; more importantly, it is in tune with an element he believes is just as important as talent. For him it would be a sin not to play with passion, and that's something he understands cannot be taught. "I could hear what was developing, and it's all about emotion, the feel to take it where it wants to go," he explains. "Any great song that's written is about the feel. It's about the story you're trying to tell and developing that story."
Beck was 19 years old when he first left his home in Omaha, Neb., to venture off and live out his dream of creating music by doing what he loves: playing the drums. Some of his most memorable moments came as a drummer for Tower of Power, an urban soul group from Oakland. When Beck tried out for the band, in 1975, he admits not realizing how well respected they were as musicians worldwide. "When I first auditioned for the band, I didn't even know what that meant. It was an opportunity of a lifetime."
Traveling on tour one year, the group made a stop in Japan, and to Beck's surprise, fans were in the audience cradling banners emblazoned with Tower of Power's name. People thousands of miles away knew Beck by name; to experience such adoration was a defining moment. Moving to the West Coast, he left behind a four-year scholarship to the University of Nebraska at Omaha, recognizing a life beyond his Midwestern upbringing and knowing that music was his ticket out.
"As a drummer, you have the ability to elevate the band," Beck explains. "You have control of dynamics; first of all, you have control of tempo—it maintains that rhythm. It's a drummer's responsibility to take the music where the singer wants it to go. You can have chops, but if you don't know what your function is in the band, it ain't working."
Demonstrating the technique, ability and aptitude, the characteristics he defines as "chops," is part of what Beck does as an instructor at his Drum Institute in San Jose. His philosophy, however, resides in instilling the significance of humility in his students. He stresses that without it, the consequence of losing focus is all the more apparent.
"There's a responsibility that comes with the notoriety you get," he recalls, looking back on his own career. "One thing young guys have to remember is, Do not take it for granted. Don't lose perspective of where you are. Because this stuff could end, and where the end is is up to you."
Beck has made a seamless transition over the last few years having found a new appreciation for music in the act of teaching. It is his way of giving back to the community. He believes that teaching and mentoring young children who are musically inclined will help in channeling their energy through a positive outlet. Beck sees their energy as a resource for him as much as it drives the kids' own excitement. It reminds him of why drums have been so instrumental to his success.
"My method of teaching is to construct a unique regimen for each one of my students," Beck says. "The first thing I do is I have a meet-and-greet with my guys and their parents, and I listen to them play. It's about love; it ain't about just teaching a guy how to play. I want to share my wealth and experience and give them a perspective on how to deal with this."
Now in his late 50s, Beck has been on a life's journey with music that has taken him from Europe to Japan to Canada and back to the Bay Area where he is currently working with a 22-year-old drummer hoping to make a name for himself as an artist. Beck understands the struggle; he's been there himself. "It's my turn to give it back," he says. "If I don't pass the baton, who's going to run the race?"
Beck has reached a moment of reflection through the course of the afternoon. He sets his drumsticks down, sitting up to stretch after stringing together a few notes. "I feel like I've accomplished some goals in my life that I'm proud of," he says. "If I was to die tomorrow, I would have no regrets."
RON E. BECK can be reached at [email protected] or 408.832.0283.