Arts
Scott Hamilton
The jazz tenor saxophonist returns to the Bay Area
for shows at Kuumbwa in Santa Cruz and at Stanford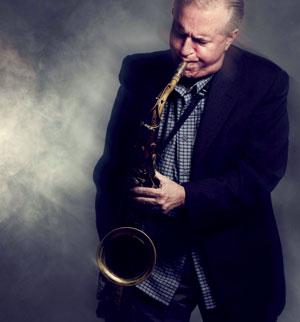 The bay area used to be a second home for Scott Hamilton. In the mid-'70s, the brawny-toned tenor saxophonist signed to Concord Records and helped revitalize acoustic jazz at a time when young lions like Wynton Marsalis and Terence Blanchard were still unknown cubs.
But he's been a scarce presence in Northern California for more than a decade. In the late 1990s, Hamilton bid the United States goodbye and settled in London, where he had built up a dedicated following. About four years ago, with visa rules changing and the cost of living rising, he decamped to Tuscany, taking up residence in a village outside Florence.
"I'd been working in Europe since the late 1970s, and I was making about 20 trips a year in the 1990s," says Hamilton, 57. "It just seemed kind of ridiculous, and I figured it's easier to get on a plane and come back to United States for a few gigs."
He plays Thursday at Kuumbwa in Santa Cruz with a quintet featuring veteran pianist Larry Vuckovich, ace bassist Jeff Chambers, artful drummer Vince Lateano and savvy trumpeter Erik Jekabson. Friday's gig at Stanford's Dinkelspiel Auditorium features an expanded ensemble, adding percussion master John Santos and soul-drenched vocalist Kenny Washington (with Chuck McPherson replacing Lateano on drums).
Possessing a buttery sound that harks back to Ben Webster, Don Byas and Zoot Sims, Hamilton was at the forefront of a neo-swing cadre associated with Concord Jazz. Recording prolifically for the label as both a leader and featured sideman on classic sessions by singers Rosemary Clooney, Maxine Sullivan and Susannah McCorkle, he was a regular Bay Area presence, playing the major jazz clubs and the Concord Jazz Festival.
It's hard to overstate just how anomalous he seemed at the release of his 1977 Concord debut Scott Hamilton Is a Good Wind Blowing Us No Ill. At a time when jazz/rock fusion dominated the market, Hamilton and collaborators like trumpeter Warren Vache, trombonist Dan Barrett and guitarist Howard Alden helped revive acoustic, pre-bop mainstream jazz.
"There wasn't a Lester Young record in print in America when I was 14," Hamilton says. "At that time, there were very few jazz artists who could make a record if they weren't playing electric instruments. I just happened to come at the right time. I got a lot of attention as a young musician. It didn't hurt that I was also cheap. I was unknown so for $50 a night I got a lot of work."
Rather than learning small group swing from vintage recordings, Hamilton forged ties with players two and three times his age, musicians who had made their mark in the 1930s and '40s. Growing up in Providence, R.I., he befriended Arnett Cobb, the powerful Houston-raised tenor saxophonist who replaced Illinois Jacquet in Lionel Hampton's rocking big band in 1942.
Trumpet legend Roy Eldridge, a player who didn't hand out compliments easily, encouraged Hamilton to make the move to New York City, where Benny Goodman hired him for his orchestra. Once ensconced at Concord, Hamilton thrived with a wide array of collaborators, including pianists Gene Harris, Hank Jones, Dave McKenna and Gerald Wiggins.
He was particularly well-matched with the criminally underappreciated Ruby Braff, a trumpeter and cornetist who combined Bix Beiderbecke's puckish, singing lyricism with Louis Armstrong's bravura, big-hearted melodic invention.
"Most of the big names who played the kind of jazz I play are gone now," Hamilton says. "You have to keep going. As far as the music goes, people want honesty above all else. I try to stick by what I know is me, and hopefully there's some growth. I hesitate to get involved in major overhauls."
Rather than making radical departures, Hamilton evolved through a series of incremental shifts, modifying his early reliance on Zoot Sims for a broader sonic palette. His personal approach to phrasing and building long melodic lines resulted in memorable recordings like 1993's Scott Hamilton With Strings, a ravishing album with a 20-piece string orchestra conducted by Alan Broadbent, and 1994's Organic Duke, an Ellingtonian session with Mike LeDonne's organ combo.
For his Bay Area gigs, Hamilton is reuniting with the great bebop pianist Larry Vuckovich and veteran drummer Vince Lateano, with whom he first performed in 1978 at the old Keystone Korner as the ringer in a Texas tenor showcase with Arnett Cobb and Buddy Tate.
"The beauty of Scott's playing is his God-given gift for lyricism," says Vuckovich, 75.Ê"He's a soulful, authentic talent who carries the lineage of past tenor masters, while É his fresh and sophisticated linear invention carries him to the present."
Scott Hamilton
Friday, 8pm; $32