Arts
Spencer Tracy: A Biography
An exhaustive new biography charts the long career of golden-age movie star Spencer Tracy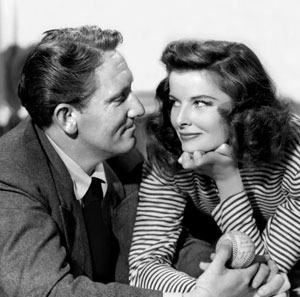 James Curtis' monumental (in length at least) biography examines the life of an actor who specialized in "pillar of strength." Spencer Tracy was homely and often portly, but he was the embodiment of fortitude. And he was a nimble, if craggy, light comedian.
They say Astaire and Rogers worked because Ginger made Fred look sexy, and Fred made Ginger look classy. Such alchemy occurred when Tracy met Katharine Hepburn. In a series of what producer Leland Hayward called "toad and grasshopper comedies," Tracy donated the street smarts to the aristocratic Kate. She in turn showed the limitations of old-time wisdom in an America seeking justice and progress.
Curtis squashes speculations that Tracy the pillar was bent. There is, he writes, "a curious subgenre pandering to an audience that apparently wants to be told that practically everyone in Old Hollywood was secretly gay." Countered here also are the rumors that Tracy's drinking was caused by guilt—the slander that he caught venereal disease, which caused his son John to be born deaf. The truth was less flashy: Usher syndrome. The drinking, though, was Eugene O'Neill–worthy, binges finishing in hospitals and jail cells, including assaults on other actors. There's even evidence Tracy roughed up Hepburn. Tracy was the son of a middle-class Wisconsin father who had his own binges. Spencer rose through sheer hard work: After college and a short Navy stint, Tracy excelled at the American Academy of the Dramatic Arts.
Curtis shines in re-creating the sights and sounds of Tracy onstage; anyone can rewatch a movie, but this digging for the past is more difficult. We get an idea of how electrifying Tracy was through the multiple viewpoints of critics, audiences, co-actors and technicians. Tracy's breakthrough play was The Last Mile—as a doomed prisoner, Tracy was so intent that he choked a fellow actor semiconscious onstage. Tracy parlayed this success into five years at the low-rent 1930s Fox studios. In 1935, MGM's Irving Thalberg took a gamble on the hitless actor. Tracy stayed at that studio for 20 years, making San Francisco, A Guy Named Joe and Boys Town. Later came Tracy's towering work in Bad Day at Black Rock.
Certainly the best introduction to Tracy's power is Fritz Lang's Fury, based on a double lynching in San Jose in the 1930s. Curtis describes the necktie party as payback for "the kidnapping of a department store heiress." If he got that wrong (it was the son who was kidnapped), Curtis is elsewhere more accurate in summing up the impact of this troubled giant among actors. "I'm easy to imitate," Curtis quotes James Cagney, "but you never see anyone imitate Spence."—
By James Curtis
Knopf; 1001 pages; $39.95