Arts
Inner Voice
At the Triton Museum, artist Squeak Carnwath paints ideas with the pattern of speech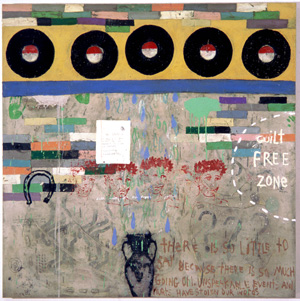 RECORD thunderstorms cleared the roads of sensible people, giving me an opportunity to spend some time alone in the Triton Museum's spacious Warburton Gallery with a score of paintings by Squeak Carnwath, watching the painter think.
There is no artist whose internal "voice" is as clear, persistent and obsessive as Carnwath's; in fact, her voice takes on a presence itself, as if the artist paints her mind forming ideas, and the ideas have the pattern of speech. I imagine her, a woman in her 60s, with a place in history carved out pretty securely, alone in her Bay Area studio.
She's working on a lot of canvases at the same time. The studio's messy, she goes from one canvas to another—a word from one spawning an image on another, wet paintbrush splashing en route. Maybe she mutters to herself as, painstakingly, with breath inheld, she paints a line of black letters on a giant canvas of scarred-up white: "In my family our opinions didn't matter. Oh god, more people. On the streets outside my window. Nabokov's words fill the studio. Nothing else can be heard ..."
The letters mostly get smaller as they go down the canvas, squeezing the idea into the rectangle. The straight-ish lines of printing slant upward a bit, with a few phrases in cursive—for emphasis maybe, or just because the idea was fast. Here or there a word is underlined in thick red.
I see the artist drinking tea with honey out of a jam jar at a scarred, splashed, ancient pine table. Perhaps I go too far? That's what her unique "voice" conjurs to me—the "voice" in each viewer's head is bound to be differently specific.
"Squeak Carnwath: All Thought and Pleasure" is a session with a quixotic life master who paints her anxious, sometimes absurdly humorous observations and delivers her homilies in massive coded pictures of thoughts, thoughts governed by words, words pushing and pulling at symbols in an outpouring of her inner mind.
As abstractions, the paintings have bold formal power; as communications, they wield the impact of an old tunnel of graffiti—marks that say, "I was here," messages from the dark.
On a field of one or perhaps two drippy, scarred, often dirty-looking colors, Carnwath sets afloat words and objects without spatial relationship. Fore- and background and the relative size of objects are irrelevant: a multicolor bricklike pattern may meander into the rectangle and stop; an amorphous area, perhaps her repeated "Guilt Free Zone," may be delineated by a dotted line.
Carnwath deploys a finite toolbox of symbols—in this exhibition, a tree stump, an eight-pointed star, a black circle within which a label reads "Side One," the four-lines-plus-one-across method of counting by fives; a Greek vase with handles, a candelabra, a quarter dollar, a stenciled-looking head of a man with heavy whiskers and an olive wreath on his head; a horseshoe, and white rectangles that appear to be pages pasted on the canvas but which are really painted: an image of a Snow Whitelike woman titled "MISSING"; a sheet of lined paper upon which the artist has printed, in her childlike hand, a message.
In Face Recognition, the message warns that bees have the ability to recognize faces, pointing out the consequences of swatting at them. A horizon of viscous dimensional green goop lowers over the imagery below. In Evaporation, the black "Side One" circles march across the top of a cacophony of symbols and patterns: "There is so little to say because there is so much going on. Unspeakable events and hurts have stolen our words."
Squeak Carnwath: All Thought and Pleasure
Runs through May 8 at the Triton Museum of Art, Santa Clara