Arts
Solidarity
The supergroup Tillery brings together three female jazz vocal stars for debut show at Stanford Jazz Festival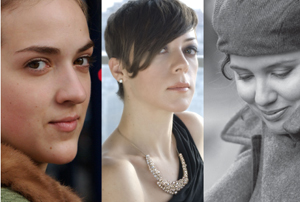 ACCORDING to the old stereotypes, Tillery should be impossible. A supergroup bringing together three of jazz's most creative vocalists, songwriters and bandleaders, the project defies all the tired assumptions about the egos and insecurities of female jazz singers.
Instead of fighting each other for the spotlight, Gretchen Parlato, Becca Stevens and Rebecca Martin have joined forces to sing each other's original pieces and perform new material they've composed for Tillery (originally known as Girls Gone Mild and named after composer Kenya Tillery).
"It's a mentality of complete love and admiration and respect for each other," says Parlato, who's often on the road singing backup vocals with Esperanza Spalding when she's not delivering material from her exquisite new album, The Lost and Found (Obliqsound).
"Jealousy and competitiveness is going to exist in the world," she says. "We don't need to fall into it. It's amazing what you can do when you get together with people who you love so much."
For the triumvirate's West Coast debut, Wednesday, Aug. 3, at Dinkelspiel Auditorium, part of the Stanford Jazz Festival, the women are performing with an equally formidable quartet led by Menlo Parkraised pianist Taylor Eigsti, featuring guitarist Julian Lage, alternating bassists Harish Raghavan and Larry Grenadier, and drummer Greg Hutchinson. Even by the interconnected standards of the New York jazz scene, the ties binding these musicians can get dizzying.
For starters, Martin, an accomplished acoustic guitarist whose 2009 CD, The Growing Season (Sunnyside), won an Independent Music Award for Best Folk/Singer-Songwriter Album, is married to Burlingame-raised Grenadier, a superlative musician who has spent more than a decade as part of pianist Brad Mehldau's trio.
Stevens is a member of Eigsti's working quartet, and is featured throughout his latest album, 2010's ravishing Daylight at Midnight (Concord Music). He often tours with Parlato, who makes a guest appearance on Stevens' recent release, Weightless (Sunnyside), a session of original folk and pop-inflected songs that has earned critical raves.
Eigsti is responsible for bringing the women together. Parlato and Stevens first shared a stage as part of the pianist's Free Agency band, which performed in January 2010 with the Peninsula Symphony Orchestra. For Eigsti, the common creative threads shared by the vocalists made the connection a no-brainer.
"They all really think alike," Eigsti says. "Becca has this incredibly clarity. "Rebecca is one of my favorite songwriters. She's so dynamic and honest. And Gretchen is an amazing musician who has a way of coming into any situation. Becca and Rebecca are such good guitarists. There are so many possibilities when they get together."
Parlato fits most comfortably under a jazz rubric. Possessing an enticingly crystalline voice and a insinuating sound deeply informed by samba ballads and bossa nova, she's been an essential part of several singular ensembles, dating back to 2001 when Wayne Shorter, Herbie Hancock and Terence Blanchard selected her as the first vocalist admitted to the Thelonious Monk Institute's prestigious two-year master's program (she went on to win the Thelonious Monk International Jazz Vocals Competition in 2004).
While Martin is steeped in jazz, she has honed an emotionally evocative body of songs conceived more as vehicles for her incisive lyrics than as launching pads for improvisation. And Stevens, a musical polymath raised on Appalachian roots music, first gained national attention as the vocalist in saxophonist Travis Sullivan's Bjorkestra, a jazz orchestra devoted to the music of the Icelandic pop icon. Tillery was born when the three women all got together for a weekend retreat.
"Gretchen kept telling me that we have to set up a hang with Rebecca Martin," Stevens says. "She's one of those gals whose mission is to get all her pals to be one happy family. We made amazing food, talked and talked. Rebecca pulled out her guitar and said 'What would it be like to sing something?' She sang one of her songs, we sang textures and at the end it was like, this is it, we're soul mates."
Tillery with Taylor Eigsti Quartet
Aug. 3, 8pm; $36
Dinkelspiel Auditorium, Stanford