Arts
Jazz Rush
Composer and trombonist Wayne Wallace debuts his newest work, 'Rancho San Miguel,' in Palo Alto on Saturday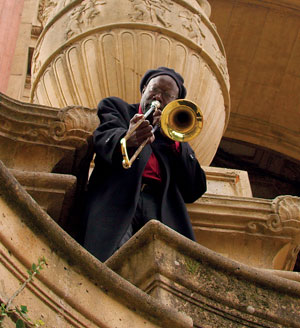 AS AN essential creative force in the Bay Area's Latin jazz scene, Wayne Wallace knows all about the power of a beat or a melody to evoke a forgotten world. The trombonist, arranger, educator and bandleader has spent the past quarter-century investigating the deep cultural currents flowing between West Africa and the Americas in a wide array of musical settings. But he found the inspiration for his latest work in his own backyard.
In Palo Alto this Saturday, San Francisco Chamber Orchestra presents Wallace's newly commissioned, Rancho San Miguel, at Palo Alto's St. Mark's Episcopal Church as part of "Places of Note," a program featuring Dvorak's Serenade for Strings and piano prodigy Hilda Huang performing Haydn's Piano Concerto in D.
A concerto for jazz trombone and chamber orchestra, Wallace's 10-minute piece looks back at the 1845 Mexican land grant given to Jos– de Jesus Noe by Gov. Pio Pico, a 4,443-acre expanse that now encompasses Noe Valley, the Castro, Glen Park, Diamond Heights and St. Francis Wood.
Wallace was reading Alan Rosenus' book General Vallejo and the Advent of the Americans when he got the commission, and he decided to summon musically the brief but tumultuous era from the creation of Rancho San Miguel to the outbreak of the Mexican-American War and the Gold Rush.
"I've always been a fan of history ... and what makes California so out there," Wallace says. "For this piece, it's very tranquil at first, and there's one theme I keep bringing back with some polytonality so you get the sense of something unsettling going on, leading to the craziness of Gold Rush. I do the classical thing of theme and development, recapitulation and coda."
The SFCO first collaborated with Wallace several years ago when the ensemble performed a concert of music from the African diaspora. Commissioned to write a brief composition, Wallace delivered a piece for trombone, percussion and five strings that left conductor Benjamin Simon impressed enough to keep an eye out for other opportunities to work with him.
"We like to try different things," says Simon. "We're not your grandparent's stuffy chamber orchestra. I've been a fan of Wayne's for a long time. He's a top-class musician who breaks boundaries and tries not to put himself in a box."
These days, there isn't a box big enough to contain all of Wallace's work. In a career spanning nearly four decades, the musically multilingual Bay Area native has collaborated with a dazzling array of artists as a composer, arranger, first-call freelancer and studio ace, including Count Basie, Ray Charles, Joe Henderson, Carlos Santana, Lionel Hampton, Earth, Wind & Fire, Sonny Rollins, Pearl Bailey, Aretha Franklin, Tito Puente, Lena Horne, Stevie Wonder, John Lee Hooker, Earl "Fatha" Hines and cellist Joan Jeanrenaud.
At 59, he's old enough to have broken the color line at several venues, and young enough to be in the midst of a blossoming career as a bandleader, composer, producer and entrepreneur with a label that's attained national reach, Patois Records. Known as the Doctor for his empathic skills as a producer and educator who has trained and mentored hundreds of musicians, Wallace has almost fully embraced his role as a Bay Area institution.
"Maybe I am an elder statesman now," Wallace says. "It's kind of funny. I don't feel that old. I have a big list of things to do. The label has been really interesting. It's like starting a restaurant. You do all the work, and then see who shows up."
He traces the start of his transition from invaluable sideman to bandleader back to an NEA grant he received in the early 1990s to write and perform a piece combining African-American influences with Afro-Cuban roots music. The resulting suite, Digging Up the Roots, premiered at the Stanford Jazz Festival in 1993.
He finally stepped forward in 2000 with his first CD, Three in One (Spirit Nectar), a session showcasing his writing skills and his encyclopedic knowledge of Afro-Cuban rhythms. The album wasn't so much groundbreaking as utterly personal, the distillation of years spent soaking up son and salsa, bebop and hip-hop, East Bay grease and descarga release.
It's hard to overstate Wallace's role in the emergence of the area's vital Latin jazz scene. As a featured soloist and arranger in various big bands led by South Bay favorite Pete Escovedo, Wallace helped hone the percussionist's populist sound blending rock and funk with Latin grooves.
He acquired a deep feeling for folkloric Afro-Cuban forms in Conjunto Cespedes, the pioneering West Coast son ensemble. And as a founding member and co–musical director of John Santos' Machete Ensemble, he was a pillar of the talent-laden band that carried the progressive Latin jazz torch for more than 20 years until Santos disbanded the group in 2006. "Wayne's writing and playing largely defined our sound and direction," Santos says.
Wallace is driven by his wide-ranging curiosity. A conversation with him is unlikely to stay focused on music. Whether the topic is literature, movies, politics, gossip, dance or theater, he soaks up and assimilates new facts and ideas. When he finds himself in a musical situation in which he feels less than totally grounded, he'll seek out more information, which is what led him to make several trips to Cuba in the mid-'90s.
"My biggest thing is I don't like to be on the outside of music," Wallace says. "I got tired of the percussionist having a rhythmic language I didn't understand. Studying in Cuba really helped me get a greater affinity for the cultural part of the music and to understand the dynamics of it."
Patois Records is just another forum for Wallace to stir the pot. Over the past five years, he has produced and released impressive Latin jazz-laced albums by vocalists Kristina, Alexa Weber Morales and, most particularly, San Jose's Kat Parra, whose fascinating Sephardic Music Experience sets Ladino lyrics and melodies from medieval Spain to a variety of Afro-Caribbean rhythms. She introduced the concept on 2008's acclaimed Patois release Azucar de Amor, and delved headlong into the Sephardic repertoire on 2010's Dos Amantes.
Parra credits Wallace with providing invaluable assistance throughout the process. "He was a mentor as well as the arranger," Parra says. "I told him what I wanted to do, and he was so amazing in how he guided me. His main theme was, what's going to tie everything together."
Wayne Wallace, SFCO
Saturday; 8pm; free
St. Mark's Episcopal Church, Palo Alto
See sfcomain1pa.eventbrite.com for tickets