The Best of Silicon Valley 2012
Silicon Valley's Best Asian Food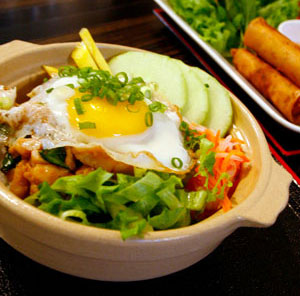 READER'S PICKS
Best Pho
House of Pho
1066 E. El Camino Real, Sunnyvale. There are approximately 1.3 pho shops for every Silicon Valley resident, so the competition is fierce, but Metro readers picked House of Pho in a tight race.
Pho 69 321 S. First St., San Jose
Pho Lynn 1865 W. San Carlos St., San Jose
Best Sushi
250 Jackson St., San Jose; 1165 Lincoln Ave., #110, San Jose; 10 E. Hamilton Ave., Campbell. Round and round the sushi boat goes. Where it stops, Metro readers know: at Kazoo.
Blowfish Sushi to Die For 355 Santana Row, San Jose
Mizu Sushi 1035 S. Winchester Blvd., San Jose
Best Asian Fusion
333 Santana Row, San Jose. Straits is a fusion restaurant without trying to be. It is based on the cuisine of Singapore, a country that is amalgam of several culinary traditions that create one delicious restaurant.
Elephant Bar Multiple locations
Blowfish Sushi to Die For 355 Santana Row, San Jose
Best Asian Vegetarian
Blue Mango
635 Coleman Ave., San Jose. Thai cuisine lends itself well to vegetarian food, and Blue Mango showcases an extensive menu of brightly flavored meatless dishes.
Good Karma Vegan Cafe 37 S. First St., San Jose
Vegetarian House 520 E. Santa Clara St., San Jose
Best Vietnamese
535 E. Santa Clara St., San Jose. Silicon Valley is loaded with Vietnamese restaurants, but South Bay institution Vung Tau continues to wow with its encyclopedic menu and beautiful dining room.
Khanh's Restaurant 335 S. Winchester Blvd., San Jose
19Market 19 N. Market St., San Jose
Best Malaysian Restaurant
182 Ranch Dr., Milpitas. Singaporean food is the new Thai food. It combines native Malay, Chinese and Indonesian influences to create a singularly delicious cuisine, and Banana Leaf does it better than anyone else.
Straits 333 Santana Row, San Jose
Layang Layang 1480 S. De Anza Blvd., San Jose; 181 W. Calaveras Blvd., Milpitas
Best Dim Sum
10123 N. Wolfe Road, Cupertino; 1001 Story Road, San Jose. Dim sum is no trifling matter to Metro's readers; the voting in this category was among the closest in the whole ballot. But in the end, Dynasty came out on top for its prodigious and delicious dim sum and Hong Kong-style Chinese food.
Mayflower Restaurant 1080 Saratoga Ave., San Jose
ABC Seafood 768 Barber Lane, Milpitas
Best Korean Restaurant
SJ Omogari Korean Restaurant
154 Jackson St., San Jose. Santa Clara's El Camino Real claims to be Silicon Valley's Koreatown, but Metro reader s like the family-run goodness of SJ Omogari, which is located in San Jose's Japantown and serves treats like seafood pancakes, pan-fried mackerel and lots of variations of kimchi.
Bamboo Korean BBQ House 260 S. Abel St., Milpitas.
Korean Palace 2297 Stevens Creek Blvd., San Jose
Best Ramen
Maru Ichi Japanese Noodle House
368 Castro St., Mountain View; 530 Barber Lane, Milpitas. Silicon Valley is awash in great bowls of traditional Japanese ramen, but the excellent Maru Ichi bubbles to the top.
Orenchi 3540 Homestead Road, Santa Clara
Kumako 211 Jackson St., San Jose
EDITOR'S PICKS
Best East-meets-West Sushi Experience
Tiradito
454 S California Ave., Palo Alto. Peru has a large Japanese population, so it's no surprise to see a few Peruvian-accented dishes turn up at Jin Sho, the Palo Alto sushi restaurant that served one of Steve Jobs' last meals. The tiradito is a classic Peruvian dish that gets a Jin Sho spin. It's like ceviche but with bigger slices of fish. Here it's paired with a creamy, fruity aji panka sauce, a classic Peruvian chile pepper sauce.
Best Meta-Spicy Dish
Dakdoritang soup
BN Chicken , 2725 El Camino Real, Santa Clara. Calling the dakdoritang at BN Chicken spicy really doesn't do it justice. Even at medium spice level, it's incendiary enough to melt a rock. But after a few bites of mouth-blistering heat, the pain reaches a climax and causes a wash of mouth-cooling endorphins. The heat doesn't go away, but you're just chile-pepper-buzzed enough to enjoy the soup.
Best Remote Chandigarh Chow
322 E. Santa Clara St., San Jose. Nothing beats an authentic neighborhood hole in the wall. Amid XXXXL-size hip-hop shirt stores, Metro PCS outlets and a reinvented laundromat, one finds the best Indian grub anywhere in downtown San Jose. Even the lowly, stepped-on city employees frequent this 20-capacity closet of exotic delights. The sauces are legitimate, as are the samosas and pakoras. The $8.99 lunch buffet cannot be stopped, and neither can the hard-working Punjabi employees. If they laugh, it means applause, as Indians tend to know.