January 4-10, 2006
home | north bay bohemian index | music & nightlife | band review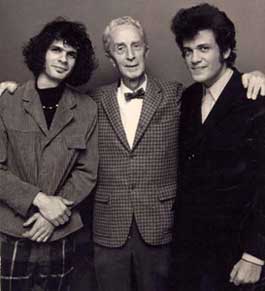 Three of a Kind: Al Kooper (left), with emeritus painter Norman Rockwell and bluesman Michael Bloomfield.
Unsung Hero
Al Kooper casts a long shadow
By Greg Cahill
Get ready for the annual Al Kooper whistle-stop tour. The scruffy bohemian rock 'n' roll prince—a keyboardist, songwriter and producer whose extraordinary résumé includes stints with Bob Dylan, Blood Sweat & Tears and Lynyrd Skynyrd, to name a few—is once again winding his way down to NAMM, the big Southern California music-trade show, and that means a Jan. 12 stopover at Sweetwater Saloon in Mill Valley.
Kooper's show there last January led to one of 2005's most memorable North Bay club dates, and you can expect more of the same from the guy who played the signature riff on Bob Dylan's landmark song "Like a Rolling Stone" (he was featured in Martin Scorsese's recent Dylan documentary No Direction Home), spearheaded the urban-blues sound with the Blues Project, starred as one-third of the first super group (1968's Super Session with guitarist Mike Bloomfield and Steve Stills), crafted the use of horns in rock 'n' roll and played midwife to the birth of Southern Rock (producing "Free Bird" and other classic tracks).
Throughout his career, Kooper's music has been steeped in soul, blues and R&B.
How cool is Al Kooper? The Doors keyboardist Ray Manzarek paid homage to him by including a quote from the BS&T song "House in the Country" on the organ solo of "L.A. Woman" and, more recently, Jay Z sampled Kooper riffs on "Soon You'll Understand."
The Rock Bottom Remainders—the all-star literati band comprising Stephen King, Amy Tan, Dave Barry, Barbara Kingsolver, Matt Groening, Dave Marsh, and others—enlisted Kooper to serve as music director for their occasional renegade projects.
When George Harrison needed an arranger and keyboardist for his Beatles tribute "All Those Years Ago," which also featured fellow Fab Four members Paul McCartney and Ringo Starr, he tapped Kooper for the historic session, which paved the way for the Beatles Anthology series. He's also contributed keyboards to recordings by Jimi Hendrix, the Rolling Stones, the Who and Tom Petty, among others.
For one of rock's great unsung heroes (though Kooper is never shy about blowing his own horn, as he did in his now out-of-print autobiography Backstage Passes & Backstabbing Bastards), he continues to cast a long shadow: Kooper's work as a producer, songwriter or session player cropped up last year on 12 of Rolling Stone magazine's 500 Greatest Recording of All Time.
These days, Kooper is busy hosting a radio show on the U.K.'s hip Radio Caroline, compiling a Mike Bloomfield box set, producing a soon-to-be-released 5.1 surround-sound version of BS&T's classic debut Father Is Child to the Man, recording an audio book of his controversial autobiography and recording his first solo album in 30 years.
Al Kooper performs Thursday, Jan. 12, at the Sweetwater Saloon. 153 Throckmorton Ave., Mill Valley. 9pm. $22. 415.388.2820.
Random Notes
Rock and fusion guitarist Ronnie Montrose returns to the Mystic Theatre on Friday, Jan. 13. His original self-named band, featuring a young Sammy Hagar on guitar, is credited with being one of the first American bands to break the stranglehold British Invasions held on U.S. rock charts through the early '70s. . . .
Lee Oskar of War headlines the annual Blues Harmonica Blow Out held Thursday, Jan. 12, at the Last Day Saloon in Santa Rosa. Magic Dick (from the J. Geils Band), Jerry Portnoy (who has performed with Eric Clapton and Muddy Waters) and Mark Hummel also are scheduled to perform. . . .
Mandolinist David Grisman and guitarist Stephane Wrembel bring their Gypsy Caravan Tour to the Mystic Theatre on Jan. 26 and the 142 Throckmorton Theatre in Mill Valley on the following night. Also performing are Brandi Shearer and the Robin Nolan Trio, as well as Sammo and the Gypsy Kids, featuring Sam Miltich and Sam Grisman. . . .
Blues legend and pianist Jimmy McCracklin—celebrating his 61st year as a recording artist—tops the bill at a Jan. 28 show at the 142 Throckmorton Theatre. Also appearing is Sugar Pie DeSanto. McCracklin broke out of the blues ghetto in 1958 with the Top 10 hit single "The Walk," which earned him a pot on Dick Clark's network TV show American Bandstand. . . .
The Paris-based world-fusion octet Les Yeux Noirs returns to the North Bay on Jan. 29 with a performance at the Osher Marin Jewish Community Center.
Send a letter to the editor about this story.