January 4-10, 2006
home | north bay bohemian index | the arts | books | review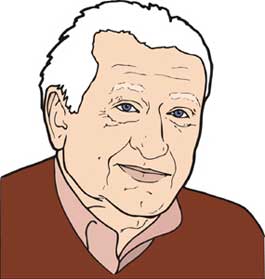 Crusader: Terkel is a self-described 'guerrilla journalist with a tape recorder.'
Hope Dies Last
Studs Terkel keeps the faith
By Michael Shapiro
As a teenager in a sheltered suburb south of San Francisco, I stumbled upon a paperback that opened a window on to the larger world. That paperback, the title Working diagonally inscribed in bold, black letters across its scarlet cover, became my little red book. Its pages contained interviews with about a hundred hard-working people of all stripes, from the footsore waitress to the meter reader dodging canine pursuers. Its compassionate interviewer somehow led truck drivers and strip miners to reveal their deepest feelings about what they do, and engendered compassion for those who, day in and day out, put their shoulders to the wheel.
The interviewer, Studs Terkel, then in his 60s, seemed impossibly old, a relic from the bygone age of Wobblies, Depression grit and union battles. Now 93, Terkel is still working and still living in Chicago near the shores of Lake Michigan. This fall he published And They All Sang: Adventures of an Eclectic Disc Jockey (New Press; $25.95), a compelling anthology of interviews with more than 40 of the last century's greatest musicians. Among those interviewed are gospel singer Mahalia Jackson, classical guitar maestro Andrés Segovia, and jazz legends Louis Armstrong, Betty Carter and Dizzy Gillespie.
Terkel worked as a DJ in Chicago for more than half a century, conducting the interviews for And They All Sang between the early '50s and late '90s—and he certainly knows music. As a law student in Chicago during the Depression, he used to listen to blues and jazz at record stores in Chicago's predominantly black Bronzeville neighborhood. That's where he first heard Big Bill Broonzy, the son of former slaves, and others who brought the music of the deep South to the cities of America's heartland.
In And They All Sang, Thomas A. Dorsey (the "father of gospel," not Tommy Dorsey) thanks Terkel for discovering Mahalia Jackson. Terkel replies: "This is a sad commentary. Mahalia had filled ballparks before but the audience was all black. . . . We use the word discovery, that someone is not discovered until a white discovers him. This, to me, is one of the tragedies of our culture. . . ."
Terkel has called himself "a guerrilla journalist with a tape recorder." His first book of interviews with ordinary people, 1967's Division Street, was a groundbreaking look at the lives of Chicagoans, rich and poor, black and white. Driven by an enlivening curiosity, Terkel never judges his subjects, one reason why people are so comfortable opening up to him and his recorder. Though he's won the Pulitzer Prize (for The Good War about those involved in WW II), Terkel is most proud of helping readers understand the lives of these ordinary people, such as waitress Dolores Dante. "I'm never going to speak to a waitress again the way I did before," a reader once told Terkel, who said, "I affected that guy. Dolores affected that guy. It was her moment of immortality."
With over a dozen oral histories covering topics from race to death, Terkel has more than earned his moment of immortality. Yet he remains vibrantly mortal, outspoken (he recently called the Bush administration a "burlesque show, but not a funny one") and humble.
Considering that his 2001 book, Will the Circle Be Unbroken? Reflections on Death, Rebirth, and Hunger for a Faith, was published on the eve of Terkel's 90th birthday, many of his devoted readers believed it would be his final book. But two years later the irrepressibly energetic oral historian followed with another original book, Hope Dies Last, urging his readers to "keep the faith in difficult times."
Like many of his other books, most of the interviews in Hope are with ordinary Americans, but this mix is leavened with a few well-known subjects. The recognizable names include Pete Seeger, Tom Hayden, Arlo Guthrie and Dennis Kucinich, whose 2004 campaign for president was founded on hope.
Ultimately, the central theme of Terkel's body of work is hope. From laborers weathering the Depression to activists keeping the flame burning during these dark days under the Bush administration, Terkel's work shows that as long as we're alive, we have hope.
To hear Studs Terkel's interviews online, visit www.studsterkel.org for his 'Conversations with America.' A six-CD collection called 'Voices of Our Time' (HighBridge; $34.95) has 50 interviews conducted by Studs Terkel, including chats with Woody Allen, Maya Angelou, Mahalia Jackson, Bill Moyers and Mel Brooks.