01.09.08
home | north bay bohemian index | the arts | stage | review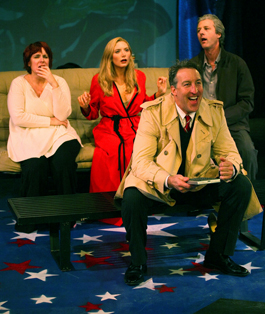 Photograph by Eric Chazankin
Square Pants: Dodds Delzell (foreground) and Tim Kniffin cut up in 'Exposure.'
The Big One
Hilarious 'Public Exposure' tells the naked truth
By David Templeton
You're rot, you're scum, you're toe cheese!" Those are not just pretty words. For popular right-wing television pundit Bill Humphrey, the attention-seeking central figure in Robert Reich's outrageous political satire Public Exposure—enjoying its West Coast premiere at the Sixth Street Playhouse's new Studio Theater—these insults are among his favorite slogans, mantras that he gleefully employs as a bludgeon to shut down befuddled liberal guests on a highly rated live TV show called The Naked Truth. His other favorite slogan is "We expose—you watch," which, by the end of the first act, turns out to be hilariously literal.
Played with a manic, self-deprecating hubris by Dodds Delzell, Humphrey is a pompous buffoon and a narcissistic exhibitionist who is nonetheless insanely popular and entertaining. There is also a bit of wounded man-child about him, making him somehow likable even when he's accusing philanthropic little old ladies of supporting prostitution, drugs and social anarchy by making sandwiches for destitute women.
When Humphrey is persuaded by his ex-wife, the gay-bashing on-air "political analyst" Irma Sunquist (Sheri Lee Miller), to run for president, he initially worries that, as an entertainer who only pretends to be a moral compass on TV, he doesn't really know anything about politics. But soon convinced that people only elect candidates they can identify with, Humphrey warms to the idea of being the leader of the free world, even as he worries about what he'll do the first time he must appear in public before a live audience.
Humphrey, you see, has a secret hobby: unbeknownst to Irma, he is a compulsive flasher. Just dim enough not to recognize that exposing himself to strangers runs counter to his stance as a holier-than-thou moral authority, Humphrey's deepest shame and insecurity comes from the fact that when naked he, um, swings slightly to the left. In other words, he is directionally challenged, or, as is bluntly stated, he has a crooked dick. Enter Dr. Ray Langwell (Tim Kniffin), a smooth, openly avaricious plastic surgeon whom Humphrey consults in an attempt to have his thingamajig straightened out.
I'm not making this up.
The big fun in this broadly inventive play, directed by Argo Thompson with expert comic pacing and a detailed eye for visual comedy, comes after Dr. Langwell has successfully treated Humphrey, to the queasy dismay of his shapely Christian wife and post-surgical display model Sandy (Heather Gordon), who in turn leaves the good doctor for Irma (evidently only homophobic when the cameras are on). Humphrey, no longer ashamed of his penis, concludes his first campaign appearance by proudly dropping trou on national television. As an appalled Irma tells him, "Everyone knows politics is full of pricks, but you had to put yours on display!" Adds Sandy, "He's a pervert! This is not what I expected from politics!"
Lest I reveal too much (that's Delzell's job), I'll stop here. All of this, of course, is just the set-up for Reich's true agenda, the skewering of the entire American election process and the way it has slipped into an embarrassing morass of crass deception and media manipulation, fueled less by political ideas and debate than by shallow, substance-free one-upmanship.
Reich, a pioneering economist who served as Secretary of Labor under Bill Clinton, has a clear understanding of the lingo and moral backflips common in modern-day politics, and he knows how to get a laugh by skewering the right and the left. Witness the hilarious debate between Humphrey and his Democratic opponent Gov. Louise Hutton, who answers tough questions by spouting gobbledygook ("Trapp schlap burckle, whop schlopp baharr").
The satire on display in Public Exposure, while endlessly entertaining, is not particularly deep, related more to the Mel Brooksian everything-on-the-surface humor of a Young Frankenstein or The Producers than to the perceptively probing, beneath-the-skin satire of [Marker]Bullworth, Dr. Strangelove or Wag the Dog . That said, the one-liners are pitch-perfect, the laughs are huge and the excellent cast—including Cheryl Itamura as Humphrey's slightly bored TV crew leader—tackle the edgy material with energy, invention and guts.
Like the poor, clueless Bill Humphrey, this show risks a lot, but hangs spectacularly.
'Public Exposure' runs Friday–Sunday through Jan. 26 at the Sixth Street Playhouse Studio Theater. Friday–Saturday at 8pm; Sunday at 2pm. 52 W. Sixth St., Santa Rosa. $12–$18. .707.523.4185.
Send a letter to the editor about this story.