January 18-24, 2006
home | the papers | north bay bohemian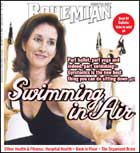 Swimming in Air
Part ballet, part yoga and indeed, part swimming—Gyrotonics is the new best thing you can do sitting down.

Hospital Checkup
How healthy are our major medical facilities?
Gray Matters
Lanna Nakone and the organized brain.
The Byrne Report
Full Disclosure.
News Briefs
Getting Carded.

Car Culture
Why parked cars can be a bicyclist's greatest adversary.

Sex Ed
Brian Copeland finds small dose of reality in 'The 40-Year-Old Virgin.'
Religious Riot
Albert Brooks' 'Looking for Comedy' has joke on us.

MORE MOVIE REVIEWS

MOVIE TIMES

Hard, Loud and Fast
Classic punk catalog comes to an iPod near you.
Not Sold in Stores
The sorry ballad of Time-Life's '70s Music Explosion.'
Folk Balladeer
John Jacob Niles' songs of hill folk.
This Side of Paradise
Eliza Gilkyson finally finds her direction.

MORE NIGHTLIFE

NIGHTLIFE CALENDAR

Back in Flour
Atkins is dead, long live the carb.
First Bite
Starlight Wine Bar.