01.23.08
home | north bay bohemian index | the arts | visual arts | review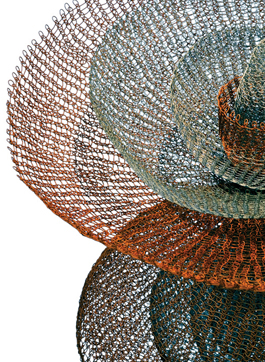 Photograph by dougsalinphotography.com
Wire Wonder: Some 24 pieces from the Asawa family private collection are on display.
Life in Balance
Ruth Asawa and art's natural force
By Gretchen Giles
The art of San Francisco sculptor Ruth Asawa is inextricably tied into the darkest moment in 20th-century U.S. history, as well as its greatest cultural achievement. One of seven children of Central Valley truck farmers, Asawa and her family were interned after the attack on Peal Harbor. Her understanding of nature and organic patterns was formed on her parents' farm; her first training given to her by three interned Disney animators; her culminating education achieved at the innovative experimental Black Mountain College; her resulting vision marking the physical experience of San Francisco, the arc of its own school children and American sculpture itself.Founded in 1933 and closed in 1956, Black Mountain College was among the freshest experiments in American education. Asawa, who turns 82 on Jan. 24, was among the slim population of just 1,200 students who attended the storied North Carolina school. There, she was taught by Josef Albers, a refugee who fled his homeland when Hitler closed his beloved Bauhaus, as well as by the visionary designer Buckminster Fuller. Other staff and alumni of the era include such notables as dancer Merce Cunningham, composer John Cage, painters Robert Rauschenberg, Willem and Elaine de Kooning, Robert Motherwell and Franz Kline. Albert Einstein and the poet William Carlos Williams sat on the school's board of directors.
Including work created at Black Mountain, a rare look into Asawa's son Paul Lanier's private collection of his mother's work, "Following Nature: Ruth Asawa in Sonoma County," opens Jan. 26 at the Sonoma County Museum.
"We, my brothers and sisters, all have feelings about certain pieces," Lanier says by phone from his San Francisco home, describing how the 24-piece collection came about. "Maybe we helped Ruth make it or maybe there's a story connected with it, and sometimes we want the same thing and then have to work that out. There's one [piece in the show] that I helped her make; it's a hanging sphere of tied wire. And the one that's on the invitation [shown above]—I just like the way that it's rusted and imperfect, I appreciate artwork that has 'flaws.' I'm not so much into cleaned up perfection." According to curator Patricia Watts, "seven or eight" of the pieces were exhibited at the de Young Museum's ground-breaking 2006 retrospective, a project that took six years to mount but which only exhibited for two months. The de Young has 11 of Asawa's hanging wire sculptures now in its permanent collection, those shadow-casting works that make waiting for the elevator to their tower such an enlivening experience.While at Black Mountain, Asawa was introduced to clay sculptor Marguerite Wildenhain, who was at the institution scouting talent to lure to her Pond Farm studio in Guerneville's Armstrong Redwoods. (Wildenhain was also the subject of an excellent one-person retrospective mounted last year at the SCM, making this show a natural follow-on.)
The two women became friends, and when Asawa and her husband, the architect Albert Lanier, moved to San Francisco from North Carolina and married in 1949, they made so many regular trips to Guerneville that they eventually purchased a property there and built a summer home still in happy use by their large family.Creating organic forms, Asawa's oeuvre largely follows the curves and linear processes that the natural world employs. Perhaps best known for her wire work, a technique of crocheting wire taught to her by native peoples in the Toluca area of Mexico, Asawa made biomorphics meant to hang and swing and cast shadows, pieces that both reveal and add mystery to the unfathomable perfection of nature. The pieces are intended to be grouped together, prompting curator Watts to hail Asawa as among the first artists to create installation art. "Her work is always known as 'modern,'" Watts says, "but in this instance it really points to what was coming in contemporary art."Asawa and Lanier had six children, with the two eldest both born within the span of 1950. As her sons and daughters grew, Asawa engaged them as apprentices; old photos—some taken by family friend Imogene Cunningham—show the children helping her with the many public art commissions that helped to support the family. Known familiarly as the "fountain lady of San Francisco," Asawa is perhaps best renowned in civic circles for her mermaid fountain in Ghiradelli Square. She and youngest son Paul also collaborated on the storytelling fountain in Santa Rosa's Courthouse Square area.
"We are all very artistic. I'm a full-time artist and all of the kids like to make things," Lanier, who works in clay, says. "Art's difficult, you need help—people to do welding or drafting or engineering or shaping. A lot of the things [Ruth] did were very difficult, and she was always very good at getting people to help her out."
When her children were school-aged, Asawa became frustrated at the lack of art education in the public system and, with characteristic vigor, set out to change that, working to establish a robust art-in-the-schools program that included having artists work in-residence within San Francisco's grammar schools. That's a legacy that Lanier has carried on. "Artists need spaces and schools have spaces," he says. "It was Ruth's idea and it was ahead of its time. It's never easy bringing artists into schools. People like Ruth fought for it for many years and it's constant fight, even today."Because of Black Mountain College's admired renown, Asawa could have easily had a high-profile full-time career. But she wanted a family, too, a balance that many female artists have found ultimately exhausting.
"She didn't really put a lot of energy into her career and didn't take the typical path of promoting herself," Lanier explains. "For many years, she was off the arts scene radar. She spent her energies in other ways, dedicated to her family and to bringing professional artists into public schools. She kept making her work but not really doing any showing or promoting.
"Not that many people know her," he says, "and that's what the curator at the de Young wanted to do [with the 2006 retrospective], to give her her place in the history of American art."
And what place is that?
Lanier laughs modestly. "I'm not really the person to ask about that."
'Following Nature: Ruth Asawa in Sonoma County' opens with a public reception on Saturday, Jan. 26, from 4pm to 6pm, and runs through April 20. A full slate of public programs is scheduled. Exhibiting in the adjacent contemporary art space is the 'EcoCentric Video Lounge,' a looped screening of some 20 experimental video projects involved with nature. Sonoma County Museum, 425 Seventh St., Santa Rosa. 707.579.1500.
Send a letter to the editor about this story.