01.23.08
home | north bay bohemian index | music & nightlife | band review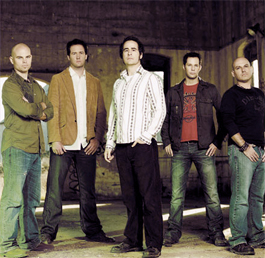 High Noon: 'Raise the Sun' is the showdown disc for Five A.M.
Make or Break
Five A.M.'s third disc will determine their career
By Gabe Meline
The Santa Rosa pop rock band Five A.M.'s new video stars big Hollywood names in a futuristic morality tale of filthy New York streets illuminated by images of atrocity, revolution and global tragedy. Ice-T works surveillance from a secret control room, while Edward Furlong struggles against wayward taxicabs and gang beatings. By the time Rumer Willis appears, it's hard not to wonder: How in the hell did an unsigned North Bay band make a video so elaborate?To find out, I met up with Five A.M. frontman Trent Yaconelli in a cafe, where the 38-year-old lead singer is sunk into one of those chairs so well-designed for sinking into. But when we start talking about the video and the nonviolence organization Pace e Bene that the video promotes, he edges forward on his seat, looking me directly in the eyes. "I love it when music tries to change the world," he says. "I love it when anybody tries to change the world. As foolish as it sounds, I'm attracted to that kind of foolishness."By virtue of a highly polished, radio-ready album far more professional than their two previous records and with the help of an enthusiastic investor, Five A.M. are poised, now more than ever, to break into a market larger than the Bay Area. In fact, so much has been invested in the band at this point that if their new album, Raise the Sun, fails to reach a wider audience, Yaconelli knows what will happen.
"I think Five A.M. will be done," he says immediately. "The band—we feel like this is our shot. It's that thing you don't have control over: what people like and what people don't like."This isn't the first time that the band, who won in the best rock band category in the Bohemian's/ 2007 North Bay Music Awards (NORBAYs), has considered calling it quits. After moderate sales figures for their 2005 sophomore album, This Morphine Life, members seriously considered moving on. Yet when a hedge fund manager (who prefers to remain anonymous) showed up at one of their shows, loved the music and offered to drop $150,000 into the band, rejuvenation abounded.
Five A.M. recorded three initial songs for Raise the Sun with Jeff Dawson (the producer behind Daniel Powter's "Bad Day"). Fully willing to "let go of the reins" and allow Dawson to sculpt their songs into finished versions, the band was thankful for not being pressured into the age-old industry request for a hit. But Yaconelli says he learned his lesson about so-called hits during a recent campaign run by Alice 97.1-FM, in which a slot at the station's prestigious Now and Zen Festival was offered to the band that could submit the best hit song. One catch: the song had to reference, in some way, Dippin' Dots, an ice cream product featured at McDonald's. Yaconelli says he got talked into it by a station employee who all but guaranteed the win. "So we put this whole thing together, and I go down to record it," Yaconelli says, still cringing. "And I feel like a total effin' sellout. So we do it—and we don't win! It was the worst thing ever."I always think about it when someone says, 'You need a hit song.'"
Full of solid hooks and thoughtful lyrics, there's no logical reason why Raise the Sun shouldn't splash onto radio playlists in the Bay Area—and, if the stars are aligned—across the country. No reason, that is, except that mainstream radio exposure of even regional magnitude almost always requires major label backing, no matter how many people love the music.
"If I knew how to make it in the music business, I would have made it by now," Yaconelli says, swirling the last of his tea. "I don't know why the wind picks some bands up and pulls them forward and leaves other bands behind. There certainly are some fantastic bands that I listen to, and I'm like, 'I don't know why these guys aren't on the radio.' And there's certainly some shitty bands on the radio that I'm like, 'How did this get on here?' It's just incredible."
Five A.M. celebrate the release of 'Raise the Sun' with a record-release soiree on Saturday, Feb. 2, at the Last Day Saloon. Joni Davis, herself also toting a new album, opens the show. 120 Fifth St., Santa Rosa. 9pm. $10. 707.545.2343.
Send a letter to the editor about this story.