January 25-31, 2006
home | north bay bohemian index | sonoma, napa, marin county restaurants | review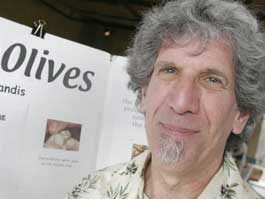 Photograph by Rory McNamara
Labor of Love: Don Landis picks, cures and distributes his olives for free.
Zen of Olives
Don Landis loves his olives, and that's no lye
By Patricia Lynn Henley
Don Landis doesn't like to be rushed when he's changing the brine on his home-cured olives. He prefers to take his time, slipping into an almost meditative state as he spends several hours emptying and refilling the salt-water solution in dozens of five-gallon plastic buckets. The meticulously tended containers, clustered on the upper end of the driveway at his Sebastopol home, hold more than 400 pounds of this classic Mediterranean fruit. Landis brings that same relaxed but purposeful approach to tasting the results of his labors, savoring the crunchiness of one variety of cured olive, enjoying the soft buttery texture of another and reveling in the tang of the ones he's steeped in garlic.
"I know not a lot of people home-cure olives," Landis says of his unusual hobby. "I like the idea of doing something not a lot of people do, and I like the end result."
He'll be teaching free workshops and handing out samples as part of the fifth annual Sonoma Valley Olive Festival, which has a variety of events scheduled through Feb. 26.
Olives are one of the few fruits that can't be eaten straight from the tree; they're too bitter when they're picked due to a compound they contain called oleuropein, which has to somehow be leached out to make the olives tasty. Large-scale commercial olive producers use lye to eat away this bitter component, a process that only takes a few days. But lye is a caustic substance that also destroys the nutrients, texture and taste of the fruit. Landis prefers the brine method, which requires months of steeping the olives in salty water. That long-term approach seems appropriate, as olives themselves are timeless. People have used them for food and oil for thousands of years, and there are individual living trees known to be more than 1,000 years old.
Despite the months of effort involved to create the end product, Landis happily gives away his home-cured gourmet wonders. However, his beautifully labeled jars of "Don's No Lye Olives" aren't for sale. And each year he leads workshops for hundreds of people, sharing his knowledge and his passion for olives, but he never charges a fee. It's his "hippie background" and antiestablishment upbringing, Landis says, that keeps him from profiting from his tasty morsels.
"To be able to exchange and share my knowledge and share my fruit with no strings attached--I get a lot of joy out of it."
Curing olives is his respite, his relaxation and his delight. His wife, Marian, approves of her husband's unusual pastime and assists at all his workshops and presentations. "I'm his support team," she says with a broad smile. "I'm glad he's got the whole midlife thing going on [with olives], because it beats fast cars or young women. It's his passion."
When he heard about the first Sonoma Valley Olive Festival organized by the Sonoma Valley Visitors Bureau in the winter months of 2001-2002, Landis was quick to volunteer.
"Don walked in the bureau with his Don's No Lye Olives and started telling us about his olives and wanted us to sample them. We did and we loved them," recalls Bureau executive director Wendy Peterson. "From that moment on, he's been an integral part of the annual olive festival."
At first, people would simply gather around Landis' table at festival events and he would dish up his olives and his knowledge. The crowds quickly outgrew the limited space, so the festival began scheduling free workshops led by Landis. Immensely popular, these olive-curing classes can attract as many as 150 people.
"I've attended one of his seminars, and you just can't leave," Peterson says. "He goes into depth about the olive and what a wonderful fruit it is and the whole process. It's fascinating"
Landis spends hours on the phone helping would-be olive curers, Peterson adds, and will go out to visit someone's olive tree or grove for an on-site consultation and diagnosis, all for free.
"He's so generous with his information. He's so accessible to the common man or the common grower. He's becoming a folk hero," Peterson says.
His hobby started about eight or nine years ago, when Landis ate some tasty olives at a potluck dinner. They had been home-cured by a friend's uncle, and Landis was intrigued. He found information and recipes on the Internet, and contacted experts at UC Davis and elsewhere. Many people were open-handed with their expertise when Landis first started, which is why he is generous with his own olive savvy for others who are just learning.
Curing olives with salt and water is a long process. Landis held a picking party in November, gathering fruit not only from a few trees on his own property, but also harvesting from in front of a supermarket, on a winery's property and at a private home. He used to pick elsewhere, but he's refined his efforts to these sites because he's focused on specific olive varieties, especially the sevillanos, which are large with lots of meat.
"Each one I pick, I think about how good it's going to taste after it's cured," Landis says.
He thoroughly washes the harvested olives, then sorts them into three categories: dark purple, which will be buttery in texture; blush, which have hues of both purple and green, making them soft and supple; and green, which when bitten into will have a definite crunch.
After sorting, the fruit is settled into large plastic buckets with eight ounces of salt per gallon of water. A mold will form where the brine touches the air. The mold is basically harmless, but it can ruin the olives, so a circle-shaped disc holds the fruit below the water's surface.
After a week, the original brine is replaced with a solution containing a pound of salt per gallon of water. Fifteen days later, that brine is dumped and replaced with fresh salt water of the same concentration. Another 30 days later, the process is repeated and garlic added if desired. The brine is changed every 30 days for seven months. Near the end of the process, Landis adjusts the solution to 1 1/2 pounds of salt per gallon of water.
Then it's time for de-salting. The brine is dumped out for the last time--Landis pours it onto the asphalt in the middle of his quiet neighborhood street, so the salty mixture doesn't get into the ground or nearby plants--and replaced with fresh, clear water. The fresh water gets changed daily so that more and more salt is removed from the fruit until the olives taste exactly the way Landis likes them--no bitterness but slightly salty.
The fruit picked in November won't be removed from the brine until June. Some people might choose to do this sooner, in May or so, but Landis dislikes any hint of a bitter taste. After a couple years of trial and error, he settled on a seven-month brine process.
Seven months of soaking hundreds of pounds of olives calls for a lot of brine. Landis spends more than $700 annually for roughly 600 pounds of salt. He also buys about $250 worth of jars and lids annually. The jars can be sterilized and reused--if they're returned to him.
A great deal of his output is given away, but Landis always makes sure to keep enough for himself and his family for the year. He has a shelf of jars reserved, and these are the best of his handiwork--the largest, the most tasty. Eating the end result is only part of the pleasure of home-curing olives. Landis enjoys every step of the process, from harvesting to serving olives to visitors to his home, and everything in between.
"I have what I wanted," he smiles, "a hobby doing something somewhat unique and different, pleasing to myself and the people who come into contact with it."
As part of the Sonoma Valley Olive Festival, Landis will lead free olive-curing seminars on Sunday, Jan. 29, 11am, at Cline Cellars, 24737 Hwy. 121, Sonoma, 707.940.4025; and on Saturday, Feb. 4, at Cornerstone Market Cafe, 2350 Hwy. 121, Sonoma, 707.935.1681. He will have a booth at the festival's final event, the Artisan Market, on the Sonoma Plaza, Saturday and Sunday, Feb. 25-26. www.sonomavalley.com.
Send a letter to the editor about this story.