January 25-31, 2006
home | north bay bohemian index | movies | current reviews | film review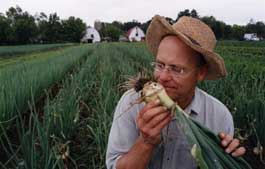 Leek Repair: Farmer John Peterson smells the organic produce on his revamped organic farm.
Dishing the Dirt
'Farmer John' a riveting doc about love of land
By Sarah Phelan
A Midwestern farmer who likes to wear feather boas and eat soil. Footage shot over six decades of his life. A failing economy. Naked hippies. Vicious rumors of a satanic cult. Arson. One of the largest community-supported agricultural programs in the nation.
These are just some of the ingredients that make The Real Dirt on Farmer John a fabulously bittersweet documentary about the fall and rise of Illinois-based farmer John Peterson, who inherits the land only to lose everything before reinventing himself as an organic farmer in the rural heartland. It's a film that's reaping accolades and awards nationwide, something director Taggart Siegel hopes "will get the film out into the world." And out it comes, opening Jan. 27 at Rialto Cinemas Lakeside and the Smith Rafael Film Center.
Siegel started working on the film in 1996, sifting through dusty boxes found in a barn that contained hours of footage Peterson's mother had shot of her son with an 8 mm camera, beginning when he was one year old.
"I ended up using seven minutes' worth of that footage, which covers the '40s, '50s and first half of the '60s, bucolic years that capture a time when family farms were still multifaceted, with chickens scratching in the yard and cows mooing in the fields," Siegel says.
A longtime friend, Siegel had previously made Bitter Harvest, a film documenting Peterson in the '80s when he was forced to sell most of his equipment and acreage. He also used footage that Peterson himself shot in the late '60s, when, radicalized by college and the Vietnam War, Peterson invited hippies to his farm, an event that incited rumors that the farm was "a crazy, Satan-worshipping place." To some extent, that mantle still remains on Peterson's shoulders.
Farmer John Peterson may have aimed to turn on, tune in and drop out by inviting free thinkers and hippies to his farm for a bacchanalian romp of arts and free sex, but after almost losing everything, he aimed to tune back in again. The Real Dirt is narrated by Peterson, a talented writer, as he reflects on the loss of his father and uncle, the lessons learned by traveling and his final decision to return to the land. An iconoclast, Peterson turned to organic farming and, almost by accident, established one of the most flourishing community-supported agriculture farms in the nation.
"Crops on chemicals are like people on drugs, and by the time I went organic, I was tired of being around people who were high and stoned," says Peterson, reached by phone in L.A. while on tour to promote the film.
"I was blown away that Angelenos were so crazy about the film. I think it helped satisfy their longing, conscious or otherwise, for the land, for the connection with rural communities. And the tale of redemption has a universal appeal," says Peterson, who fears the film could create a resurgence of violence when it gets back to his community, where the cult rumors are still firmly entrenched in people's minds. "We were careful not to create a dream job that presented farming as an idyllic life. It's very hard, so hard, to make it work."

The Real Dirt on Farmer John opens Friday, Jan. 27, at the Rialto and the Rafael Film Center.
Send a letter to the editor about this story.