January 25-31, 2006
home | north bay bohemian index | the arts | stage | review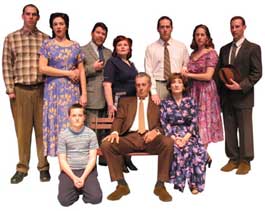 Family Ties: Arthur Miller's first play, 'All My Sons,' is staged at PASCO.
Lonely Guys
'Bus Stop' and 'All My Sons' hit area stages
By David Templeton
The late 1940s and all of the '50s are frequently celebrated by theatrical historians as the golden age of American theater. A triumvirate of play-writing King Midases ruled Broadway at the time: Tennessee Williams, William Inge and Henry Miller. At the height of their talent, all three created towering works that not only found huge audiences, but also altered the future of the American stage, inspiring would-be playwrights even today.
Last year, the Sonoma County Repertory Theater and the Pacific Alliance Stage Company each tackled works by Williams (Night of the Iguana and A Streetcar Named Desire, respectively). This week, the same two companies open new productions by the other two kings, with PASCO staging Miller's lesser-known but intimate and riveting All My Sons, directed by Hector Correa, and the Rep staging Inge's beloved, Pulitzer-winning Bus Stop, directed by Scott Phillips.
Fans of the film Bus Stop will be surprised to learn that the original play about a group of stranded bus passengers--a lounge singer, a love-struck cowboy, a depressed doctor, an aging ranch hand--holing up at a bus-stop restaurant during a snowstorm, is quite a bit darker and richer.
"I am not approaching it as a romantic comedy," Phillips says. "I know some companies do it that way, but I've never seen it as a pure comedy. To me, it's more of a slice-of-life piece with comedic elements, a play about relationships, about missed connections. At its heart, like all of Inge's work, this is a play about loneliness. It's sweet and it's beautiful, but you can't escape the fact that this is a play about lonely people falling all over themselves to make some sort of human connection."
All My Sons, Arthur Miller's first successful play, can also be thought of as a play about human connection and deep loneliness, as its main character, airplane-parts manufacturer Joe Keller, watches his carefully crafted life and family begin to crumble all around him, ultimately finding himself at odds with everything and everyone he loves.
"I think All My Sons is my favorite Arthur Miller play," says Correa, now hard at work running rehearsals for the show. "Because All My Sons is set just after WW II, and it is partially about the compromises we make with ourselves because of war, I think that now is a fitting time to stage it. But like all of Miller's work, I think this is a play about people, it's about family and it's about lies. The family that Miller writes about is suffering because of a lie that is hanging over them, and that lie has forced them into a place where no one can talk to anyone else, none of them can feel the kind of human connection we want and expect to get from our family."
Correa has long hoped to direct All My Sons, and is confident that, even though the play is less well-known than Miller's Death of a Salesman or The Crucible, it will find an appreciative audience.
"There are so many ways to direct this," he says. "And while there is a very big surrounding story--a story of war and profiteering and heroism and all of that--I am keeping it very personal, letting Miller's insights about lies and family and loneliness present themselves as simply and beautifully as he wrote them. I thing the result will be a powerful and exciting and beautiful theater experience."
Bus Stop runs Thursday-Sunday, Jan. 27-Feb. 26, at the Sonoma County Repertory Theater. Thursday-Saturday at 8pm; Sunday at 2pm. $15-$20; Thursday, pay what you can. Special meet-the-cast performance Feb. 26. 104 N. Main St., Sebastopol. 707.823.0177. Pacific Alliance Stage Company's All My Sons runs Thursday-Sunday, Jan. 26-Feb. 12. Thursday at 7:30pm; Friday-Saturday at 8pm; Sunday at 2:30pm. $17-$20; $15, Thursday only. Spreckels Performing Arts Center, 5409 Snyder Lane, Rohnert Park. 707.588.3400.
Send a letter to the editor about this story.