January 31-February 6, 2007
home | north bay bohemian index | the arts | stage | review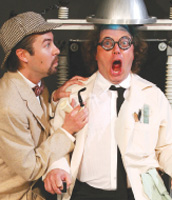 Photograph by Eric Chazankin
Yow: Dan Saski and Eric Thompson share a reflective moment in 'Crummond.'
Overdone Fun
'Bullshot Crummond' and 'Light up the Sky'--old classics made fresh and funny by first-rate acting
By David Templeton
Bullshot Crummond is an idiotic play.
This is not to say that it is unworthy of attention or attendance. On the contrary, I am recommending the Sonoma County Repertory Theatre's new staging of Bullshot Crummond--an enjoyably pointless production that just began a six-weekend run--precisely because it is idiotic.
Idiocy has its place in the world of theater, and I'm always more than willing to be in the front row for it, though if all the world's plays were locked in a building that had burst into flames, I admit I would probably have to leave the stupid ones until after I'd rescued Hamlet, The Lion in Winter, No Exit, Our Town, Proof, The Piano Lesson and Angels in America. And yet, I shudder to imagine what the world would be like without Animal Crackers, Arsenic and Old Lace, Noises Off, Spam-a-Lot, anything ever produced by the Reduced Shakespeare Company or Bullshot Crummond, all slight and silly works that wear their giddy, childish stupidity like chattering neon badges of honor.
We make warm, gooey places in our hearts for shows like these because sometimes it's good and necessary to surrender our sense of taste and decorum and simply let ourselves stupidly laugh at stupid people doing stupid things.
What's delightful about the Rep's new production of Bullshot, nicely directed by the illustrious actor-director Squire Fridell (whose impressive résumé includes several years playing Ronald McDonald on TV), is that the five actors who play all the parts give outstanding, first-rate performances that are above and beyond what is necessary for this sort for thing. Really. Bullshot Crummond is the story of Hugh Crummond, a semi-clueless British detective who, aided by his faithful sidekick Algy and a ready-for-love damsel in distress Rosemary Fenton, attempts to foil an improbable kidnapping plot by Crummond's arch nemeses Otto and Lennya Von Brunno. It is a blatantly and joyously one-dimensional play, and to make it funny, actors need only give one-dimensional performances.
Fridell's actors apparently didn't get that memo.
Dan Saski as Crummond, along with Dodds Delzell and Priscilla Locke as the evil Von Brunnos, hit the stage like full-fledged thespians plopped down in Rocky and Bullwinkle land, doing their best to fit in with the locals. Along with the silly poses, vicious bird puppets and goofy schtick--you won't believe the bizarre things Locke can do with her face--they all give full, reasoned comedic performances, painting the characters' simplistic cartoonish framework with occasional layers of creative nuance and shading, delivering actual acting in a show that does not really require it.
This is especially true of Jenifer Coté and Eric Thompson as, respectively, Rosemary Fenton and everyone else. Coté can say something like "Oh, Hugh!" and give it multiple colliding interpretations all at once, and Thompson, last seen as Scrooge in the Rep's Christmas Carol, has never been this good, uncovering riotous comic gold in the most unlikely and trivial of moments. At one point, Thompson creates an almost too believable sense of exasperation as a flustered waiter, devotedly doing his job in spite of Crummond's mistaken attempts to prove he is Von Brunno in disguise. He is stunningly good.
The highlight of the show, for many, will be Delzell's magnificent scene as both Von Brunno and a visiting Italian hit man, casually quick-changing costumes, out of sight, as he paces back and forth from one end of a stone wall to the other. What some productions have staged with frenzied intensity, is transformed--hilariously--due to Fridell's steady directorial pacing and Delzell's metronome-like comic timing. It's all still idiotic, but it's good idiotic.
Less ridiculous, but similarly blessed with above-average performances, is the Pacific Alliance Stage Company's new staging of Moss Hart's seldom-seen 1940s comedy Light up the Sky. Directed with an eye toward tradition and detail by PASCO's artistic director Hector Correa (who also appears in the show as a major character), Light Up the Sky takes place in an opulent hotel suite, the kind you see in so many 1940s comedies, big enough for the entire cast to line up in a row, striking fashionable poses while dressed to the nines and holding glasses of Champagne.
The occupant is the famed and slightly neurotic Broadway actress Irene Livingstone (Marcia Pizzo), who is preparing for the opening night of a brand-new play by idealistic first-time playwright Peter Sloan (Michael Navarra). The play, titled The Time Is Now, is a hard-hitting drama set in a post-apocalypse future with a cast of hundreds, clad in rags, gathering in the ruins of Radio City Music Hall--or so we are told.
We never actually see the play in question. Rather, we hear it described in glowing details as Irene Livingtone's room is filled up with preshow well-wishers, including the play's dreamy-weepy director, Carleton Fitzgerald (Correa); the blustery producer, Sidney Black (a superb Will Marchetti); his statuesque ice-skater wife, Frances (Kate del Castillo); Irene's new-to-the-whole-theater-thing secretary (Shannon Veon Kase); and Irene's chronically critical mother Stella (Shirley Nilsen Hall).
Also in attendance is Owen Turner (the dependably excellent Stephen Klum), a successful playwright who drops in to bemusedly observe the emotional ups and downs of his colleagues. Later, when everyone gathers back at the room after the show, when it seems as if the show is a flop based on tepid audience reaction, the unstable menagerie begin tossing barbed insults in every direction, the bulk of their hysteria becomes focused on young Peter Sloan, whose transformation from wide-eyed newbie to card-holding power-broker--especially once the reviews come out and the show looks to be a hit--is wonderfully and dramatically done.
The script is dated, peppered with references to people and products of the 1940s, and Hart's patented style of wittily stilted conversation is decidedly nonmodern. But as with Bullshot, the reason to see the show is the quality of the acting, with Pizzo's marvelous and entertaining turn as the overtly unstable prima donna standing as a clear and memorable highpoint. Her spectacular second act meltdown is a thing of beauty.
In the end, it is Klum's seasoned playwright who sums up the lesson that the younger writer has just learned. Theater folk are "dubious people" for whom "decency is a luxury," one they can rarely afford. The moment is funny and sad and true all at once, not the least bit idiotic. Even if the people it is said about do behave that way on a regular basis.
'Bullshot Crummond' plays Thursday-Saturday through March 4 at the Sonoma County Repertory Theater. 8pm; special matinees Feb. 25 and March 4 at 2pm. 104 N. Main Street. $15-$20; Thursday, pay what you can. 707.823.0177. PASCO's 'Light Up the Sky' runs Thursday-Sunday through Feb. 11 at the Spreckels Performing Arts Center. Thursday at 7:30pm; Friday-Saturday at 8pm; Sunday at 2:30pm. 5409 Snyder Lane. $18-$21. 707.588.3400.
Send a letter to the editor about this story.