January 31-February 6, 2007
home | north bay bohemian index | music & nightlife | preview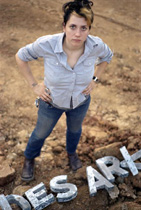 Imperfect Beauty
'Look Ma' shindig features Des Ark and then some
By Gabe Meline
By pursuing popular styles and attracting innovative talent, Darwin Meiners' "Look Ma, No Band" Santa Rosa concert series has injected fresh blood into the old idea of ripping singer-songwriters from the assisted confines of their regular bands and pushing them unaided onto the stage. There's plenty to recommend at this weekend's fourth installment, which includes tunesmiths from the New Trust, Hanalei and Love Equals Death, all well-known punk- and indie-rock bands. But the performer destined to leave the strongest and most indelible mark is Des Ark, aka Aimee Argote, a singer from North Carolina with a bristling, urgent presence who plays the guitar, the banjo and the accordion. A circumventive artist whose resistance to adoration unwittingly acquires it twofold, Argote would be easy to love if the prospect weren't so terrifying.
Writing of sexual delights and disasters with an experienced vulgarity and a chilling, stark honesty, she often houses her tumult in a dwelling of minor-key dissonance, as if to multiply the anxiety it creates. In the eerie rock missive "Jesus Loves You (But Yr Still Comin' Home with Me Tonight)," Argote's voice explodes like a comet amid slashing guitars; it is the musical equivalent of either an orgasm or a fist through the wall--it might be both.
A similar haunting lies in the exploratory epic "If by 'Gay' You Mean 'Totally Fucking Awesome,' Then Yeah, I Guess It's Pretty Gay," wrenchingly delivering a painful meditation on a failed fling. Her voice is restrained, almost embarrassed: "There goes the best damn summer that we ever spent," she laments, "Drinking on the porch rolling our own cigarettes / Jumping up and down in our panties on the bed." In the detailed delivery, Argote's only mistake is being herself, and by song's end, we don't see how that could ever be a mistake at all. "I can't tell when you're gonna figure out that any line you use tonight will work," she sings, "Because were both as fucking broken as we look."
Alongside Argote's hope, the violins, the guitars, the drums all die out and we feel a chill at the imperfect beauty of it all.
Des Ark performs this Saturday, Feb. 3, at Look Ma, No Bands! with Josh Staples, Brian Moss, Chon Travis and Our Lady of the Highway. Sweet Spot Lounge, 619 Fourth St., Santa Rosa. 9:30pm. $5. 707.528.7566.
Send a letter to the editor about this story.