January 31-February 6, 2007
home | north bay bohemian index | sonoma, napa, marin county restaurants | profile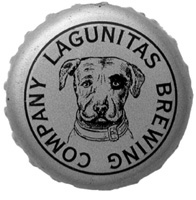 Hair of the Dog
How irreverence, devotion, misspellings and great beer made Tony Magee a king
By Alastair Bland
In 1993, a salesman in the commercial printing business named Tony Magee began brewing beer in his home in the redwood forests of West Marin. His beer endeavor was just a hobby, but six months later, Magee was producing a bit more than he could drink by himself, with 600 or so barrels in the tank. So he went into business. He designed his own label--recognizable by a patch-eyed dog and a short blurb of wisdom in fine print--and he named his enterprise the Lagunitas Brewing Co. after his small rural hamlet near the Point Reyes National Seashore. Today, the brewery is one of the most successful beer producers in the state.
From the beginning, sales accelerated. Magee increased production to keep pace, and all the while washed the dregs of fermentation down the drain, like any brewer might. But the heaps of yeast and grain began to congest the small community's sewage system, and in 1994 local officials asked Magee to chip in for maintenance costs or get out.
So Magee packed up his brewing gear and, with that lovely West Marin name, moved his beer factory to Petaluma. There, on the east side of town, the business has grown and grown, with Lagunitas now churning out more than 30,000 barrels per year. Magee and his cohorts continuously experiment with new styles and labels, and 17 staple beers regularly show up in the course of each calendar year.
Magee's quiet office is vibrantly strewn with papers, posters and exotic beer bottles, and here the company CEO spends his work week just like a king should. He hangs out on the Internet, jams on his acoustic guitar and constructs new label designs with longtime pal and company beer marketer Ron Lindenbusch. Magee also writes and is, in fact, a widely read author. His brain, after all, is the creator of all those irreverent and psychedelic stories that go to press on the label of each Lagunitas bottle--which Magee tends not to spell-check.
Meanwhile, just out the door and a stone's throw away from the administrative headquarters is the factory end of Lagunitas. Magee's crew listens to loud rock 'n' roll while supervising the automated conveyor system. They move, pack and forklift the beer while the intense noise level discourages much conversation. The ass-end of a delivery truck is there most times, backed into the warehouse door, filling up on its cargo to ship outward into the wide and thirsty world--22 states, Canada, the Netherlands and Indonesia, to be precise.
But amid the brewery's roar, hustle and bustle, there is a comforting quaintness to the scene. One single conveyor belt several inches wide handles every Lagunitas beer bottle ever seen. The bottles shuffle sideways as they are sanitized, rinsed, dried, labeled, filled and capped, moving steadily along at the rate of up to 3,000 cases per day.
"Out there in the world," Magee, who regularly strolls through the brewery, muses, "there's a toilet flushing for every couple of bottles."
And out in back, barley, wheat, yeast and hops come in by truck at a proportional pace, and a visitor to Lagunitas distinctly perceives a satisfying equilibrium in the order of things here: a perfect balance between the world's thirst and the world's beer.
Despite the brewery's success, Magee assures that Lagunitas is still a "microbrewery." Thus, he and his team are blessed with the liberty to enjoy the surprises and mishaps of brewing, for things sometimes don't go as planned. While big breweries promote consistency and nothing less, Lagunitas has enjoyed a few successful blunders. One case in point is its wildly alcoholic Brown Shugga.
"It was originally supposed to be Olde Gnarleywine," Magee says. "It was the winter of '97 and I accidentally wrote the recipe wrong for the brewers. They were missing about 350 pounds of malt. They were brewing it on Friday night and they called me at around 7 o'clock."
The brewers told Magee that the gravity was too low, meaning there was not enough sugar in the mix. Heightening the severity of the problem was the fact that the brewing crew had just hopped the beer to its full potential.
"So you had all this bitterness against this low gravity," Magee explains. "I was like, 'Man, how can we save this beer?'"
There was no more malt in the house, so Magee commissioned the boys to hit the town and buy at least 200 one-pound boxes of brown sugar. They followed their orders, sticking up every market in town and demanding all their brown sugar. They paid for it, of course, but so did the town.
"If you were baking the next morning in Petaluma," Magee chuckles, "you were in big trouble, because there was no sugar left."
On Monday morning, C&H boxes littered the brew-house floor, but a new line of beer was in the tank. It tasted terrible for two weeks.
"I was like, 'Oh great, this whole thing's a big waste,'" Magee groans. "But then all of a sudden in the third week, it just cleaned up and picked up this candy-bourbon note, and that's the beer it's been."
Other seasonal deluges, like Imperial Red Ale, Cappuccino Stout and the dark and delicious Hairy Eyeball, slosh through the Lagunitas brew house each year, but the mainstay of the company is the IPA, which constitutes 60 percent of the brewery's output. While the business continues to grow, Magee strives to maintain his staff at the current level of approximately 25 people. He also prefers to keep advertising at a minimum.
"Beer speaks, people mumble," he says, quoting the company motto and mission statement. "Some brewers are in articles all the time, and they probably do make good beer, but I like to let beer speak for itself."
And so goes the living and learning of life as a brewer. On the east side of Highway 101, in one of the wine country's largest breweries, the Lagunitas crew continues as a well-oiled machine. People keep mumbling, and the beer keeps talking. It rolls off the ribbon-thin Lagunitas conveyor belt bottle by bottle, case by case, and flush by flush.
Lagunitas Brewing Company. 1280 N. McDowell Blvd., Petaluma. 707.769.4495. www.lagunitas.com.
Born to Brew
Other beers we love
Ace-in-the-Hole Cider Pub (aka the California Cider Company) Specializes in ciders, keeping five in the house: apple, apple-honey, pear, berry and the "Wild Card," a powerful and secret blend of fruit ciders. Pub grub and eclectic live music. 3100 Hwy. 116, Sebastopol. 707.829.1223.
Bear Republic Brewing Famed for its garlic fries, BRB keeps 12 homemade beers and four ciders--apple, pear, raspberry and pomegranate--on tap. 345 Healdsburg Ave., Healdsburg. 707.433.2337.
Calistoga Inn Restaurant & Brewery With an upscale menu, a weekly open mic and a prime spot by the creek, CIRB offers three regular brews in-house, a porter, a stout and an IPA. Almost impossible to find outside the restaurant. 1250 Lincoln Ave., Calistoga. 707.942.4101.
Dempsey's Restaurant & Brewery Petaluma's other favorite microbrewery offers half a dozen handcrafted brews at any given time and rotates among a longer lineup of seasonals. 50 E. Washington St., Petaluma. 707.765.9694.
Iron Springs Pub & Brewery Pouring 12 beers at any given time, ranging from light pilsners to rich barley wines, the selection is complemented by a full menu. 765 Center Blvd., Fairfax. 415.485.1005.
Marin Brewing Co. As with all those listed here, MBC is also a restaurant and brewpub, and cycles through more than a dozen beers throughout the year. Also find the brewery's selection in local supermarkets. 1809 Larkspur Landing Circle, Larkspur. 415.461.4677.
Moylan's Brewery & Restaurant The sister company to the Marin Brewing Co. offers food as well its own range of beer, which is available at the pub and in stores. 15 Rowland Way, Novato. 415.898.4677.
Russian River Brewing Co. Featuring a full pub menu, this hopping place has a wide selection of beers on tap and some fantastic happy-hour deals. 725 Fourth St., Santa Rosa. 707.545.2337.
Third Street Ale Works The popular brewpub maintains a selection of 10 to 15 ales with its full restaurant menu. 610 Third St., Santa Rosa. 707.523.3060.
--A.B.
Send a letter to the editor about this story.