February 1-8, 2006
home | north bay bohemian index | sonoma, napa, marin county restaurants | review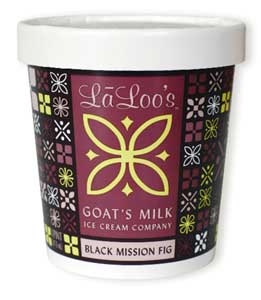 To Market, to Market
Launching a new food product isn't easy, but LaLoo's Goat's Milk Ice Cream is beating the odds one flavor at a time
By Heather Irwin
Each year, between 12,000 and 16,000 new food products are introduced in the United States. The vast majority are well-planned launches by established household brands like Nabisco or Breyers, companies with access to multimillion dollar marketing campaigns and easy distribution to large grocery chains. Despite these behemoth efforts, however, at least a quarter of them--often more--won't survive the first year.
The odds become distinctly slimmer for small businesses and individuals trying to break into an already saturated market, as local food-launch hopeful Laura Howard has discovered. Without an established brand name or a megabudget, an estimated 89 percent of small food-product businesses will fail, leaving only the slimmest number of success stories. Howard is one of those successes--so far.
A former movie producer, Howard launched her LaLoo's Goat's Milk Ice Cream last year from a newly acquired Sonoma County farm. Although she'd barely broken in her boots, Howard had put the farm up as collateral for a business loan just months earlier, banking on the fact that goat's milk ice cream might be the next big thing in food. With flavors like Black Mission Fig, Strawberry Darling (made with balsamic vinegar) and Chèvre Chiffon, it was a gamble.
Howard had been making creatively flavored goat's milk ice cream at home for friends and co-workers for several years with wild success. It started on what the former Angelino calls a "cleansing journey with my body and health." Blame it on her yoga instructor. Howard gave up all dairy foods except for goat's milk, thought by many to have incredible health benefits because of its unique physical properties. With significantly smaller milk-fat globules (a fancy way of describing its composition), goat's milk is more easily digested by humans than is cow's milk.
Because it was both healthy (or at least healthier than cow's milk) and tasted pretty dang good, Howard knew she had a potential winner on her hands. Learning that the ice cream market in the United States is a $20 billion a year industry and fairly certain that she had a virtual monopoly in making it from goat's milk, Howard had the seed of an idea that she could make a business work.
It would take a trip to Italy to plant it firmly in her mind.
The 'Aha!' Moment
While shooting a documentary overseas a few years ago, Howard met an Italian cheese maker whose life seemed pretty darn idyllic. "She had this gorgeous life. She had goats and made this product that made people happy. It was a quality thing she was putting out in the world," Howard remembers. "She was breathing fresh air and just loving life. I thought, 'This is what life should be about.'" Not long after, Howard ditched the cell phone, packed up her stuff and moved to Sonoma County to live the country life.
Emulating beautiful Italian cheese makers sure sounds nice, but there was the pesky little issue of finding a farm and buying goats and, well, starting a business. With the help of local artisans, she soon formed a loose network of supporters and friends who taught her about goats and the food business and helped her find a Petaluma farm that suited her perfectly.
"The bottom line is that you have to have some allies in your corner," Howard advises. "If you don't find them early on, it can be a lonely world. The gourmet and natural food business has been flooded with products, and they are all really good. I wouldn't have made it through my first year if I didn't have folks like Whole Foods behind me," she says, referencing the regional store that was an early supporter, among the first to carry her ice cream. With a solid start, a few goats and some new friends, she was on her way.
In January of last year, after months of tasting and research, Howard officially launched LaLoo's (pronounced "lay-loos") at the 2005 Winter Fancy Food Show in San Francisco. A popular coming-out party for roughly 80,000 new food products each year, this dizzying gathering of food retailers, chefs, buyers and press recently commenced its 2006 exhibition. Winding through literally hundreds of booths from around the world, one can easily begin to see how many eager food purveyors join the fray each year. Howard was immediately bombarded with requests to carry her line of goat's milk ice cream and was, by many accounts (including mine), one of the most unique products introduced at the show last year. Not bad for a first-timer.
Stumbling Blocks
Starting a business, however, has had its share of, er, goat pies. Spending the first few months doing most, if not all, of the work completely alone, Howard refined her business plan, mixed the ice cream and even delivered the product in a freezer truck she bought on eBay. "In the beginning, I had no idea how much work this would be," Howard says. "But you can't be afraid of all the physical stuff. I was working from 8am to 9 at night, literally taking the milk and sloshing it back to the test kitchen. But I relished it. I was just so happy to be out of the city."
There were, of course, a few major mistakes, like the time she tried to reduce 65 cases of wine into syrup for her chocolate Cabernet ice cream, and ended up ruining the entire lot by heating it too high. "All of that wine was just gone. I sat and cried for an hour," she says. Making lemonade out of Cabernet, Howard used the experience as a platform for meeting with a number of wineries to ask for donations for her next attempt, learning a lot about the local business in the process.
Howard also says it can be difficult to get folks unfamiliar with the health aspects of goat's milk to try the ice cream for the first time. People are concerned that the ice cream will have the strong tang of goat cheese or the wild and funky smell of goats themselves. Not so. Made with fresh goat's milk, the ice cream has a rich and mild quality that has nothing to do with funk or tang. "People are so surprised," she says. "It just tastes like really good ice cream."
If anything, one of the company's biggest problems is growing too fast. Howard has been careful to keep it completely in her own hands, not wanting to take on investors or sell to larger retailers who would demand a much larger output than she currently can support through her farm. Though she won't disclose how much she's producing each year, she says it is becoming far more than she can keep up with. She equates the product, with its clamoring demand, to wine. "I tell people that they have to think about it like a fine wine. We only make so much this year, and that's how much we're gonna sell."
Cashmere and Ice Cream
The biggest moment in LaLoo's admittedly short history came last fall, when Saks Fifth Avenue called Howard and wanted to put her ice cream--at any cost--in all of its stores as part of a cashmere promotion. The step was a huge one for Howard, who was flooded with requests. "I suddenly realized we weren't just in Petaluma anymore. People from all over the place had their eye on us," she says.
Currently, LaLoo's is distributed throughout the West Coast at stores like Whole Foods and through independent local retailers. According to Howard, she'll next take baby steps toward national distribution, something she says with some trepidation after being inundated, yet again, at the most recent Fancy Food Show.
She'll get to all of that right after she puts runaway goats Bonnie and Clyde back in their pens again and washes the mud off her now-well-broken-in boots.
Send a letter to the editor about this story.