February 1-8, 2006
home | north bay bohemian index | the arts | visual arts | review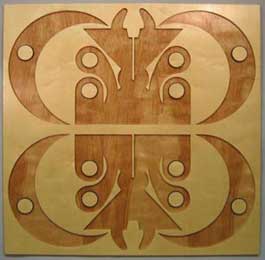 Swirl Table: The pieces lifted from this panel slot together to form a table and can be pressed back into the panel when not needed.
Conceptions of Misperception
Antenna Theater founder Chris Hardman's dual purpose
By Gretchen Giles
If there is one rule about Chris Hardman's art, it's that perception means nothing. Appearance is moot. The brain can't be trusted. Nothing, as paranoid visionaries consistently caution, is as it seems.
Take Hardman himself, standing wearily one recent morning in the sunny front gallery of San Rafael's Art Works Downtown. In his 50s, dressed mainly in black, clutching a cup of cooling coffee, his hair mostly combed, Hardman might appear to the Art Works board members seated before him to be a craftsman, perhaps the kind of guy who does your cabinets but harbors larger goals.
At first glance, the work lining the walls doesn't disprove this theory. Using a rather marvelous die-cut saw, Hardman has hewn curvy, pretty shapes out of thick wood panels, leaving negative spaces on the panel where the pretty shapes once were. Like a board puzzle for an oversized toddler, these panels are lovely.
But they're more than that. The curvy, pretty shapes are made to be assembled into sturdy functional furniture without the use of nails, screws, bolts or hinges. As for Hardman, well, he's one of the Bay Area's preeminent theater and audio artists, though one suspects he could probably build a really nice cabinet if pressed.
The founder and executive director of the Sausalito-based Antenna Theater, Hardman calls the transmigration of wood panels to fitted furniture "slotology," as though there is a field of study for it. And as with most good ideas, this one is born of expediency.
Known for staging theatrical performances in venues as various as Tam High School, the Bay Model or any old beach, Antenna Theater--founded in 1980--soon needed a way to create set pieces that could be moved and erected with little fuss. Thus, slotology was born. With the exhibit at the Art Works Downtown, Hardman moves his -ology a little further up the line of inquiry, investigating in part what it's like to make set decorations in the quality of standalone art.
Hardman the artist has soon discharged his time with the board and is outside on the sidewalk gesturing at the gallery's window displays. Brightly painted slotological sculptures almost lurid in their feminine lines are hung against mirrors, thus appearing to be more than twice what they actually are.
"You're looking at pieces that are both real and not real," Hardman explains. "You're seeing twice as much image as is there. In fact, there is massive amounts of created imagery that's actually not in that space."
These mirror-reliant works, created for Antenna's "Euphor!um"--a virtual reality riff on Coleridge's "Kubla Khan" mounted in 2002 in London--are intended to confuse the brain and engage the viewer. "I'm basically interested in the idea that you are involved in the making of the art, in that your perception system provides the image that you need it to see," Hardman says. Gesturing to the artwork, he points out the minute sliver of space where the sculpture leaves off and the mirror begins. The congruence is difficult to find without help. "It's so hard to see the mirror, and your brain is telling you to give it some symmetry," he says, smiling for the first time this morning.
Returning to the gallery, Hardman leads the way past the convening board members to a darkened room that reflects the black box of traditional theater. As he moves about, Hardman refers to each of his artworks as an "event." He explains simply, "You can flip your mind from one level to another; therefore, it's an event."
The walls are darkened, the windows covered, the only light emanates from mirrored slotological installations of reflective work, seemingly enormous boxes that are in fact quite slim rectangular constructions of one-way and two-way mirrors, each separate enclosed infinities.
In one particularly clever set-up, he's devised the mirrors to reflect infinitely away from the viewer regardless of which side the same piece is viewed from, front or back. "The space you were just standing in becomes infinity," Hardman observes with satisfaction.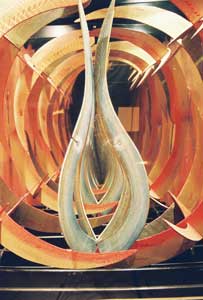 Infinite Depth: Die-cut wood pieces are suspended between mirrors to create the endless.
The Antenna Theater was founded primarily to explore the outer stretches of audio and audience participation. Hardman calls audience members "audients," underscoring their collusion in the theatrics; he deliciously refers to audio as being "liquid." Having pioneered the use of the Walkman in art (something that he, not surprisingly, calls "Walkmanology"), Hardman and his colleagues at Antenna have spent over two decades creating audio experiences so deeply textured as to be transportative. As almost an afterthought, Antenna is also responsible for the award-winning audio tours of Alcatraz Island, Pearl Harbor and the Dallas Texas Book Depository, among others.
Choosing to speak directly to the audient through headphones, Antenna has devised hundreds of theatrical experiences. When asked if he plans to embrace iPod technology in a similar manner, Hardman reflects back to the Walkman.
"Ages ago, we did a show about jumping off of the Golden Gate Bridge," he says. "We did a whole room with seven-minute events you could experience. I have a tape which starts out, 'You want to jump.' We built an entire portion of the bridge, except that when you jumped, you landed in pillows and heard the rest of the story." Hardman pauses to ponder the idea of where the audient's own free will--and perception of self--ends and begins when one participates so freely in a pretend exercise in suicide. He continues.
"Since the iPod, this tape has come outside of our control. We can't create the environment any longer in which it can be heard. Who knows? Someone could put it in their iPod and walk onto the bridge.
"Throughout [Antenna's] entire theatrical project, the idea of Walkmanology has implications that seem to go to the unnatural--we're using the person as the performer. We take over your body and use your various abilities, be they walking or opening doors, and that becomes a new form of theater that is completely unique.
"With the iPod, it goes way beyond. In the next short while, I'm going to have a non-release party where we don't release the 'You Want to Jump' tape to the public where people can hear it. We're going to lock it in a safe. The implications," he smiles, "are deep and interesting."
In addition to his work with slotology and Walkmanology, Hardman has tackled nothing less than the concept of time itself. When the millennium began to count down and folks ruffled themselves about the certain disasters of Y2K, Hardman began instead to consider what time was. Beginning with the seasons, the solstices and equinoxes of a natural year, he added in the tides, moon phases, star rotations and other true and actual wonders of the natural world.
Discarding the seven-day week and thoroughly tromping the traditional calendar that rules most of our lives ("The Gregorian is a mish-mash of bad information about the natural world," he says), Hardman's ECOlogical calendar offers a wider, more expansive perspective from which to view the passage of days.
From the two-dimensional to the three-dimensional to the control of voices in one's head and the urging of audience members to cross the line between participant and recipient in the theatrical experience to the very wresting of time perception from the established cannon, Chris Hardman indeed plays with dual worlds. He shrugs.
"We're creating objects and images and space--all of which are not there."
Chris Hardman speaks on his slotology exhibit, titled 'Transforming Art,' at Art Works Downtown on Friday, Feb. 3, at 6:30pm. 1337 Fourth St., San Rafael. Free.
Send a letter to the editor about this story.