February 1-8, 2006
home | north bay bohemian index | music & nightlife | band review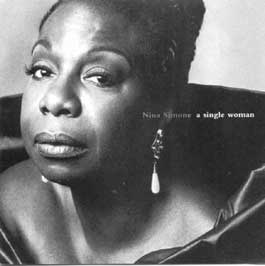 Lady Sang the Blues: Nina Simone's voice helped define the sound of Black Power.
Nina's Song
CDs salute High Priestess of Soul
By Greg Cahill
Clad in a sparkling evening gown, her broad face gazing with a steely determination that barely hinted at the fiery, defiant spirit that lay within, singer Nina Simone made her network TV debut in 1960 on The Ed Sullivan Show, introducing America to a new and untested talent. But behind that slightest of smiles sparkled a suggestion that the then-27-year-old performer could kick some serious butt.
And she did.
You need only listen to the way Simone transforms the British Invasion ballad "Don't Let Me Be Misunderstood" from a tale of self-pity into a soul-searching spiritual to know that she was something special. No wonder she earned a reputation as the High Priestess of Soul due to the depth of her emotions and the fact that she penned some of the most powerful songs of the Civil Rights era.
Today, she's an inspiration to a new generation of strong female singers and songwriters, including Alicia Keys, Lauryn Hill and Norah Jones.
Yet for many, Simone, who died in 2003 at the age of 70 as an American ex-pat living in Paris, remains a mystery.
The Juilliard-trained pianist started vocalizing as a way to expand her role as an accompanist. Blessed with a reedy voice and a no-nonsense attitude, Simone became a bold song interpreter who defied categorization. Her albums spanned blues, soul, jazz, gospel, folk, show tunes, pop and protest songs, a multifaceted career that baffled those eager to pigeonhole her seemingly far-flung styles, which Simone called "black classical music."
Four newly released discs include expanded editions of her first two RCA LPs, Nina Simone Sings the Blues and Silk & Soul, and a pair of new compilations, Forever Young, Gifted & Black: Songs of Freedom and Spirit and the enhanced stereo DualDisc anthology The Soul of Nina Simone--all steps toward restoring Simone's catalogue and helping to put this unique singer's gifts in sharper focus.
Nina Simone Sings the Blues, released in 1967--eight years after her debut on the small Bethlehem label scored a Top 20 hit with "I Loves You, Porgy"--introduced Simone to a wider audience. The album ranges from the gritty urban blues of "Do I Move You" to the up-tempo soul of "Real Deal." At times the album's studio arrangements are maddeningly generic, but the players (especially guitarist Eric Gale) and Simone's own excellent piano work spark plenty of magic.
The uneven Silk & Soul suffers from a slicker studio sound and a couple of forgettable covers, but Simone is best when left to her own designs, as on her uncanny cover of J. D. Loudermilk's "Turn Me On," the stripped-down blues ballad "Love o' Love," written by husband and manager Andy Stroud, and the defiant "I Wish I Knew (How It Would Feel to Be Free)."
Simone hit her stride in 1969 with the release of "Young, Gifted and Black," an inspirational Black Power salute that became a hit for Aretha Franklin in 1972. The song lends its name to a new compilation that gathers such Civil Rights-era anthems as "I Wish I Knew (How It Would Feel to Be Free)," "Car Cultureolution" and Simone's powerful "Mississippi Goddam," wracked with pain and pathos and taped the night after the assassination of Martin Luther King.
The title track is included in both studio and live versions. This moving collection also features an unedited live version of "Why (The King of Love Is Dead)," a heart-wrenching MLK tribute penned by bassist Gene Taylor and performed the next night. The arrangements are sparse, allowing the songs to soar on the wings of Simone's barely contained rage.
For the uninitiated, The Soul of Nina Simone is a good primer; her transcendent take on the Anthony Newley pop tune "Feeling Good" alone is worth the price of admission. The collection also includes an emotionally naked spin on Randy Newman's "I Think It's Going to Rain Today" and the gleeful "My Baby Just Cares for Me," which put Simone back on the U.K. pop charts in 1987 after it was used in a Chanel No. 5 TV ad.
The DualDiscs's DVD side features nine stunning performances from the Ed Sullivan Show (1960), the Bitter End nightclub (1968) and the Harlem Festival (1969), all of which capture the powerhouse performer's frank stage persona and musical acumen.
The DVD footage is a marvel. Simone's intensity radiates with a white heat few performers have matched before or since.
Send a letter to the editor about this story.