February 1-8, 2006
home | north bay bohemian index | the arts | stage | review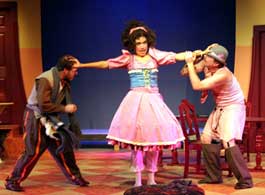 Wieners and Weimar: Steve Martin's adaptation of a German expressionist comedy is high on the low.
Sauce and Sausages
AT plays hard with Steve Martin's naughty little 'Underpants'
By David Templeton
Any attempt at providing historical context for Steve Martin's play The Underpants, a European farce adapted by Martin from Carl Sternheim's popular 1911 comedy Die Hosen, risks the danger of making the play seem more important than it is. That said, here goes.
Sternheim's original work, too racy for the government censors but impossible for audiences to resist, stands as one of the few examples of German expressionist comedy, a contrast to most expressionist theater of the time, which was fairly dismal and joke-free. Ultimately, The Underpants, as it has been adapted by Martin to highlight the play's second-act musings on the fleeting nature of fame, primarily exists as a fluffy, fun-filled trifle, a saucy and very silly sex farce packed with double-entendres and puns about erections and wieners and bushes.
In director Beth Craven's confidently accomplished new production at Actors Theatre, The Underpants has been re-imagined as a grand and circuslike entertainment. This bawdy, over-the-top interpretation bears a strong resemblance to old comic melodramas, with its severely made-up actors employing an arch and cartoonish acting style.
As the play begins, Theo and Rebecca Maske (Tim Kniffin and Rebecca Martin) are having a marital row a few days before their first anniversary. To Theo's consternation, Louise accidentally suffered a wardrobe malfunction when her undergarments fell to her feet as she stood on her toes to wave at the king during a royal parade the day before. Fearing that his wife's mistake, which might have been observed by any number of nearby parade-goers, could lead to a demotion in his civil servant job, Theo stridently moans, "Don't underestimate the power of a glimpse of lingerie!"
Theo's concerns are not unfounded. With the appearance of two boarders, the buffoonish poet Frank Versati (Paul Huberty) and the sickly barber Benjamin Cohen (Brian Levy), it becomes clear that the dropped underpants were not only seen, they have made Louise famous and have consequently inspired the lustful attentions of the Maskes' new roommates. Louise, we learn, has not had sex since her wedding night and, strongly encouraged by her upstairs neighbor Gertrude (Liz Jahren) to take a lover, attempts to juggle the schedules of the three men in her house so that she can engage in some extramarital sausage warming (don't blame me, it's in the script!), all of which goes terribly wrong, of course.
The late introduction of yet another stranger, the mysterious scientist Klinglehoff (Jan Freifeld), adds yet another layer of goofiness. In all, the cast is very good, surviving the physical demands of the overstated, sashaying, gesticulating performance, and the set, by David R. Wright, is delightful, all doors and windows and Dr. Seussian furniture.
It is appropriate and fitting in discussing a play named after an item of clothing that the show's costumes be given special attention. The fine, whimsical work of costume designer Liz Smith is wholly capable of drawing attention to itself, with outfits so vibrant and eye-catching and silly, they almost serve as a cast unto themselves, each with its own grandiose personality.
Historical context aside, The Underpants is not a classy work of theater, nor should we expect it to be. The play was good, scandalous, slightly dirty fun when Sternheim wrote it, and though the details may resonate a bit differently nearly a hundred years later, enhanced by Martin's wit and Craven's colorful vision, the play is still good, dirty fun. Maybe even more so.
'The Underpants' plays Thursday-Sunday through Feb. 12. Thursday-Saturday at 8pm; Sunday at 2pm. Feb. 4 and 11 at 2pm. Sixth Street Playhouse, 52 W. Sixth St., Santa Rosa. $19-$23; not recommended for children under 13. 707.523.4185.
Send a letter to the editor about this story.