February 1-8, 2006
home | north bay bohemian index | the arts | books | review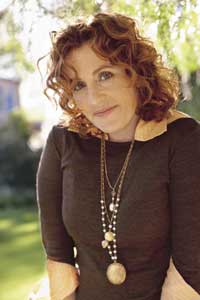 Family Matters: Waldman's new book tackles fears with humor.
God Forbid
Ayelet Waldman's impossible pursuits
By Gretchen Giles
There is a lovely word to describe that fevered state a husband experiences when he has a great or even excessive fondness for his wife, a multisyllabic that snaps and rises in utterance: "uxorious." Yet, according to the Oxford English Dictionary, there is no word for that presumably rare state experienced when a wife feels a great or even excessive fondness for her husband.
But if there is not a word, there is a person whose name could instead indicate the giddy pitch of husband-love, and that person is Berkeley novelist Ayelet Waldman, wife of the Pulitzer Prize-winning novelist Michael Chabon.
By and large, writers are an ugly lot. Michael Chabon is not; he's the unintentional pinup boy for the English lit set. Which is why when Waldman innocently created an Oprah-fueled firestorm last year by declaring in a New York Times "Modern Love" essay that she loved her four children but was in love with her husband, many of us just nodded. Uh-huh. We get it.
"Oh, you mean back when he was young and good-looking," Waldman jokes, speaking by phone from her East Bay home while a toddler plays in the background.
In the essay, published last March, Waldman plays the "God forbid" game known to most nervous mothers, but with a twist ending. God forbid someone were to snatch one of her children, God forbid one of them might die, God forbid all of them might die . . . she'd still have her husband. God forbid he dies? Well, she may as well throw herself on the pyre. Knee-jerk public reaction was swift, and before she knew it, Waldman was seated next to the "O" One Herself, defending her absolute soul-truths to an audience of screaming, outraged women while a national audience presumably sat at home shooting spit-balls at their TV screens.
In keeping with her intelligent, contradictory and wholly original nature, Waldman--a Harvard-trained attorney turned author best known for her Mommy Track mystery series and the acclaimed novel Daughter's Keeper--has written a new book, Love and Other Impossible Pursuits (Doubleday; $23.95). Waldman reads from and discusses the book in two upcoming North Bay readings.
Set in Manhattan, Love follows Emilia, a young mother whose newborn has died from SIDS at just two days old. Thickly stunned with grief, Emilia stumbles through her days, keenly in love with her new husband, Jack, but indifferent to and sometimes actively hateful to his son, William, who is in Emilia's unpleasant charge each Wednesday.
William is just five. His parents divorced because his father had an affair with Emilia. His mother is a successful Upper East Side ob/gyn with no time for William and little warmth. Yet William is hugely intelligent, curious and composed. The juxtaposition of the child's age and character with Emilia's response to him is frankly quite shocking. God forbid.
"One of the reasons that I can imagine all of those things is that's my job," Waldman explains. "I wrote that 'Modern Love' piece in between the third and fourth drafts of Love. I was so immersed in Emelia's world, and that was the task that I had assigned myself. You normally can't talk about hating a child or go near the case of losing a child."
Breezy and absorbing, Love and Other Impossible Pursuits is a gobbler, the kind of novel that can be read in an evening. But it hangs with the reader afterward, particularly the passage in which Emilia blames herself for her daughter's death. "We lost a baby in the second trimester, and that was part of what I was dealing with when I wrote the book," Waldman says. "I remember when I got the call from the obstetrician, it was the first time I realized, and not in a good way, that I was a writer. She said, 'Are you sitting down?' and I had the incredibly disassociated thought that when the worst thing happens, people really do fall on the ground and scream. I remember floating up by the ceiling and looking down, seeing myself rolling on the ground, holding the phone and screaming. I was just looking down at myself and taking notes."
Eventually Emilia is able to heal her grief, connect with William and save her marriage to Jack. Waldman even allows the evil ex-wife a second shot at love. But even with all of those "God forbids" examined, there remains one that Waldman simply can't bear to parse.
"I read Joan Didion's new book [The Year of Magical Thinking, about the death of Didion's husband, John Gregory Dunn] to discover what this is like. I felt like I had just been hit by a truck. And I hope to God that by the time that I'm able to understand that, I'm very, very old--too old to get near a keyboard."
Ayelet Waldman reads from 'Love and Other Impossible Pursuits' on Thursday, Feb. 2, at 7:30pm, Readers' Books (130 E. Napa St., Sonoma, 707.939.1779) and again on Saturday, Feb. 11, at 7pm, at Book Passage (51 Tamal Vista Blvd., Corte Madera, 415.927.0960). Both events are free.