02.06.08
home | north bay bohemian index | the arts | books | review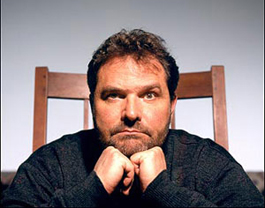 Hot Ink
National Book Critics choose 'Good Reads'
By John Freeman
L ast November, the National Book Critics Circle (NBCC) launched its Best Recommended list—not a bestsellers list, but a top reading list reflecting what its 800 member critics and former prize winners and finalists were actually reading and wanting to share. The NBCC returns with its second list, rechristened the NBCC's "Good Reads—Winter List," with new installments promised quarterly. Nearly 600 voters, including such lit luminaries as Annie Proulx, Jonathan Franzen, Bernard Lewis, Jean Strouse, David Nasaw, Cynthia Ozick, Jonathan Raban and MacArthur Fellowship winner Susan Stewart let their preferences be known.
Topped by Denis Johnson (above) and his Tree of Smoke , the fiction list includes Steve Erickson's dark and edgy Zeroville from small-press Europa Editions, J. M. Coetzee's cerebral Diary of a Bad Year and Geraldine Brooks' People of the Book , just published Jan. 1 and catching immediate interest. Alex Ross' The Rest Is Noise raced to the top of the nonfiction list and is nicely amplified by Oliver Sacks' Musicophilia . Mary Jo Bangs's Elegy placed first on the poetry list, which included Toby Barlow's Sharp Teeth , a novel-in-verse.
Following is a list of the top five vote-getters in fiction, nonfiction and poetry. Asterisks indicate a tie vote.
Fiction
1. Tree of Smoke , by Denis Johnson (FSG)
2. The Brief Wondrous Life of Oscar Wao , by Junot Díaz (Riverhead)
3. Diary of a Bad Year , by J. M. Coetzee (Viking)
4. People of the Book , by Geraldine Brooks (Viking)
5. Zeroville , by Steve Erickson (Europa)
Nonfiction
1. The Rest Is Noise, by Alex Ross (FSG)
2. Brother, I'm Dying , by Edwidge Danticat (Knopf)
3. In Defense of Food , by Michael Pollan (Penguin)
4. Musicophilia , by Oliver Sacks (Knopf)*
5. The Shock Doctrine , by Naomi Klein (Metropolitan)*
Poetry
1. Elegy , by Mary Jo Bang (Graywolf)
2. Time and Materials , by Robert Hass (Ecco)*
3. Gulf Music , by Robert Pinsky (FSG)*
4. The Collected Poems , 1956–1998, by Zbigniew Herbert (Ecco)
5. Sharp Teeth , by Toby Barlow (Harper)
To learn more about the nominated books, go to [ http://bookcriticscircle.blogspot.com ]http://bookcriticscircle.blogspot.com.
Send a letter to the editor about this story.