February 8-14, 2006
home | north bay bohemian index | music & nightlife | band review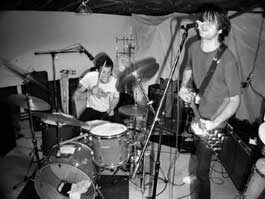 Photograph by Lars Knudsen
In Their Own Groove: Ten years of friendship hasn't made the music any much better.
Crushingly Spastic
Archeopteryx are damn good at being horrible
By Gabe Meline
Ten years ago, Devon Rumrill and Sean Leary had their first band practice together. Things didn't exactly go that well. Pictures fell off the walls, the bass player quit after a few songs and the neighbors were so upset that the band was officially fined $50 for the noise violation.
Most 13-year-olds would call it quits right then and there, but fueled by adolescence and a need to be heard above the torpid din of suburbia, Rumrill and Leary, who compose the crushingly spastic band known as Archeopteryx, sensed that they were on to something.
"We were asking, 'Is that $50 a month?'" says Leary, reflecting on the outpour of distaste, "because we were willing to pay it."
"Let me just add," says Rumrill, with a retroactive self-awareness, "that we were extremely loud and pretty horrible, most of the time."
Archeopteryx are still extremely loud, but if they're horrible, they're damn good at it. The band have just released their first album, Ten Years of Friendship (Discos Huelga), an outstanding paean to camaraderie that leaps out of the speakers like a haphazardly spliced recording of Pantera playing at various wrong speeds; it's completely awe-inspiring and, yes, it's one of the loudest records you'll hear all year.
Under a light and quiet drizzle on a recent Saturday morning, Leary and Rumrill revisit the old Petaluma neighborhood where they grew up together, standing outside the brown townhouse whose bad insulation sparked all those noise complaints of yesteryear. Could it really have been that bad? I knock on the door holding a copy of Ten Years of Friendship to play for the current resident; a couple of dogs snarl and bark on the other side of the front door, but no one answers.
Walking around the block, Rumrill and Leary tell story after spliced story, recalling long days testing the parameters of rebelliousness: lighting toy dinosaurs on fire, smoking cinnamon sticks, lighting sunscreen on fire, breaking into cars trying to find cigarettes, lighting hairspray on fire and avoiding the neighborhood bullies known as the Gray-Haired Twins. "There were a lot of bad incidents with the Gray-Haired Twins," Leary reminds Rumrill, "usually involving you and me running."
All of their teenage mischief adds up to an intrinsic telepathy between the two men; it's a key factor in their insanely spastic and unpredictable performances, and it's on display whenever we pass a familiar house. "At one point," Leary says, pointing to an innocent-looking property, "someone moved in who played heavy metal drums really badly, and that was awesome."
"I can still remember the beat!" Rumrill interjects. "He would just play the same beat over and over again!" Then, as if on cue, Archeopteryx break into simultaneous air-drumming and singing of the same exact repetitive, terrible drum beat together from all those years ago: "du-gu-du-gu DACK! du-du GACK! du-gu-du-gu DACK! du-du GACK!"
We travel next along the Petaluma River to another old practice space, marked by an empty 40 bottle. Rehearsals were usually held here late at night right behind a notorious cowboy bar, so "there'd always be a million trucks with Confederate flags around," Rumrill says, "and there were always a lot of cowboy fights."
"We would hook your record player up to my Marshall stack," Leary reminds Rumrill, "and play [tracks by punk faves] His Hero Is Gone when the bar was emptying out."
And on up the river, to another warehouse, this one surrounded by a crumbling old school bus and a sprawling thicket of blackberry thorns. It was Rumrill's first place of his own when he moved out, a haven for art-institute graduates and, naturally, another practice space for the band. "My friend got me in trouble one time," Rumrill says, "because she was taking huge pieces of wood and bashing in abandoned cars' windshields, trying to get the clothes that were inside."
"And when she did," Leary adds, "they all had little mites living in them."
So it goes, over every inch of town, story after spliced story. Stories that begin with "Somehow we befriended this weird runaway guy at the 7-11" and end with getting busted by the cops. Stories from the years of uneven chaos that grow into ties that bind: 10 years of friendship.
Now in their mid-20s, Leary and Rumrill live about an hour apart from each other, yet they still finish each other's sentences as they sit at Aram's Cafe, discussing their band's place in the world. "We'll acknowledge the fact that hardcore music is kind of funny," Rumrill says, "because I think abstract art should have more humor involved in it. It's trying to be super-serious all the time, and I don't think life is serious; I think life is ridiculous."
Leary seizes on this. "I think a lot of our songs are making fun of what we do." Rumrill agrees. "If it sounds normal," he says, revealing a key ingredient in the Archeopteryx formula, "we're like, 'That's a tasty groove! We should not keep that, that sucks.'"
This sort of forced conflict is evident in the band's incendiary performances, where even the most jaded leave with a sense of astonishment. (A low threshold won't get you through an Archeopteryx show--even Rumrill has occasionally left the stage to go throw up.) "It's not pleasant to listen to," emphasizes Leary, "so I think a lot of what's interesting about it is trying to form an opinion of what's happening in it."
As a result of such a contextual approach, not everyone who likes Archeopteryx does so for the same reasons. "If you wanna look at it like it's some sort of experimental, avant-garde, cutting-edge 'anti-music' thing, that's cool," says Rumrill with a sarcastic whine of derision in his voice, essentially indicating that it's not cool. "If you think it's just some noisy crap that's kinda fun to listen to, that's cool, too."
"Remember the time that kid came up to us?" asks Leary. "He was like, 'Yeah, you know, I really liked your band when I thought you weren't a real band, but then, like, someone told me that you guys think you're a real band, and I don't really know if I like you so much anymore.'"
Archeopteryx perform Friday, Feb. 10, at Epiphany Music. Also on the bill are Are Black, Mute Vernacular and Colorshy. 640 Fourth St., Santa Rosa. 9pm. $5. 707.543.7008.
Send a letter to the editor about this story.