February 8-14, 2006
home | north bay bohemian index | the arts | books | review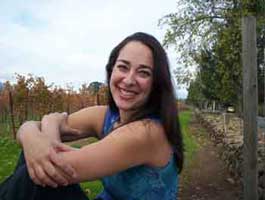 Girl Next Door: Romance novelist Nyree Belleville writes best when 'sex drives the plot.'
Writer's Lust
A penis is a penis in local author's erotic romances
By Patricia Lynn Henley
Nyree Belleville laughs heartily as she recalls the people who invariably peek over her shoulder whenever she types furiously on her portable word processor in a Sonoma Valley coffeehouse. "I just think to myself, 'Y'all are going to get an eyeful of cocks and pussies,'" Belleville says.
Clad in jeans and a tank top, her long dark hair hanging down her slender back, she looks fairly innocuous, just another cyber writer sipping java and pounding out words. But under the pen name Bella Andre, Belleville burns up her keyboard with the plots of erotic romance novels. This hot new genre avoids the euphemistic references once so annoyingly characteristic of romantic bodice-rippers. In the work produced by Belleville and others, a penis is a penis, or maybe a cock is a cock, but it's never a "throbbing manhood."
"Most writers use the word 'cock' now. It's just very accepted that when you write a sex scene now, you use the right word," Belleville explains.
A Stanford University grad with a degree in economics, Belleville spent 10 years touring as a pop-folk musician, first with the Girl and I and then solo as Nyree. Burned out, she switched to writing, starting initially with nonfiction books about the music industry. One day she was making a journal entry when a fictional character appeared on the page. That was the birth of her first romance novel. "I've read romances my whole life," Belleville says. "My mom's always read romances. That's the genre I've always liked."
Sales of erotic romances have soared in the last few years, and Belleville loves her chosen niche. "There are no rules, no boundaries," Belleville says. "I think it freed me up as a writer to be able to use the real words. My books are pretty mainstream; they just have a little more sex than most."
Erotic romance is not porn, soft or otherwise, and there's definitely a lot of conflicted love in Belleville's latest novel, Take Me (Pocket Books; $13). Of course, the characters do have quite a bit of exhilarating sex.
"My brain tends to write itself around scenes that have a sexual premise, which is kind of an odd thing and I don't know why that is. It's not, 'Here's a story and let's throw some sex in.' Sex really drives the plot," Belleville explains.
Belleville lives in the town of Sonoma with her software-engineer husband and their 18-month-old son. She writes between two to four hours daily, Monday through Friday, producing 10 to 12 pages on a good day, and can finish the first draft of a manuscript in two to four months. One bedroom of her home has been converted into an office, but she doesn't always work there.
"When I start a project, I find I can focus better if I'm not in my house. I need to get myself inspired. It's always hard to get into a new project, so I take it to a coffeehouse. Once I get going, after about a week, I don't want to waste time driving to a coffeehouse, and I'll work at home."
Her college roommate, an English major, is also a published erotic romance author. At a Romance Writers of America conference, they hooked up with yet another Stanford grad (this one has a law degree), who just signed a three-book deal for historical romances. The three of them support each other as critique partners.
"When we're brainstorming a story, our language is so foul," Belleville says. "We have head-turning, eye-popping conversations when we're in restaurants. We joke about it because every conversation ends up being about penises, every single one."
Explicit language is just part of a day's work, and Belleville is not at all apologetic about what she does for a living.
"I've been able to tap into a real creative part of my brain that happens to be tied into sexuality. Coming out of Stanford, I feel that this is a real feminist thing I'm doing, embracing my body. My books start off with a bang. If you can make it through chapter two, then you're not faint-hearted."
Nyree Belleville reads from 'Take Me' at Waldenbooks on Saturday, Feb. 11, from 1pm to 3pm. 5050 Northgate Shopping Center, San Rafael. Free. 415.479.4474.