February 8-14, 2006
home | north bay bohemian index | sonoma, napa, marin county restaurants | review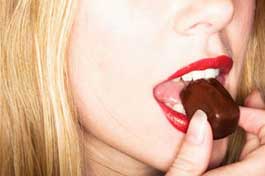 Awful Sweet: The sugar in chocolate actually works against the flavors in red wine, making the two an unnatural pairing.
Like Water for Chocolate?
The shocking truth about red wine and chocolate: They don't mix
By Lori Narlock
Like Google stock, the number of chocolate-and-wine-themed events and the people who attend them is rising with no plateau in sight. According to Michele Prinz, public relations director for Rodney Strong, attendance at the winery's annual Wine and Chocolate Fantasy tasting has grown steadily since its start 17 years ago, reaching a record attendance of 800 people last year. COPIA's inaugural Death by Chocolate event two years ago attracted between 400 and 500 chocolate lovers. Attendance at last year's event, which included a walk-around wine and chocolate pairing component, was 1,000--more than double the previous year's.
A glance at these numbers would lead you to believe that chocolate and wine are a match made in heaven. But in reality, chocolate and wine--specifically chocolate and dry red wine--are as compatible as oil and water.
Among food and wine professionals, it's a widely shared opinion that chocolate and red wine are a terrible match. San Francisco Chronicle staff writer and cookbook author Janet Fletcher explains why. "The problem with that marriage isn't the chocolate; it's the sugar in the chocolate. Chocolate or a dessert made with chocolate typically has too much sugar to be paired with a red wine. It's the same as serving a pork chop with a fruit chutney or honey glaze--it will kill the taste."
Burke Owens, COPIA's associate curator of wine, echoes Fletcher's opinion. "People think wine and chocolate are a natural pairing, but they're not. To find a good match requires effort."
The question that begs to be answered is why, then, are chocolate and red wine such a beloved combination?
"There isn't any information about the two as a pairing," says Hildegarde Heymann, professor of sensory science in the department of viticulture and enology at the UC Davis. Heymann, who recently supervised a study of wine and cheese pairing that resulted in the finding that eating cheese with wine diminished the flavors of wine, hopes to conduct a similar study about chocolate and wine. "Every time I talk about cheese and wine, people ask about chocolate and wine," she says.
It's easy to conjure up a few hypotheses about why chocolate and wine are such an alluring combination. First, to use a cliché, ignorance is bliss. Most lovers of the combination probably don't critically assess how each affects the other's taste. Another explanation could be tied to the idea that everyone favors certain flavor profiles, broken roughly down as salt lovers, sugar lovers, acid lovers and bitter lovers. Some believe that a preference for one type of food indicates a liking for others that fit its flavor profile. For example, favoring dark, bitter beers often indicates a preference for sourdough bread, darkly roasted coffee, bittersweet chocolate and red wine.
A nutrition column about chocolate cravings published on the Yale New Haven Hospital website holds a clue that points to a possible connection between red wine and chocolate. It states, "Chocolate cravings may also be triggered when the taste buds tingle with the taste of chocolate."
If this is true, it could support the hypothesis that there is a physical relationship between red wine and chocolate, considering that chocolate is often one of the flavors detected in red wine. Perhaps when a chocolate flavor is tasted when someone is drinking red wine, it produces a Pavlovian reaction in chocolate lovers.
But can it really be that simple? And is it perception or physiology that drives people to combine the two? According to Heymann, it doesn't matter. She says, "Perception is more important than physiology when it comes to pairing."
Despite the lack of scientific evidence that supports any of these hypotheses, there is a glut of studies that indicates both dark chocolate and red wine contain many health benefits, including an abundance of antioxidants. Dark chocolate also reportedly raises serotonin and dopamine, thus acting as a mood enhancer.
All of this begets more speculation. Couldn't it be argued that with all of the benefits of consuming one alone, together they are a double dose of goodness?
On the flip side, there's no lack of reports about the addictive qualities of both chocolate and alcohol. It could just as easily be argued that red wine and chocolate are simply the drugs of choice for some people, and together they satisfy a craving in the same way that coffee and cigarettes sate others.
No matter what it is that draws people to pair red wine and chocolate, it appears that the combination and the events that showcase it aren't going away any time soon. Fortunately, there are exceptions to the no-good-match rule.
COPIA's Owens, who has developed a wine-and-chocolate-pairing program that's in its third year, offers these tips: "The key to a successful pairing is to match the sweetness of the chocolate with the wine. Try port or a late harvest red wine, such as Meeker's Frozin, an ice wine made with Zinfandel grapes, or Bonny Doon's Framboise, a fortified late harvest wine made from raspberries."
If you want to serve a dryer wine, Owens suggests serving chocolate that has a lower sugar and higher cacao content, such as Scharffen Berger, Dagoba or Guittard's single-origin bars.
The next time you attend a wine and chocolate tasting, take advantage of the variety, and taste, taste, taste. Always taste the wine first, then, after tasting all of the wines available and noting their characteristics, move on to the chocolate. Taste each chocolate sample with each of the wines. If the wine retains its initial flavor, you've got a good match; even if it doesn't but you like it, it's still a good match.
Included among the many chocolate-and-wine events upcoming in the North Bay are the Rodney Strong Wine and Chocolate Fantasy, slated for Saturday, Feb. 11, from 1-4pm. 1145 Old Redwood Hwy., Healdsburg. $20-$25; advance reservations required. 707.431.1533. COPIA's Death by Chocolate fandango is slated for Saturday, Feb. 18, from 1-3pm. 500 First St., Napa. $25-$35; reservations required. 707.259.1600. Author Lori Narlock discusses and signs her new book, 'The Wine Lover's Guide to Wine Country' on Saturday, Feb. 11, at the Jimtown Store. 6706 Hwy. 128, Healdsburg. Noon-3pm. Free. 707.433.1212.
Send a letter to the editor about this story.