February 8-14, 2006
home | north bay bohemian index | music & nightlife | band review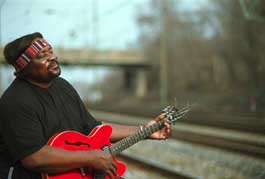 Delta Sound: Big Jack Johnson plays a modern Mississippi music.
Recapturing Clarksdale
'Evolution' revisits the birth of the blues
By David Sason
When people think of a blues city, most immediately think Chicago. After all, the Windy City was home to Chess Records, Muddy Waters, Howlin' Wolf and others who made music that immeasurably influenced musicians worldwide. But as the Feb. 10 Evolution of the Blues concert strives to demonstrate, we must find the Mississippi River and follow it like an umbilical cord to find the true city of the blues: Clarksdale, Miss.
Now in its 13th year, the annual concert explores the music that's widely regarded as the only truly American art form. "In past years, we embraced many different avenues of blues music," says event co-founder and KRSH 95.9-FM radio host Bill Bowker. "This year, we are directing our full attention to the birthplace of the blues."
Indeed, the rural town in the heart of the Mississippi Delta was where it all started in the early 20th century as a cathartic response to the hardships of the sharecropping life. As a Southern train hub, Clarksdale was home at one time to nearly every early innovator, including John Lee Hooker, Son House, W. C. Handy and, of course, Robert Johnson.
Ace harp player and singer Charlie Musselwhite, who opens the Evolution concert with a solo performance of the original Clarksdale sound, was born near there. Like so many from Mississippi at the time, Musselwhite moved north to Chicago, becoming immersed in the burgeoning blues scene. By the '60s, of course, the music had spread across the Atlantic, where countless British bands tried to emulate their Delta heroes.
In his own musical evolution, Musselwhite now deliberately avoids traditional Chicago-style harp playing in favor of a more sparing, intuitive approach he describes as tonal. "Tonal just means focusing on playing so that each note is loaded with feeling," he explains. "Sometimes it can feel like colors that you're painting with."
Taking over the second half of the night is Big Jack Johnson, a master Delta blues guitarist best known for playing in the renowned trio the Jelly Roll Kings. Johnson will perform modern Clarksdale blues. Raised, he says, just "a hop, skip, and a jump" from Clarksdale, Johnson's path was cemented early on. "Down here, [there's] nothing but the blues," he says. "What else you going to do here?" Having played with everyone from Jimmy Reed to Carl Perkins, Johnson continues to incorporate different styles into his shows, reminding us that all American folk forms are connected. "I play everything, from country-western to rock and roll to hip-hop, whatever the people like," he says. Nonetheless, Johnson misses the early days. "Ain't nothing around like that anymore," he laments. "People done left there, man, [to] everywhere you can name."
Bill Bowker is hopeful, believing Clarksdale will once again emerge as a prominent blues center. "It once was, and will be again, a vital place for the blues," he insists. Bowker sees promise in the music of such hip-hop artists as Nas and Berkeley's own Lyrics Born. "They're trying to bring it back to the black culture where it started," he says.
The concert promises to end with a jam, and Musselwhite and Johnson may even bring a dose of classic Clarksdale competition. "I haven't worked with [Musselwhite before]," Johnson says, adding playfully, "I can handle him."
The Evolution of the Blues commences on Friday, Feb. 10, at the Burbank Auditorium. SRJC, 1501 Mendocino Ave., Santa Rosa. 8pm. $17-$20. 707.527.4372. Big Jack Johnson performs a solo show on Saturday, Feb. 11, as part of the I-10 Music Series at Stim's Texas BBQ, 557 Summerfield Road, Santa Rosa. 8:30pm. $15-$18. 707.588.0707.
Send a letter to the editor about this story.