February 8-14, 2006
home | north bay bohemian index | news | north bay | news article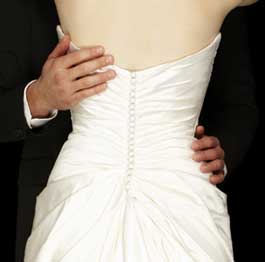 Legal Strangers: Domestic partners are not recognized in states other than where they registered. The 'Marriage Equality Tour' aims to end that.
Unmarried and Unequal
Day of love highlights inequities among couples
By Patricia Lynn Henley
Deb Stallings will be applying for a marriage license on Valentine's Day. She and her spouse-to-be expect the exact same response from Napa County Clerk John Tuteur as they got on Feb. 14, 2005.
"He came outside and said, 'I respectfully decline to issue marriage licenses because it's illegal. As an agent of the county, I have to uphold the law as it is written,'" Stallings recalls. "John Tuteur would be absolutely delighted to issue us marriage licenses if it were legal. I know that for a fact; it's not personal. This is just something that we will have to do annually until we don't have to do it anymore."
Stallings didn't always view marriage as something she wanted but was denied to her. She used to tell her friends she had no desire for a patriarchal blessing on her relationship. "A lot of us felt we didn't need the traditional forms."
Then a tax bill changed her point of view. After a year of getting Stalling's health insurance through her domestic partner's employer, the couple was hit with an additional federal income tax bill of more than $1,100.
"We have to pay income tax on the value of my benefits," Stallings explains.
She and Carol Whichard are legally registered domestic partners in the state of California, but if they were married, they wouldn't have to pay that federal tax.
"Since then, we've learned that there are more than 1,100 federal benefits that aren't extended to us because we're not 'married,'" Stallings says.
It's not that she wants marriage for its own sake. "There's nothing they can write into law that's going to make us feel any more married. We made that emotional and financial commitment. There is nothing that anyone can say or do that makes us any more married with respect to how we live our lives."
The important issue is how they are treated by others and the rights that are denied them. If these two Napa residents leave California, even on a short trip, they become "legal strangers," Stallings says. "I wouldn't be able to visit her in the hospital if we had a car accident or something. Unless I had her healthcare directive in my back pocket, I wouldn't be able to make medical decisions for her. It makes you realize just how tenuous your rights are."
And that makes her angry. "This is how we are regarded by our government? You can't help but feel belittled by that."
It doesn't help that two separate groups have filed papers with the secretary of state and are working to get measures on the California ballot limiting marriage to a union between a man and a woman. The messages that come from the media can be equally disheartening.
"There's something about reading about Britney Spears getting married for 19 hours," Stallings says. "I know people who have been together for 19 years and they can't get legally married, yet someone else can marry a total stranger."
So Stallings and others in same-sex relationships have mixed feelings about Valentine's Day. Even as they make romantic plans, they're aware that their rights and options are limited.
That's why February is Freedom to Marry Month, says Molly McKay, statewide field director for Equality California, sponsor of the "Get Engaged California Marriage Equality 2006 Tour" events.
"We have 45 volunteer-driven chapters up and running, and we'd like to have them in all 58 counties," McKay says. A county-by-county map at www.eqca.org/chapters provides local details. Gatherings of various sizes and types are scheduled, but Valentine's is the day to request marriage licenses. "It's an opportunity to show the discrimination that our community has to suffer," McKay says.
Like Tuteur, many county clerks are sympathetic and a number of county boards have passed resolutions supporting marriage equality. Yet the barriers remain. "What's really powerful about these [Freedom to Marry] projects is that they allow anyone who cares about this issue to get involved," McKay adds. "This is something that nongay people can turn out for and get involved in one of the major civil rights struggles of our generation, and do it in a positive and fun way."
Ron Lussier and Dan Greening of Sausalito are already married--in the eyes of the state of Massachusetts. Together for 17 years, they, too, have concerns when they travel.
"In Massachusetts, we're covered and in California we're covered because we're registered domestic partners, but elsewhere, we're strangers under the law," Lussier says. "It's not like we love each other any less than a straight couple who have been married less than a week."
But they don't have the rights and protections that straight people enjoy, even those married for only a few days or a few hours.
"It really bothers me that people who haven't met us think that they can judge our relationship as being invalid," Lussier says. "That's kind of the bottom line."
Send a letter to the editor about this story.