02.09.11
home | north bay bohemian index | movies | current reviews | film review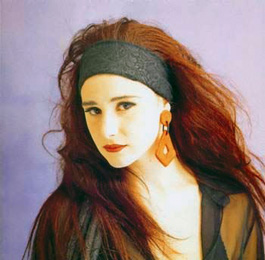 OBJECT OF DESIRE:
The famous redhead still has her wild followers.
Crazy for You
Documentary follows Tiffany's rabid fans
By Tessa Stuart
The first single off the singer Tiffany's self-titled 1987 debut album flopped. It was the second, a remake of Tommy James and the Shondells' 1967 hit "I Think We're Alone Now," that would propel the album to the top of the charts in the United States, Great Britain, Canada, New Zealand, South Africa and Ireland. It sold 4.1 million copies, making it a platinum record four times over.
Tiffany's star burned fast and bright. By 1989, infighting with her management team had stalled the singer's career, and she all but vanished from the public eye. Her stint in the spotlight lasted just long enough to spark a love that smolders to this day in the hearts of thousands of fans—and in some more than others.
"I Think We're Alone Now" is a song about two people against the world—running just as fast as they ca-an, holding on to one another's ha-ands—forced to keep their love hidden from outsiders ("'Cause what would they sa-ay, if they ever knew?"). In many ways, it is appropriate that a new documentary film takes its name from the song. It, too, is a story of misunderstood love. It's about a boy, Jeff, and a girl, Kelly. They are not in love with each other, though. They're in love with Tiffany.
When Tiffany embarked on her first coast-to-coast shopping-mall tour, Sean Donnelly was only five years old. Donnelly grew up in Santa Cruz and attended film school at New York University. He was home from college in 2002, asking random strangers on the street to audition for a short film he was making when he met Jeff Turner.
They shot a short film together, and occasionally Turner would mention his friend Tiffany. Donnelly did not think much of it. Downtown with Turner one day, he ran into an old friend of his. "Do you know who this guy is?" Donnelly remembers the man asking them. "He's Jeff Turner. He's famous. Tiffany has a restraining order against him," he said.
"You've heard in the media of people who are stalkers or obsessed with celebrities, but you don't actually meet somebody who's been accused of being a stalker," says Donnelly. When he found out Turner was one of them, he says, "I realized I had so many questions that I started filming them. I didn't know what it was going to be. I was just curious, really."
Over the next five years, Donnelly says, he started taping sessions with Turner regularly. The film that would eventually become I Think We're Alone Now began to take shape. Donnelly attended the concerts and conventions with Turner, and as he did, began to meet more contacts in the fiercely loyal Tiffany fan base. One is Kelly McCormick.
In the film, when the camera pans around Kelly McCormick's Denver apartment, photos of Tiffany are plastered at eye level on every available surface. Some have notes or doodles stuck on them. There is a poster of Tanya Chalkin's iconic photograph The Kiss depicting two women in bed. Taped under it is a hand-drawn caption: "Me," with an arrow pointing at one of the women, "Tiffany," with an arrow pointing at the other woman, and the words "This Will Happen Very Soon."
In the film, McCormick explodes at one point, saying, "My destiny is: I'm supposed to be with Tiffany. I'm not kidding you. I'm not making this up. If I am, put shackles on me, take me to fucking jail, 'cause you know what? I have the right to love and be loved."
Both Turner and McCormick display signs indicating something is a little off. Sure, it's unconventional that McCormick only met Tiffany once at a mall in the '80s yet still professes a deep, abiding love for the singer, and, yeah, it's weird that Turner dons a bicycle helmet festooned with crystals and wires in order to communicate telepathically with Tiffany.
What is most interesting, and unexpected, is that Turner's and McCormick's respective relationships with Tiffany are not necessarily one-sided. On numerous occasions, Tiffany is shown interacting with McCormick and Turner—particularly Turner, who is, after all, the person against whom she requested a restraining order.
"Tiffany and I are still friends," Turner says. "We still see each other, and we're very close."
'I Think We're Alone Now' is available on DVD at SeeOfSound.com, Amazon.com and other retailers. It's also available for rent and instant streaming through Netflix.com.
Send a letter to the editor about this story.