02.09.11
home | north bay bohemian index | news | north bay | news article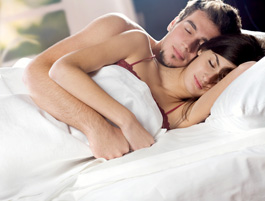 BURNING LOVE:
Hitting the sheets once a day with your partner means losing about a half-pound every week, plus an oxytocin overload that aids in sleep.
Doin' It Well
Sleep improves health and sex improves sleep—no doubt
By Jessica Lyons
Getting out of bed can be the worst part of the day. Whether pulling away from a lover's wake-up call or sleep's cozy cocoon, often it's all downhill after leaving the sheets.
New research says it's more than an annoyance, though. It can be downright dangerous to your health.
OK, so that's a bit of a stretch. But several scientific studies suggest that staying in bed—both sleeping and sexing—has multiple health benefits. Instead of hitting the gym or cutting carbs, studies suggest, fitness-conscious folk can add more sex and sleep to their lives, knowing their bodies (and their minds) will thank them for it now and in the future. There's even a name for this approach, according to those in the know.
"The sex diet!" says sexpert Jane Bogart. "The average 175-pound person burns 150 to 200 calories during 30 to 40 minutes of sex."
Bogart, author of Sexploration: The Ultimate Guide to Feeling Truly Great in Bed, is joking. Sort of.
It takes 3,500 calories to burn one pound of fat. Assuming one high-intensity half-hour romp per day, that adds up to weight loss of roughly half a pound per week. So maybe it's not as effective as spinning class.
"But it's a lot more fun than the treadmill," says Bogart, who's also director of student wellness at Columbia University Medical Center in New York City. And singles need not despair: "Sex with another person can be great, but some of these benefits you can also get by having sex with yourself."
Sex and why it's good for people is one of Bogart's favorite topics. "It reduces physical stress, it reduces tension, it promotes feeling good about yourself," she says. In addition to writing and teaching about it, she also appeared on MTV's First National Sex Quiz and True Life: I Need a Sex R.N.
"Benefits fall into three categories," she says. "Actual emotional health benefits to sex, physical health benefits and physiological health benefits."
The evidence is, er, mounting, and it's more than just anecdotal. Several scientific studies suggest that the health benefits of sex may be more than just the old high-pro glow. These include:
¥ A healthy ticker. A study at Queen's University in Belfast found that men who have sex at least three times a week can cut their risk of heart attack in half and also decrease their chances of having a stroke.
¥ Fewer colds and bouts of flu. Researchers at Wilkes University in Wilkes-Barre, Penn., say that sex once or twice a week boosts the immune system by 30 percent.
¥ Better self-esteem and focusing power. "It's difficult not to be in the moment when you're having sex," Bogart says. "It can clear your brain, and also, sex allows you to experiment and try new things in a way that you might not feel comfortable doing in other areas of your life."
¥ Stronger abs and pelvic floor muscles. So everyone gets a six-pack and ladies get better pee control—both of which are good things come swimsuit season.
¥ A healthy prostate. The Journal of the American Medical Association reports that ejaculation can lessen a man's likelihood of developing prostate cancer.
¥ Less pain and better sleep. Orgasms produce an oxytocin overload, which also releases endorphins. This helps induce sleep and relieves pain. "The oxytocin and endorphins produced during sex reduce pain, so one of the things we tell women having bad menstrual cramps is that having sex can help alleviate cramps," Bogart says, adding, "The oxytocin in your brain promotes better sleep. That's why people fall asleep after sex."
Speaking of staying in bed, sleep does the body good, too. And it may even increase hotness. According to new research published in the British Medical Journal, beauty sleep is real.
Scientists took 23 subjects and photographed them after they had been awake for 31 hours with only five hours of sleep. Then they photographed the same subjects after a normal night's sleep—eight hours. None of the subjects wore makeup, and they all stood in the same location in a room with bad, bright lighting.
Next, 65 untrained observers rated the attractiveness and perceived health of the people in the photographs. And—surprise, surprise—in their sleep-deprived states they were judged less attractive and less healthy.
To extrapolate from the study, then: Sleep more, which makes you better looking, which may enable you to have more sex, which produces oxytocin, which helps you to have better sleep. It's a fabulous virtuous cycle of increasing attractiveness, improving health and making mad booty.
Deepti Hemrajani, M.D., a sleep specialist in Capitola, suggests developing a relaxing routine before going to sleep, keeping the bedroom cool and dark, and restricting the bed to only sleep and sex—"things that promote restfulness and a better sleep environment.
"It's important to keep a set sleeping time and a set wake-up time. If there are things that seem unusual, like snoring, gasping, kicking, that's the time you come in to get a further evaluation."
Unless, of course, the gasping and kicking are associated with the other bedtime activity, in which case: keep on kicking, screaming and clawing your way to better health.