February 15-21, 2006
home | the papers | north bay bohemian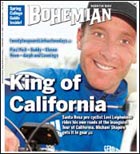 King of California
Santa Rosa pro cyclist Levi Leipheimer rides his own roads at the inaugural Tour of California. Michael Shapiro gets it in gear.

Water World
What's so special about a wastewater-treatment plant? Just ask the birds of Petaluma.
News Briefs
Goodwill E-Cycling; Marin, Napa and Sonoma residents struggle to recover from the New Year floods.

The Byrne Report
Sixth Assembly District candidate Jared Huffman.
Car Culture
'Secuestro' means kidnap, and the whole movie is about the carjacking and abduction of a wealthy couple from the streets of Caracas.

Again Young
Jonathan Demme films Neil Young in 'Heart of Gold,' with a mix of schmaltz and genuine magic.

MORE MOVIE REVIEWS

MOVIE TIMES

Let It Shine
For darph/nadeR, salvation is the noise itself.
America's Rockingest Home Videos
Why settle for MTV when you can make your own?
Remaining Mysteries
Ruminators provide 'Loomings,' not answers.

MORE NIGHTLIFE

NIGHTLIFE CALENDAR

The Gotta-Try-It Diet
When it comes to slimmer waistlines, is Sonoma the new South Beach?
Wine Tasting Room of the Week
Sebastiani Vineyards & Winery in Sonoma.
First Bite
The Red Grape in Sonoma.
Real-Life Kitchen
Holy Haloumi.

BOOK A RESTAURANT RESERVATION

FIND A RESTAURANT REVIEW

'Night' Moves
SSU's Lynne Morrow leads students through Sondheim puzzle.