02.16.11
home | north bay bohemian index | movies | current reviews | film review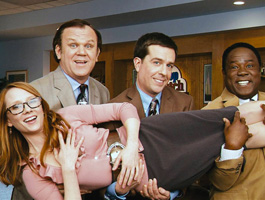 CONVENTIONEERS:
Lots of drinking and bad behavior by insurance salespeople—we'll take it.
There's Corn in Iowa
But ultimately, 'Cedar Rapids' is ticklish and humane
By Richard von Busack
Least known of Anne Heche's alter egos is an as-yet-unnamed screwball comedian. Heche has made wonderful copy off-screen, outcrazying very stiff competition in Southern California. Still, as three separate family memoirs by the Heches make clear, it was in the God-fearing Midwest that the trouble began. And the new film Cedar Rapids is all about how deranged the Midwest can be.
With long, glossy red hair and a fiery wardrobe, Heche plays Joan Ostrowski-Fox, an insurance salesperson. The highlight of her sedate year is the annual convention in Cedar Rapids, Iowa, population 120,000. It's her time to cut loose. When she's prissily accused of being "a philanderer," Joan flashes a weary look and makes a slow upward wave of the hand: what are you going to do?
Based on a robust script by Phil Johnston, Cedar Rapids shows us some captivating alliances during the course of the insurance convention. Ed Helms, the Larry Fine among the three stooges of The Hangover, is the film's actual hero. He plays Tim Lippe, a salesman from the BrownStar Insurance Company of Brown Valley, Wisc. After a far more proactive salesman meets with an accident, his ogre of a boss sends him as an alternate delegate.
The Best Westernesque business hotel looks like Xanadu to Lippe, who has never left his hometown. His backwardness is further demonstrated by an affair with his former sixth-grade teacher, Macy, played with bawdy grace by Sigourney Weaver. ("Did you have a crush on me, too?" he asks her in bed. "You were 12," she replies.)
Tim's only regret is that Macy couldn't join him on the exciting trip, but he's distracted by meeting his new roommates Ronald Wilkes (Isiah Whitlock Jr.) and the life of the convention, Dean Ziegler (John C. Reilly).
When Ziegler turns up, slapping backs and roaring ("You got any honey on your stinger yet?"), it's clear that the joke about "BrownStar" isn't going to be the only hint of anality in the film. Reilly, who seemed at first to be headed for Rod Steiger roles, is a rare example of a coarse jackass who brings hilarity to every gesture, every unprintable under-the-breath comment. Reilly is so beautifully obscene, tilting his low forehead, standing paunchy and boxer-short-clad and delivering late-night speeches.
Zeigler, however, is not monotonous. During a night of drinking, he snaps into lucidity to give Tim some important advice: the small-town naif needs to know that the convention is not on the level, and the churchly head of the organization (Kurtwood Smith) is hardly as pious as he seems.
Cedar Rapids is not perfect. It looks roughly edited during a scavenger-hunt scene. The trailers are just as roughly edited; they don't give a hint of the comedic rhythms of the film. Also, it tries to get away with a kind of small-business-triumphant ending that we can barely accept even in Frank Capra movies.
But Cedar Rapids is ultimately humane, always diverting and consistently ticklish. Just remembering Joan swimming up to Tim in the hotel pool, like an anaconda gliding toward a floating baby bird, or Reilly's Dean popping his eyes as he says something terrible, can make a person really feel good about things.
Cedar Rapids opens Friday, Feb. 18 at Summerfield Cinemas. 551 Summerfield Road, Santa Rosa. 707.522.0719.
Send a letter to the editor about this story.