02.16.11
home | north bay bohemian index | columns | wine tasting room of the week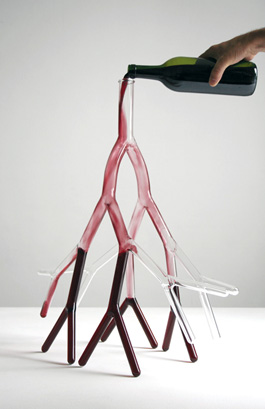 Wine for the Modern Mouse
By James Knight
From the feasting pagans on ancient amphorae to the anodyne pastels of today's tasting rooms, wine and art have long enjoyed cozy companionship. With Arnulf Rainer's somewhat darker Wine Crucifix safely tucked away in the Tate, what shocking developments could lure Wine Country Mouse down to the lair of sophisticated City Mouse, the San Francisco Museum of Modern Art? The labyrinthine "How Wine Became Modern" exhibit, through April 17 at SFMOMA, sports nary a canvas, but when we get to the end, there just might be a bit of cheese.
The chief conceit here is that wine became modern in exactly 1976, the year of the so-called Judgment of Paris. Thus, as visitors escape the curious tinkling of rain sticks in the lobby, they enter a shrine to that competition's award winners, alongside a copy of the actual "Judgment" article itself: a dryly-worded brief sandwiched in between advertisements for tires and whiskey. The scene is stolen by a photomural in which the "wine judges" in exquisite period threads ham it up in a tongue-in-cheek, fictitious tableau that evokes The Last Supper.
The hushed reverie of the Terroir room, where international soil samples bathe in their own pool of soft light, begs an interesting question about the fetishization of rocks; the more illuminating feature here is a computer animation depicting the globalization of the wine trade. Hasn't Port always shipped from Portugal? Yes, but as decades tick away in seconds, the world's wine-producing nations bombard each other from across the globe with ever-more vigorous fountains of red. Australia gives up much of its own toward the United States and Britain, while France largely messes upon itself.
The locally filmed Bottle Shock, loosely based on the events of 1976, makes an appearance in a video loop shared with 60 Minutes' "French Paradox" segment, and others; architects from Gehry to Graves makes the scene; critter-labels share a wall with femme fatales; and a faux-counterfeit magnum of 1946 Domaine de la Romane-Conti suggests artful wiles: there was no such vintage.
If all this makes one thirsty, the Russian River Wine Road association offers to comp SFMOMA ticket holders for free tastings and other specials, including a wine pairing at Dutton Estate Winery, with cheese.
San Francisco Museum of Modern Art, 151 Third St., San Francisco. Open Friday-Tuesday 11am-5:45pm; until 8:45pm Thursday. $18. 415.357.4000. For Wine Road tickets, check in at Kendall Jackson Wine Center, 5007 Fulton Road, Fulton. 707.571.8000.
Send a letter to the editor about this story.