02.17.10
home | north bay bohemian index | sonoma, napa, marin county restaurants | review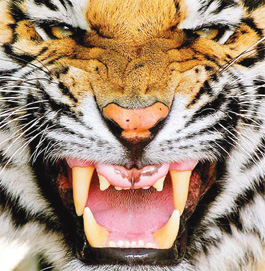 Tiger Tales
By Morgan Carvajal
According to ancient Chinese legend, the New Year came to be celebrated after an elderly man tricked a Nian—a fierce beast and creature capable of swallowing several people in one bite—into disappearing. Other New Year's traditions see the celebration as a desire to observe the end of winter and fertility of spring. Today, the Chinese New Year is traditionally a 14-day celebration that is spent with family and marked by gift-giving.
The Chinese calendar is a combination of the solar and lunar calendar, which explains why the holiday falls on a different date each year. This year, the official Chinese New Year fell on Feb. 14, and rings in the Year of the Tiger. The Chinese New Year celebrations have their origins under the Han Dynasty (206 B.C.E.–C.E. 25) rule. These ancient end-of-harvest celebrations included offering thanks to gods for good harvests and promises for a good crop in the following year. Varied festivals celebrated worships, superstitions and sacrifices. There are several stories about the origins of the 12 animals in the Chinese Zodiac, but the essence of the story is that a higher being called on all animals to represent each month in the Chinese calendar, the first 12 to arrive were chosen. The Year of the Tiger represents the birth years of 1914, 1926, 1938, 1950, 1962, 1974, 1986, 1998 and 2010. If born in a tiger year, one could have the characteristics of a short-tempered, adventurous, sensitive or emotional being.
The North Bay celebrates the holiday with a free Lion Dance throughout the Oxbow Public Market in downtown Napa on Sunday, Feb. 21, beginning at 1pm. Chinese lion dancing is a traditional art used to celebrate happy, festive and auspicious occasions, and is believed to drive out evil spirits and ensure prosperity and good fortune. The San Francisco Wushu Team will perform the dance, followed by the San Francisco Guzheng Society performing traditional Chinese music for Oxbow guests. Tillerman Tea will be brewing and Zhu Zhi, Lily Emmolo (a native of Yunnan province in China), will demonstrate the classic Chinese Tea ceremony. Red envelopes and dim sum will add to the traditional celebration. 610 First St., Napa. 707.963.1345.
Around the North Bay, Youth in Arts presents "Tales of the Nian" performed by Marin Chinese Cultural Association, to celebrate the Year of the Tiger for students on Tuesday, Feb. 23, at 9:30am and 11am at the Marin Veterans Memorial Auditorium. On Saturday, Feb. 27, the Redwood Empire Chinese Association hosts a dinner and performances from 5pm at the Veteran's Memorial Building, 1351 Maple Ave., Santa Rosa. $10–$25; no tickets available at the door. For info, call 707.576.0533 or 707.528.0912.
Send a letter to the editor about this story.