02.23.11
home | north bay bohemian index | movies | current reviews | film review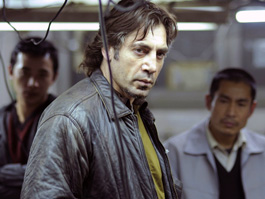 IMPOSITION:
Javier Bardem's icy stare alone weighs 500 pounds.
Almighty Squalor
Oscar favorite 'Biutiful' deserves special award for Most Depressing
By Richard von Busack
In Barcelona's rugged Santa Coloma district, Uxbal (Javier Bardem) has learned that he has stage-four prostate cancer. But the handsome Catalonian has much more on his insufficiently washed plate as well: his estranged wife, Marambra (Maricel ēlvarez), is a promiscuous bipolar case who's way too friendly with Uxbal's brother, Tito (Eduard Fernandez). His father is about to be evicted to make way for real estate development. His two children are growing up neglected.
Seeing the end in sight, Uxbal works night and day in various dodgy activities. He's a liaison man between the neighborhood's teeming illegal immigrants and the cut-rate employers who hire them. Moreover, Uxbal is psychic. He reluctantly takes some money on the side, transcribing parting words from the newly deceased.
The slim ēlvarez has a beguiling nose, and when she rubs it near Bardem's own Roman beak, it's visual harmony at work. But director Alejandro Gonzalez Inarritu lets us know how out of control Marambra is too early on. We don't get a chance to be enchanted by her before we find out she's unbalanced. We first see her waking up Tito early in the morning by dancing topless on his back and spilling red wine over him. The wine cascade turns out to be a visual rhyme with the bloody urine Uxbal keeps spouting as his disease progresses.
The beauty here of anything but rot—blood, polluted skies, greasy alleys in the morning—is either missing or marked with bruises. There's an exception: an incident where Uxbal is startled by a flock of starlings as he stands on a freeway overpass. As for the city itself, Barcelona's coast might as well be as far away as Borneo. The only beach we see is awash in cadavers. There's one sunset over the water, and the sun is diffracted into the shape of a rising mushroom cloud—in a word, doom.
In the press notes for Biutiful, Inarritu sounds like the star of the Dos Equis beer commercials, the World's Most Interesting Man: "Modern society suffers, among many things, from a profound thanatophobia." Is that a fact? It's usually fear of life, not death, audiences are accused of; we're told we don't take risks, that we're slaves to corporate death culture. The death-defying qualities of cinema (a glowing afterlife for that long deceased actress, an action hero's magic escape from the reaper) help to cope with the inevitable.
In its faith in a life to come—a hushed dream world of snow and trees—Biutiful rigs the game a little. Who can't endure the horrors of the world if they have proof of heaven?
There is no fun, dirty or otherwise, for the poor residents of the neighborhood Inarritu rhapsodizes about in the press notes. No relief, either in music or color or sex. At a scene in a strip club, with mutant dancers decorated with extra nipples on their asses, Biutiful stretches its world-is-a-ghetto point right into straight disgustorama.
'Biutiful' continues its run at the Century Regency (280 Smith Ranch Road, San Rafael; 415.479.6496) and Rohnert Park 16 (555 Rohnert Park Expwy., Rohnert Park; 707.586.5996). It opens Friday, Feb. 25, at Summerfield Cinemas (551 Summerfield Road, Santa Rosa; 707.522.0719) and Cameo Cinema (1340 Main St., St. Helena; 707.963.9779).
Send a letter to the editor about this story.